WCT Recap: Team Carruthers get first victory, Team Einarson keep rolling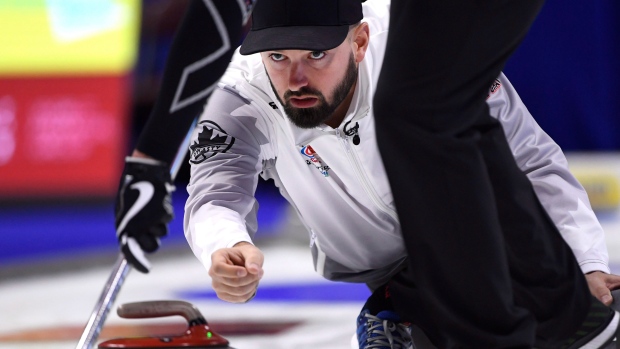 Sweden's Niklas Edin and Anna Hasselborg as well as Winnipeg's Reid Carruthers and Kerri Einarson all picked up victories on a very busy Thanksgiving weekend on the World Curling Tour.
Curlers Corner Autumn Gold Curling Classic (Calgary, Alberta)
Women's Purse: $50,000
Kerri Einarson's new look squad has won in Oakville, Morris, Winnipeg and now Calgary after capturing the Curlers Corner Autumn Gold Curling Classic this weekend.
Skip Einarson, third Val Sweeting, second Shannon Birchard and lead Briane Meilleur posted an 8-2 record over the four day event against a stacked competition. In the round robin they defeated Edmonton's Team Chelsea Carey and Winnipeg's Team Jennifer Jones before taking out Lethbridge's Casey Scheidegger in the quarter-final, 5-4, Ottawa's Rachel Homan in the semi-final, 7-4, and Jones for a second time in the final, 7-5.
Team Einarson's previous event victories have come against less than stellar fields, but the rinks in Calgary were some of the best you'll see on the World Curling Tour or at the Scotties Tournament of Hearts this season.
After going 2-2 at their first event as a foursome in August, Einarson's Winnipeg crew has won four straight events with a 28-4 record.
Einarson, 31, appeared in her first Canadian final last year as a skip of a different rink. She formed this new team of former skips in the off-season and the experiment has been an incredible success to this point.
Other notable names that competed in Calgary included Japan's Team Satsuki Fujisawa (lost in the quarters), Calgary's Team Laura Walker (lost in quarters) and Winnipeg's Team Tracy Fleury (lost in semis). Carey, Allison Flaxey, Darcy Robertson, Kelsey Rocque, Robyn Silvernagle and Jamie Sinclair all failed to make the playoff round.
StuSells Toronto Tankard (Toronto, Ontario)
Men's Purse: $42,000
Women's Purse: $20,000
Reid Carruthers and Mike McEwen are on the board with their first victory as teammates.
The former curling rivals, along with second Derek Samagalski and lead Colin Hodgson, won all six of their games to win the StuSells Toronto Tankard. In the preliminary round, Team Carruthers topped Saskatoon's Team Kirk Muyres and 2018 Brier finalists Team Brendon Bottcher of Edmonton before beating China's Team Jia Liang Zang in the quarters, Kingston's Team Scott McDonald in the semis and Team Stuart Thompson of Dartmouth in the championship tilt. Team Bottcher made it to the semi-final but was hammered by Team Thompson.
This was the second final in a row for Team Carruthers after falling to Team Brad Gushue in the Elite 10 final last week.
John Epping and Tanner Horgan both lost their quarter-final matchups while Glenn Howard and Olympic gold medalist John Shuster did not make the playoff round.
On the women's side, the junior rink led by Kira Brunton surprised many by winning the event. They went 6-1 including wins over Kristen Streifel in the quarters, Jacqueline Harrison in the semis and Cathy Auld in the final.
Kerry Galusha lost in the quarters while Julie Tippin went down in the semis.
Swiss Cup Basel (Basel, Switzerland)
Men's Purse: $52,000
Last year's Olympic silver medalists Team Niklas Edin of Sweden picked up their first victory of the 2018-19 curling season by downing Norway's Team Steffen Walstad in the Swiss Cup Basel final, 7-5.
The foursome of Edin, third Oskar Eriksson, second Rasmus Wrana and lead Christoffer Sundgren went 7-0 in Basel, including victories over Spain's Sergio Vez in the quarter-final and Yannick Schwaller of Switzerland in the semi-final.
Edin and company are coming off a rough 0-4 showing at the Elite 10 last week in Chatham, Ontario, the first Grand Slam event of the season.
Switzerland's Team Peter De Cruz, who captured the bronze medal at the Olympics in South Korea, finished third at this event as well.
Stockholm Ladies Cup (Danderyd, Sweden)
Women's Purse: $47,000
The Olympic champs from Sweden just keep on rolling.
A week after going a perfect 6-0 to capture the inaugural women's Elite 10 on the Grand Slam circuit, Team Anna Hasselborg went 7-0 in their home country to win the Stockholm Ladies Cup. Their path to first place was not an easy one either as they had to beat Czech Republic's Anna Kubeskova in the quarters, 10-1, Silvana Tirinzoni of Switzerland in the semis, 6-4, and Anna Sidorova of Russia in the final, 10-4.
Hasselborg's squad of third Sara McManus, second Agnes Knochenhauer and lead Sofia Mabergs have qualified for the finals in all three of the events they have played this young season, with their only loss coming to Ottawa's Team Rachel Homan in the first leg of the Curling World Cup from Suzhou, China in September.
Scotland's Eve Muirhead lost in the quarter-final to Swedish curling legend Anette Norberg, who skipped her country to gold at both the 2006 and 2010 Olympics.
Tirinzoni, who fell to Hasselborg in the Elite 10 final last week, has made two finals and two semi-finals with her new fourth Alina Paetz this season, unfortunately falling each time.
St. Paul Cash Spiel
Men's Purse: $12,000 (USD)
Women's Purse: $6,000 (USD)
Two rinks American performed well on home soil this weekend.
Team Andrew Stopera of Chaska, Minnesota lost just once over the three day event, a good enough performance to win the St. Paul Cash Spiel.
On the women's side, it was Team Annmarie Dubberstein, also of Chaska, who won the early season event.
Manitoba Curling Tour Classic (Winnipeg, Manitoba)
Men's Purse: $9,600
Winnipeg's Riley Smith beat Dennis Bohn to claim the Manitoba Curling Tour Classic.
New Scotland Clothing Ladies Cashspiel (Halifax, Nova Scotia)
Women's Purse: $6,400
Five-time Scotties Tournament of Hearts champion Mary-Anne Arsenault was the last skip standing in the Halifax over the weekend as her Nova Scotia rink captured the New Scotland Clothing Ladies Cashspiel.
Team Arsenault defeated the returning Suzanne Birt in the semis and Mary Myketyn-Driscoll in the final. Their only loss came in the round robin to Arsenault's former teammate Colleen Jones. Arsenault finished third at the national championship last year.
Bud Light Men's Cash Spiel (Halifax, Nova Scotia)
Men's Purse: $6,400
Halifax's Team Kendal Thompson picked up their first victory of the 2018-19 season by taking the Bud Light Men's Cash Spiel in their hometown with a perfect 7-0 record.