WCT Recap: Yellowknife's Team Galusha win first event of season
Take a look at all the results from this past weekend in the curling world with TSN.ca's WCT Recap.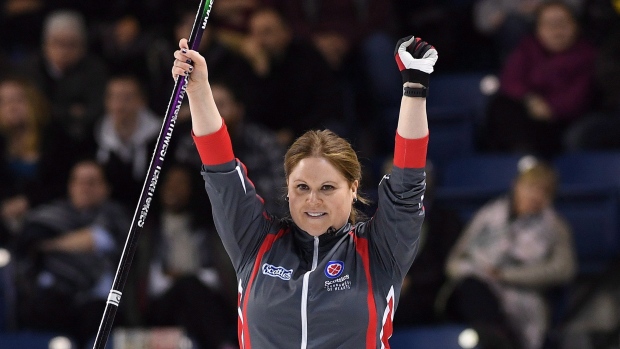 Take a look at all the results from this past weekend in the curling world with TSN.ca's WCT Recap.
---
Royal LePage Women's Fall Classic (Kemptville, Ontario)
Women's Purse: $21,000
Yellowknife's Team Kerry Galusha picked up their first victory of the 2018-19 season by capturing the Royal LePage Women's Fall Classic in Kemptville.
Skip Galusha, third Sarah Koltun, second Brittany Tan and lead Shona Barbour went 6-1 over the four-day event including wins over Danielle Inglis in the quarter-final, Jestyn Murphy in the semi-final and Mary-Anne Arsenault in the championship game.
Sweden's Team Isabella Wrana, a young squad who has already won two events this season, fell in the semis to Team Arsenault.
---
Dekalb Superspiel (Morris, Manitoba)
Men's Purse: $45,000
Women's Purse: $45,000
A pair of Saskatchewan-based rinks squared off in the Dekalb Superspiel final from Manitoba on Monday as Regina's Team Matt Dunstone edged Saskatoon's Kirk Muyres, 5-4, for their second event victory of the season.
Two-time Canadian junior champ Dunstone, who is skipping a new rink this season, went a perfect 7-0 including wins over Team Jason Gunnlaugson in the preliminary round and Team Braden Calvert in the semis. Former second for Mike McEwen's old squad, Matt Wozniak, spared for Team Dunstone at the event.
Team Muyres also fell in the Medicine Hat Charity Classic final last month.
Other team competing in Morris included Steffen Walstad, who lost to Muyres in the quarters, and Charley Thomas who failed to make the playoff round.
Allison Flaxey's new-look Winnipeg-based rink of third Kate Cameron, second Taylor McDonald and lead Raunora Westcott won their first event as a foursome at the Dekalb Superspiel on the women's side.
They dropped just one game in the preliminary round before topping Kristy Watling in the quarters, Amber Holland in the semis and Jennifer Clark-Rouire in the championship tilt.
---
Kelowna Double Cash (Kelowna, British Columbia)
Men's Purse: $18,000
Women's Purse: $9,000
Jim Cotter added former Saskatchewan skip Steve Laycock to his squad as a third over the summer and the new foursome has their first event victory.
Team Cotter lost their first game of the week at the Kelowna Double Cash, but would reel off six straight, including victories over Sean Geall in the semis and two-time Canadian junior champion Tyler Tardi in the final.
There's a good chance we will see Cotter and Tardi square off again in the BC provincial final later this season with a spot to the Brier on the line.
On the women's side, 23-year-old skipper Corryn Brown and her British Columbia squad won their second event of the season after posting an impressive 6-0 record. They beat Alyssa Kyllo in the final.
---
Mayflower Cash Spiel (Halifax, Nova Scotia)
Men's Purse: $20,000
Women's Purse: $7,500
Nova Scotia's Jamie Murphy has qualified for the past three national championships and is on the right path for a fourth after winning this weekend in his home province.
Team Murphy went a perfect 6-0 over the four-day event.
On the women's side of the draw, Team Jill Brothers was the last rink standing after beating Veronica Smith in the final.
---
Grand Prix Bern Inter Curling Challenge
Men's Purse: 18,100 CHF
Team Amos Mosaner, who represented Italy at the world championships last year, beat Scotland's Robin Brydon in the final.
---
Prague Classic (Prague, Czech Republic)
Men's Purse: 15,500 EUR
Team Cameron Bryce of Sweden outlasted the 20-team field to win the new event in Czech Republic.
---