Weber skates ahead of Habs' practice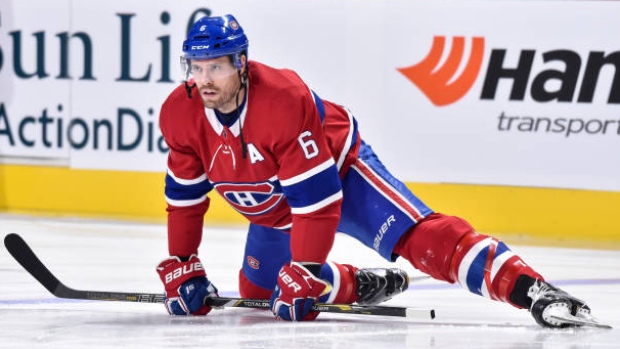 The Montreal Canadiens got a bit of good news ahead of their home opener, as defenceman Shea Weber skated on his own before the team's optional game day skate on Thursday morning.
The Habs' captain skated for 10 minutes in full uniform at the team's practice facility in Brossard, three months after having arthroscopic surgery to repair a torn meniscus in his right knee.
Weber, who was named team captain earlier this month, is expected to be out of the lineup until early to mid-December.
The 34-year-old had 17 goals and 42 points in 78 games in first season in Montreal in 2016-17. He suffered a torn tendon in his foot in the opening game of last season against the Buffalo Sabres but played through it - missing one game on Nov. 9 with a knee ailment - until the Dec. 16 outdoor game in Ottawa, when he realized the situation wasn't improving. He played only 26 games, picking up six goals and 10 assists.
Weber has eight years remaining on a contract with a US$7.8 million annual cap hit.
A second-round draft pick by Nashville in 2003, Weber has 189 goals, 312 assists and 620 penalty minutes over 13 seasons.