Weight: Isles have to put Tavares in position to win now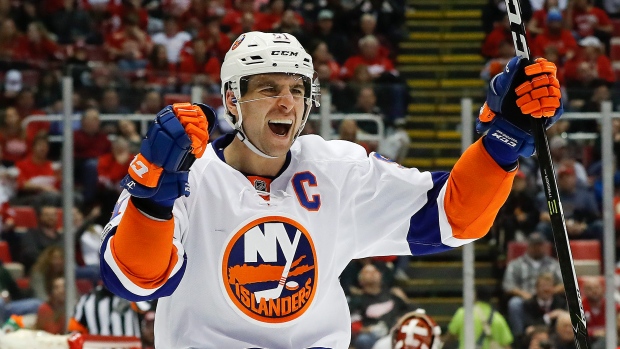 New York Islanders head coach Doug Weight said Wednesday John Tavares has a simple wish in the NHL - to win.
The Islanders are hoping to sign Tavares to an extension this offseason to avoid seeing him hit the open market on July 1, 2018. Weight said in order to keep Tavares with the Islanders, who selected him first overall in 2009, New York must field a winning team.
"John is huge for us, he's a wonderful leader and captain," Weight told TSN 1050's Overdrive. "He is generational. He's that good and we're going make him better and work with him. I want him here. Our organization wants him to be here and our owners want him to be here, and John knows we want him here. John's a genius, but a simple genius. He wants to win, and that's it. He wants to be a hall of fame player and he wants to win. And those are two great things.
"He's been here seven, eight years and we need to put him in a position to win right now."
Tavares has dressed in 587 games with the Islanders over the past eight season, scoring 235 goals and posting 537 points.
The 26-year-old, who was named the 14th captain in Islanders history in 2013, recording 66 points in 77 games last season. He missed the final five games of the season with a hamstring injury as the Islanders fell one point shy of a playoff spot (despite winning all five games).
Tavares' teammate Cal Clutterbuck blamed the centre's season-ending injury on the poor ice conditions at the team's home rink, the Barclays Center. Tavares had topped the 30-goal mark in each of the previous two seasons before two goals shy this year.
Tavares underwent right hand surgery after the season to fix an issue that lingered throughout the regular season.
Arthur Staple of Newsday reported last month the Islanders are 'likely' to offer Tavares an eight-year, $80 million contract this summer.
Weight said Wednesday he believes the Islanders own one of the league's better bluelines, and will focus on acquiring more offensive help this offseason.
"Full disclosure, we have a really, really solid D," Weight said. "There's 25 teams missing a (Drew) Doughty, a (Brent) Burns, a (Erik) Karlsson. But I think our D, with the exception of that, is one of the deepest in the league and I really like them. Maybe that's not the opinion of people on the outside, but I don't really care. I think we have some great depth in forwards. I have to challenge some guys that are in Year Two, I have to challenge some guys that are in years four, five, six - they need to get better and we need to push them and make them better.
"We could use a top three, four forward, for sure. With assets, you have to look to make your team better and we'll do that".
The Islanders have made the playoffs three times since drafting Tavares, and have not reached the conference final round since 1993.