Weise's hat trick leads Habs over Flames
Dale Weise recorded the first hat trick of his career as the Montreal Canadiens scored three times on seven shots in the second period en route to a 6-2 victory over the Calgary Flames on Friday.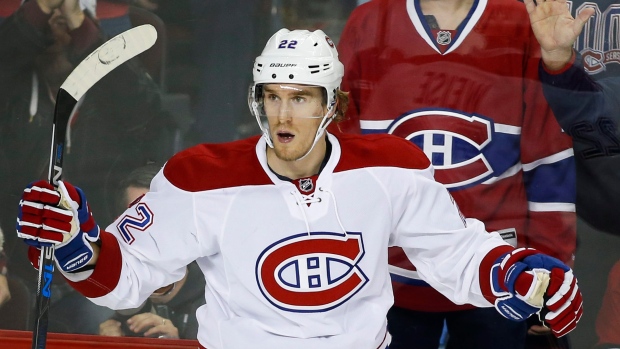 CALGARY - Dale Weise's career night was exactly what the Montreal Canadiens needed to get back in the win column.
Weise recorded the first hat trick of his career as the Canadiens scored three times on seven shots in the second period en route to a 6-2 victory over the Calgary Flames on Friday.
"It feels good," said Weise, who also had a career-high seven shots on goal. "I've had so many chances, empty nets that I've missed that I just shouldn't miss."
Weise is already up to six goals on the year, just four back of his career-high of 10.
The 27-year-old broke a 2-2 tie with his second of the night at 6:57 of the second. A trio of Flames failed to control the puck in their own end allowing Weise to steal it and beat Joni Ortio on a long wrist shot.
Weise's third, at 11:44 of the third period, resulted in hats raining down on the ice as if the game was being played at Montreal's Bell Centre.
"I seen them coming right away. I was a little shocked, but not really. The support we get all over, wherever we're playing, this is a storied franchise. We've got the greatest fans in the world," said Weise.
Nathan Beaulieu, Devante Smith-Pelly and former Flame Paul Byron also scored for Montreal (10-2-0), which salvaged the final game of its Western Canada road swing after losses in Vancouver and Edmonton.
Jiri Hudler and Josh Jooris scored for Calgary (2-8-1). The struggling Flames are winless in their last four and have yet to win in regulation.
"We're giving up too many goals, way too many," said Calgary defenceman Kris Russell. "It comes down to individual efforts, I've got to be better, I don't look past that. I'm on for way too many goals and I'm not helping my team."
Russell and his defence partner Dennis Wideman were both minus-3. Russell ranks last in the NHL at minus-16.
Montreal made it 4-2 at 12:22 of the second, again capitalizing on sloppy defensive play by Calgary. Wideman had the puck stolen from him and Russell lost his man, enabling Byron to set up Smith-Pelly.
Montreal put the game away 3:52 into the third when Byron scored on a short-handed breakaway.
"It felt really good, not just because they waived me (at the start of the season) but just to get the season started the right way and get this team two points," Byron said. "I thought it was a big goal in the game. They're on a power play. If they score, it changes the momentum around."
Rookie Mike Condon made his third career start for Montreal and improved to a perfect 3-0 with 30 saves.
Ortio had 25 stops to fall to 0-2-1.
Shaky goaltending continues to be the storyline in Calgary. Jonas Hiller, injured in his last game, is second-last in the NHL with an .861 save percentage. Opening night starter Karri Ramo, who was waived less than a week ago and sent to the minors, is at .879 after three starts. Ortio, a rookie, has struggled in both of his games.
"I really liked the way we skated in the first and even in the second period, but that third and fourth goal really hurt us and then in the third period, we didn't generate anything," said Calgary coach Bob Hartley.
Notes: Hartley said Ramo will start for Calgary on Saturday night in Edmonton... Alexander Semin was a healthy scratch for the Canadiens for the second game in a row... Ortio started at home for the first time since March 21, 2014. His last nine NHL appearances had come on the road... Montreal's Max Pacioretty was on the ice for Hudler's goal, which was the first opposition goal he's been on the ice for this season. He's been on for 20 Canadiens goals.