Westhead: No one reason for the fall of ex-players like Murphy
Joe Murphy, the first-overall pick in the 1986 NHL Draft, is now homeless. TSN Senior Correspondent Rick Westhead set out with former NHL goaltender Trevor Kidd to find Murphy and discover where his life has gone over the past 17 years. Watch the TSN Original "Finding Murph".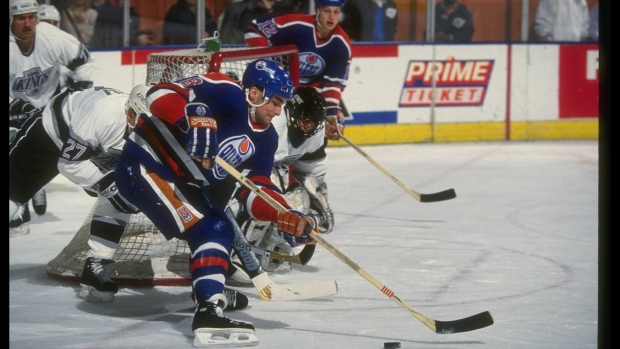 Joe Murphy, the first-overall pick in the 1986 NHL Draft, is now homeless.
Murphy, 50, appeared in 779 NHL games over 15 seasons and a won a Stanley Cup in 1990 with the Edmonton Oilers, but little has been known about him since his career came to a strange ending during the 2000-01 season.
TSN Senior Correspondent Rick Westhead set out with former NHL goaltender Trevor Kidd to find Murphy and discover where his life has gone over the past 17 years. Westhead documented the experience in the TSN Original "Finding Murph," which will debut Wednesday on Sportscentre at 6 p.m. ET/3 p.m. PT.
"[Murphy] kind of fell off the radar after he left the NHL in 2001, and even that was under bizarre circumstances," Westhead explained to Gord Miller on TSN Radio 1050 Toronto. "Joe was with Washington at the time and the team was on a road trip to New York. Him and a few other players went out to a night club after a game, he left the nightclub on his own, according to newspaper accounts at the time, and he was attacked by someone on the street. This person took a broken bottle and cut Joe across the face – a very bad injury – and Joe wound up in a hospital and that was the end of his NHL career. Washington released him shortly thereafter."
Westhead and Kidd found Murphy in Kenora, Ont., earlier this year after rumours emerged that the former forward was living there homeless. After speaking with Kidd, Murphy agreed to share his story, though the exact path that led him to the small Ontario city 200 kilometres east of Winnipeg remains unclear.
"Joe was actually living in South America in the last couple of years. He was in Peru for a time, he was in Costa Rica for a time (and) he was deported last year from Costa Rica," Westhead said. "After he arrived back in Toronto, he made his way to the Belleville and Kingston area. In November, he was charged with mischief after trashing a hotel room there. I spoke to the Crown attorney who prosecuted the case and he told me that in 99 per cent of these cases, usually it's a local who will be charged with something like that and they'll get a conditional discharge... Joe pleaded guilty, which was an incredible rarity. He wound up being sent to Kenora to serve a week in jail. And so that's how he wound up in the Kenora region, as best as I can tell."
Murphy is the second NHL player in the last year Westhead has reported on that is living homeless. He tracked down former Los Angeles King Matt Johnson in 2017 living on the streets on Santa Monica, Calif. The decline from making millions to bankruptcy seems unfathomable to most and Westhead believes there's no one reason one can point to.
"I wish I had a clear-cut answer," Westhead said. "He [Murphy] thinks that it's a combination of things. It's amazing the amount of people who will say, 'Well you made $15-$20 million in your career, this is all on you. You should've managed your money better. You should've made better choices.' And to his credit, Joe says that exact thing. He says, 'I should've made better choices.' He's open about his drug use after the game.
"But, he also talks about the types of prescription medications that he received while he was in the NHL, given by teams and team trainers so that he wouldn't miss time. And he wonders himself whether the drugs that he took to remain an active NHL player, when he left the game may have exacerbated his situation. He talks about gambling, I don't think we mention this in the piece actually, but he talked about how he blew $950,000 in one weekend in Las Vegas.
"Clearly, it's someone who's struggled with mental health issues through the years. It's someone who talks about the long-term consequences of repeated head trauma that he suffered while playing in the NHL and about, in his opinion, the lack of proper care that he received for those."
While the stories of Johnson, and now Murphy, have entered the spotlight, Westhead said it's important to note that they are not the only the former NHL players now living on the streets. He wondered if it might be time for the league to try to step in and help their former athletes.
"Impossible to say [how many similar cases exist]," Westhead said. "We know Joe's not the only one – we've heard over the last months about Matt Johnson, Stephen Peat, Murphy. If players aren't homeless, we know that some are definitely living below the poverty line, just from the anecdotal stories that I hear. I couldn't say how many of them.
"This is a league [where] it's never been better, right? It's making more than $4 billion a year in revenue and does it have an obligation to former players? Maybe not. Maybe it does not have a financial or a legal obligation to them, but does the NHL have a moral obligation?"
Westhead notes that while covering stories like Murphy's can be difficult, they also present an opportunity to lead the subjects to a better future.
"It's not an uplifting story right now, but maybe it will be. Matt Johnson, we reported on in late December, from what I understand, Matt is back now working with the Los Angeles Kings helping to run some hockey schools. I think it's probably a little too early to say that he's made a turnaround – it's only been seven months – but there's something positive there.
"I think there's also something to be said for giving someone a voice. And how many of these former players who've had struggles and hurdles, and maybe they feel abandoned, maybe they feel afraid to speak out publicly, isn't it our role as journalists, if we're journalists, to give a voice to people like that?"
Finding Murph will be available on TSN.ca following its debut on SportsCentre.