White Sox fend off late Blue Jays rally for second straight victory
Marcus Stroman deserved better than this. The rookie right-hander took a one-hitter into the seventh inning on Saturday only to have the game fall apart for him and the Toronto Blue Jays on one swing.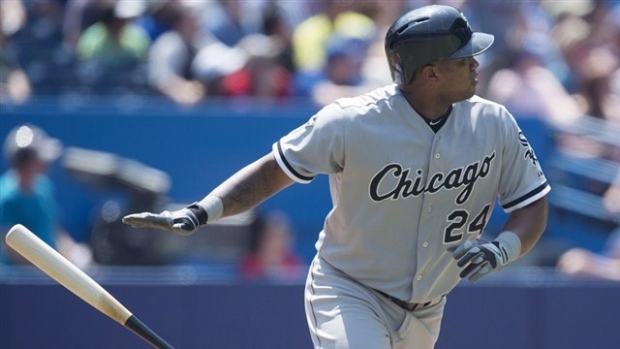 TORONTO - Marcus Stroman deserved better than this.
The rookie right-hander took a one-hitter into the seventh inning on Saturday only to have the game fall apart for him and the Toronto Blue Jays on one swing.
When the first pitch from reliever Dustin McGowan was sent into the left-field seats by right-fielder Dayan Viciedo, the Chicago White Sox were on the way to a 4-3 victory on Saturday.
"It's tough to deal with," Stroman said. "It's part of baseball. I have 100 per cent faith in Dustin to come in and get that out every time. If he makes a pitch like he knows he can, we're not even having this conversation."
Blue Jays manager John Gibbons said he had his reasons for removing Stroman when he did.
"If you could do things over, you leave him in," Gibbons said. "But my thinking was, he pitched his butt off, it was kind of uncharted territory, I don't want him to lose the game right there. That's the way it goes. But you always look back on things like that. I had a plan and it just didn't work."
The Blue Jays scored one run in the ninth inning as their late rally fell short for the second game in a row.
White Sox left-hander Chris Sale (7-1) also pitched well, holding the Blue Jays to four hits and five walks while striking out six to pick up his first career win in three decisions against Toronto.
"They wore him down a bit," said Chicago manager Robin Ventura. "They were fighting off some tough pitches."
The only runs Sale allowed came on a two-run homer by right-fielder Darin Mastroianni in the fourth.
Stroman was strong over 6 2/3 innings, allowing two hits, two walks and two runs while striking out six. He did not factor in the decision in his sixth career major-league start.
"Stroman, he was great tonight," Sale said. "He threw better than I did. Obviously, you throw like that, you deserve to win a game."
Stroman allowed a second-inning double to White Sox designated hitter Adam Dunn and then walked him to lead off the fifth and nothing more through six innings.
But in the seventh inning, White Sox first baseman Jose Abreu doubled with two out to extend his career-best hitting streak to 13 games and Dunn walked for the second time in the game.
McGowan (4-3) came in from the bullpen and his first-pitch slider was launched over the fence by Viciedo for his eighth homer of the season and a 3-2 Chicago lead.
"It's tough because obviously I want to be out there," Stroman said. "I felt strong but I'm also a young so that was Gibby's choice. Dustin has been great for us all year so it's not like I was mad about coming out of the game.
"I had 100 per cent confidence for Dustin to come in and get that out. Just one of those things and I'm sure he'll be right back to it."
Gibbons discussed the weight of his decision after the loss.
"This game eats at you, you review everything, you do more so at the moment of something," Gibbons said. "You get a little gun shy around this place, the way the ball has been flying out of here, especially after (Friday) night (when the teams combined for seven home runs)."
The White Sox added a run in the eighth on a single by pinch hitter Alexei Ramirez against reliever Aaron Loup. The left-hander replaced McGowan after two-out singles by centre-fielder Adam Eaton and second baseman Gordon Beckham. Chicago loaded the bases in the ninth with none out against Blue Jays closer Casey Janssen but could not score.
The White Sox (38-44) have won two in a row over the Blue Jays (45-38) to assure themselves of a split in the four-game series.
Right-hander Zach Putnam who got the final out of the eighth stayed in the game for the ninth and allowed a leadoff double by pinch hitter Anthony Gose. Second baseman Munenori Kawasaki singled him home to cut the lead to one but Putnam held firm to earn his first save of the season.
It was a disappointing result for Stroman who was coming off a strong win over the New York Yankees last Tuesday when he allowed three hits and one run in eight innings.
It looked like his day when the Blue Jays took a 2-0 lead in the fourth inning. It came from an unexpected source. Mastroianni, just called up from triple-A Buffalo where he has been most of the season, snapped a 0-for-14 streak to open this season in the majors by taking a 3-2 change-up to left for a two-run homer. It was his fourth career homer in the majors with the first three coming with the Minnesota Twins in 2012. It came after Colby Rasmus took a two-out walk.
"It's important for me," Mastroianni said. "I want to try to help keep this team is in first place. … (Sale) just has stuff going everywhere, arm's flying everywhere, he throws that change-up and then all of a sudden here comes 95.
"He threw me a lot of change-ups that at-bat. He probably made a bit of a mistake, left that ball up over the plate more than I know he would have liked to."
NOTES: Announced attendance at Rogers Centre was 39,623. …Before the game on Saturday the Blue Jays recalled outfielder Darin Mastroianni from triple-A Buffalo, where he was batting .289 with four homers in 69 games, and returned LHP Rob Rasmussen on option to the Bisons. Mastroianni started in right field. … Left-hander Mark Buehrle (10-4) will start the series finale on Sunday for the Blue Jays against his former team. The White Sox will start left-hander Jose Quintana (4-7, 3.69). …The Blue Jays have Monday off before they complete the home stand with two afternoon games against the Milwaukee Brewers.