Who is Juuse Saros?
Juuse Saros made 21 starts in his first NHL season serving behind Pekka Rinne. Now, the 22-year-old could face the pressure of starting a crucial Game 3 on home ice in Nashville. Here's what you need to know about the Predators goalie.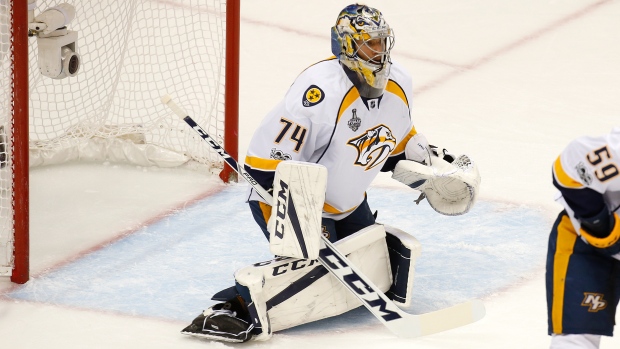 Nashville Predators head coach Peter Laviolette declined to reveal his Game 3 goaltender on Thursday, leaving the door open for Juuse Saros to replace struggling starter Pekka Rinne.
Rinne had been dominant throughout the first three rounds of the playoffs, posting a 12-4 record with a .941 save percentage and a 1.70 goals against average in 18 starts.
However, Rinne has allowed eight goals on 36 shots through two games against the Pittsburgh Penguins and was pulled in Game 3 after allowing three goals on six shots to open the third period.
Prior to the Stanley Cup Final, Rinne had not posted back-to-back losses in the playoffs and followed each of his four losses with a save percentage of .950 or higher.
He made 61 starts in the regular season, leaving the other 21 for Saros. Now, Saros, in his first NHL season, could face the pressure of starting a crucial Game 3 on home ice in Nashville.
So, who is Juuse Saros?
A native of Forssa, Finland, Saros was selected by the Predators in the fourth round - 99th overall - of the 2013 NHL Draft, 22 picks after Penguins breakout rookie Jake Guentzel.
He put himself on the map at the 2014 world juniors, when he backstopped Finland to their first gold medal at the tournament since 1998, posting a 1.57 goals against average with a .943 save percentage. The following year, however, Saros struggled at the tournament, making just two starts and posting a 3.03 goals against average with an .875 save percentage.
The 22-year-old was named Finnish Elite League's rookie of the year in 2013-14, when he posted a 16-16-8 record with HPK Hameenlinna. He posted a save percentage of .928 with a 1.76 goals against average and seven shutouts in his first professional season. His goals against average shot up 2.14 the following season, but his save percentage actually improved to .929 as he faced an average of 5.5 more shots per game. He posted a 13-18-16 record that season, with just under half of wins coming on shutouts (six).
He made his North American professional debut with the Milwaukee Admirals last season and posted a 29-8 record in his first AHL season. He owned a .920 save percentage with a 2.24 goals against average and four shutouts on the year. He was called up for one game with the Predators, allowing three goals on 23 shots in a loss against the Buffalo Sabres on November 28.
This season, Saros posted a 10-8-3 record as the Predators backup goaltender, recording his lone shutout on Dec. 30 against the St. Louis Blues. Saros' .923 save percentage sat slighty above Rinne's .918 mark for the season and he averaged 2.35 goals against per game to Rinne's 2.43.
Saros' first start of the 2016-17 campaign actually came against the Penguins and he managed to do something Rinne has never been able to in his career - defeat Pittsburgh in a start. He posted 35 saves to record his first career NHL victory as the Predators won 5-1.
When called upon in Game 2 on Wednesday, Saros only faced two shots in 17 minutes of ice time, turning both aside.
Laviolette hinted after Game 2 that Rinne would return to the net in Game 3. He's been the backbone of the Predators' run, which opened with back-to-back shutouts over the Chicago Blackhawks, the West's top seed.
"Pekka has been excellent for us all year, like I said," Laviolette responded. "There's things that we could have done [better]. All three goals in the third period were odd-man rushes."
Saros' last career playoff start came last season in the AHL, when he posted an 0-2 record with a 2.57 goals against average and a .891 save percentage with Admirals.
Game 3 will take place Saturday night in Nashville.