Who is the NHL's best shooting talent?
Travis Yost breaks down who the NHL's deadliest shooter is based on volume of shots and the quality of them. Breaking down the numbers since 2014, names in contention include Patrick Kane, Erik Karlsson and Steven Stamkos.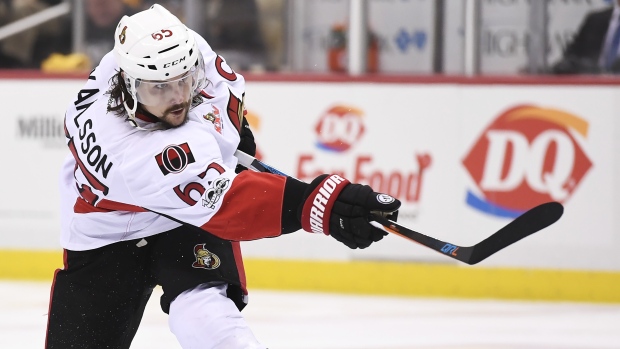 Who is the NHL's best shooting talent?
It's an interesting question, but not an easy one to answer. Two of the best shooters of the modern era – Atlanta/New Jersey's Ilya Kovalchuk and Washington's Alex Ovechkin – earned their reputation in very different ways. Kovalchuk was lethally precise, consistently towing shooting percentages in the high teens. Ovechkin, on the other hand, has racked up a pile of goals by mercilessly generating shot attempts, torturing opposing goaltenders on volume.
But Kovalchuk has been out of the league for a few years now. Ovechkin, while still an elite scorer, has seen his goal-scoring numbers dip and the competition stiffen. Other contenders have enough question marks – think of superstar Steven Stamkos and his unfortunate injury history, or Patrik Laine and his limited sample size – to create a fascinating debate.
One of the keys to answering this question is to consider both areas of expertise. The most dominant shooter will be able to tow a high shooting percentage and high shot generation rates. He knows when to pull the trigger and when to pass, showing the consistent ability to generate and sustain an attack for both himself and his linemates.
To begin teasing this out, we'll need a few things. One is some sort of expected goals model – or, the weighted probability of a shot going in. Corsica generated one of these about a year ago, which measured the likelihood of a shot ending in a goal based on distance, angle, shot type, game state, et al.
We can then pull actual shot and goal-scoring frequency and rates from the league's play-by-play data. The idea here is our elite shooters will consistently out-score their "expected goal" rates, while also generating a huge swath of shots. Combine accuracy with volume and you should have a forward who is unstoppable.
I took data from the last three seasons (minimum 150 shot attempts) and plotted out two items – the number of shots each forward generated per game at 5-on-5, and the net number of goals added above expectations (per-100 shots). A forward who consistently beat shot quality expectations would have a big positive number – a forward who consistently underwhelmed shot quality expectations would have a big negative number.
Here's the plot: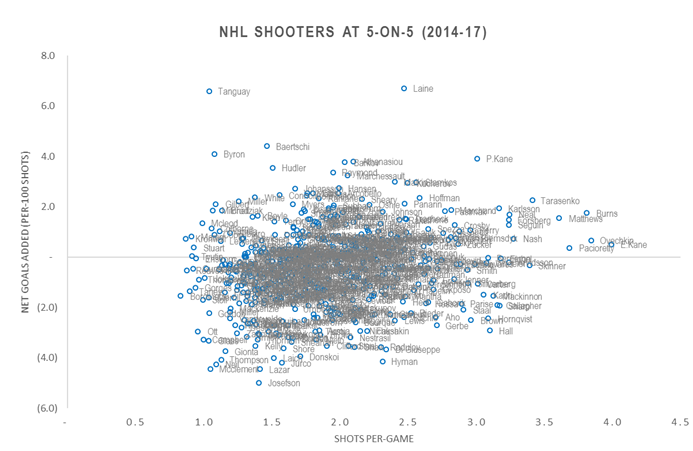 On the far right we see our biggest volume shooters – guys like Evander Kane, Max Pacioretty, and Ovechkin. On the top we see the guys with consistently great shooting percentages – names like Alex Tanguay and Sven Baertschi. In the middle there's an absolute mess of names indiscernible from one another.
The standouts are in that upper-right echelon – the guys who combine volume and accuracy. In that bucket are basically a handful of names – Laine, Patrick Kane, and Vladimir Tarasenko, though Erik Karlsson, James Neal, Filip Forsberg, and Tyler Seguin also look great here.
Now that we have seen the plot of essentially every possible qualified shooter, let's focus on the elites by bucket. Below are the 10 best shot-rate generators of the last three years, and the 10 best shot-quality beaters of the last three years – essentially a cleaner, condensed version of the above.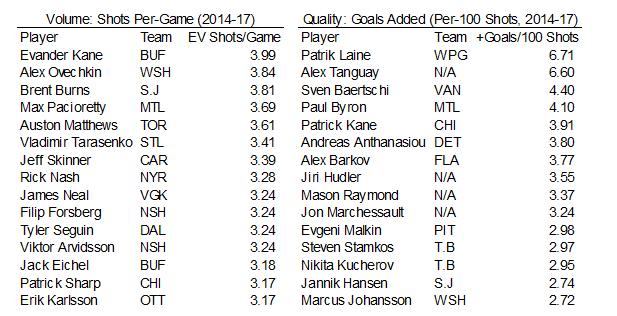 No surprises on the volume shooters list I don't think, though it's interesting to see a couple of defenders in Burns and Karlsson right in the mix with basically the league's best forwards. It's worth mentioning that Evander Kane is going through something of a renaissance right now – he's now put together two 20+ goal seasons in Buffalo somewhat under the radar, and it's being largely driven by how much rubber he's putting on net.
The right table is more curious. It's a collection of high-end guys (Stamkos, Malkin, etc.), deadly counterattackers (Byron, Baertschi), and professional net-hangers (Tanguay). Outside of the rookie in Laine, these guys have all carried high individual shooting percentages for some time now.
But, again, it's the blend that matters. Bring in both volume and shot quality, and this is your true leaderboard – the number of goals a player added above expectations over the last three years.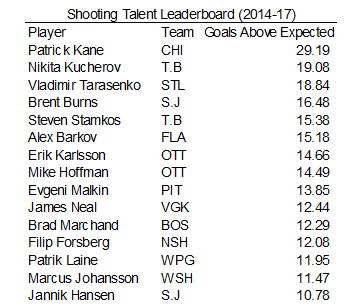 And there's your answer. Chicago's Patrick Kane, at least over the last three seasons, has been the league's deadliest shooter – and by a 10-goal margin! Silver and bronze medals go to Nikita Kucherov in Tampa Bay and Vladimir Tarasenko in St. Louis. Considering those three guys are No. 2, No. 12, and No.1 in 5-on-5 goals over the last three seasons, I'd say this passes the smell test.
One final thought: We talk about how tough it is to individually defend a threat like Kane, but the layer of complexity to defend multiple shooters at the same time might be the toughest ask for modern day NHL defences. If you look at the data table above, you'll notice Tampa Bay (Kucherov and Stamkos), Ottawa (Karlsson and Hoffman), and San Jose (Burns and Hansen) all have a pair of representatives.
When those teams are working the cycle and those guys are on the ice, there really aren't many good answers. You just have to hope and pray your goalie is ready.