Why Mete could be a perfect match for Weber
The diminutive defenceman's offensive skills provide a solid complement to the league's preeminent shutdown blueliner, Travis Yost writes.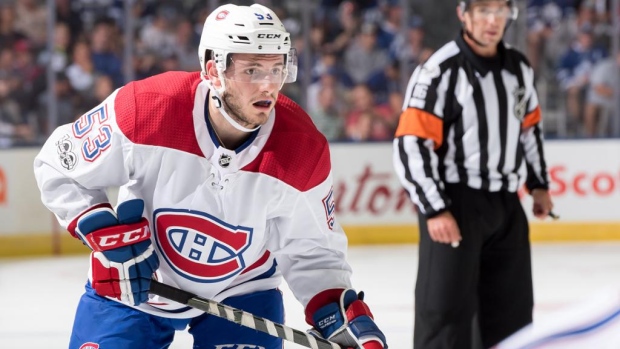 Victor Mete is a name hockey fans are going to learn very quickly this season.
Mete, the former London Knight, was taken in the fourth round by the Montreal Canadiens in the 2016 entry draft. Last year, he nearly turned in a point-per-game season. His 0.9 points-per-game was seventh best amongst regular Ontario Hockey League defenders, ahead of names like Mikhail Sergachev, Ryan Merkley and Olli Juolevi.
Now, points aren't everything – especially not for a defender. But Mete's jump in production is notable. He's quickly evolved from mid-draft tweener prospect to a higher-profile name in the Canadiens organization, and he's raised more eyebrows in recent weeks. That's thanks in large part to where he's been slotted in by head coach Claude Julien – time and time again, with Shea Weber on Montreal's top pair.
Mete's core skills – he's a sleek skater and puck distributor, which helps offset his small frame – are vital for a Montreal team that has struggled to find consistent puck movement. And, at least through September, reviews indicate that the things that helped make him successful at the OHL level have carried over during training camp and preseason action.
For Mete, it's difficult to think of a better opportunity. It's hard enough to make it to the NHL. It's rare that defencemen jump from junior to a top pairing. Mete's not only doing both, but he's also set to play big minutes with the league's preeminent shutdown defender.
That's a huge benefit for Mete, a player whose size could be an issue in tough defensive minutes against top-calibre forwards. Weber may not be the league's best defender, but teams simply do not generate scoring chances or goals against him when he's on the ice. This has been true for basically every year of his career, and it'll almost certainly be true for next year.
Consider the below – a quick snapshot of Weber's season rankings based on scoring chances against and goals against versus other regular defenders. It's a remarkable how consistent Weber's mitigated damage in the defensive third. (Here, 100 per cent would indicate Weber was better than all other defenders; 0 per cent would indicate he was better than no other defenders.)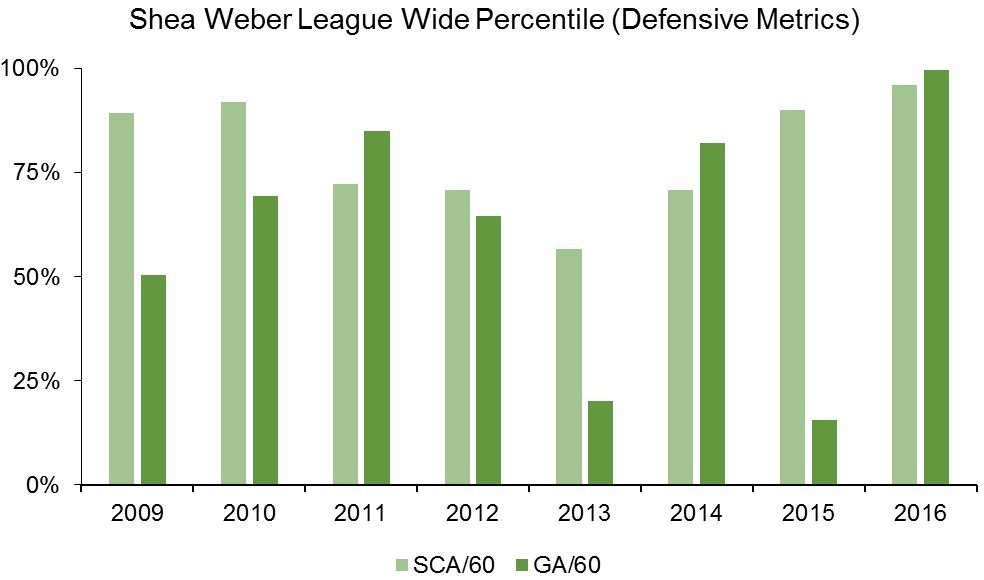 Just look at the scoring chance generation against. Weber has been better than about 75 to 100 per cent of regular defenders around the league for basically the last eight seasons, which is the biggest reason why he's been rightfully fawned over by coaches and league executives.
The interesting thing is that you can kind of see the years – 2013 and 2015, specifically – where his goalies let him down. In 2013, starter Pekka Rinne was hurt and a mixed bag of Predators goalies posted a ghastly 91.0 per cent stop rate. In 2015, Rinne owned the lion's share of starts and posted an even worse 90.8 per cent stop rate.
The larger point here is that historically it hasn't mattered what type of player Weber has been paired with on the ice. Andrei Markov was a fantastic puck mover. Roman Josi was incredibly young. Ryan Suter had a strong all-around game but didn't excel at any one thing. Alexei Emelin wasn't a liability but almost certainly wasn't playing too high up in the lineup. No matter who it was, their defensive numbers shone.
But with Weber, there's historically been a catch – and perhaps one of the big reasons why I think the Mete/Weber duo has a chance to work out. For as great as Weber has been defensively, his work in the offensive zone has paled in comparison. People will frequently look at his individual scoring rates and booming slap shot and believe he's an effective offensive weapon. That hasn't been true.
Let's look at how teams have generated chances and goals with Weber on the ice in that same timespan: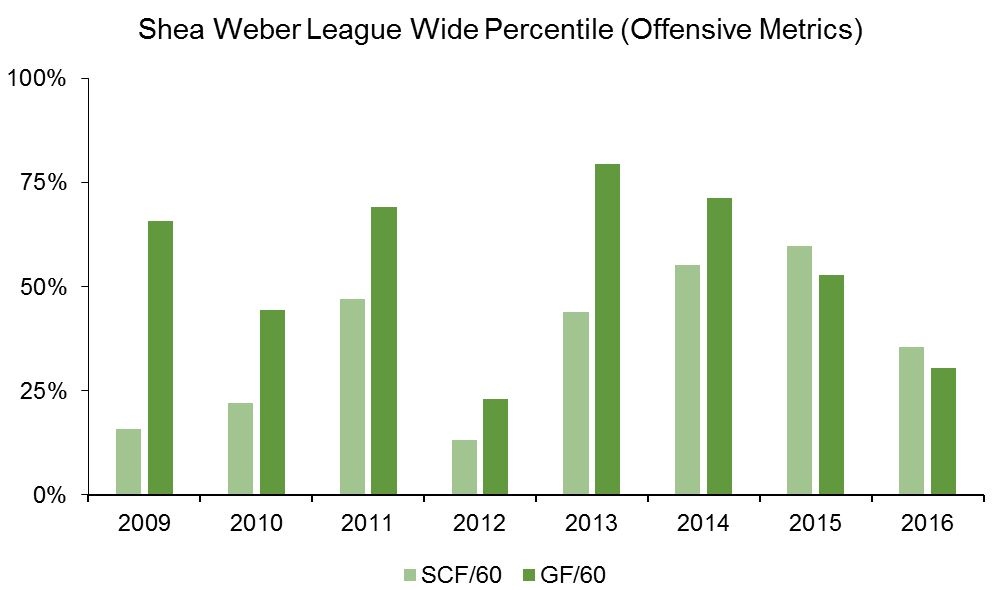 It's a substantially different story. Nashville and Montreal have essentially played very low-event games with Weber on the ice – it's a lot of one-and-done opportunities with a ton of neutral zone grinding and offensive/defensive zone board work. That's perfect if your goal is to just keep the opposing team off of the scoreboard. But hockey's a two-way game, and the entire point is to outscore your opponent. Being net-zero isn't being great – it's being the definition of average.
And for as ridiculous as Weber has been at limiting opposing shooters, he really hasn't seen team offence materialize in his prime years. Whether that's commentary on Weber individually, his partner individually, or the five-man unit more generally, I'm not sure – but what I do know is that Montreal, desperate for scoring, really could use more goals in the big minutes Weber plays.
Perhaps that's why Julien has been so infatuated with this relationship. If Mete can provide the out-of-zone distribution and puck movement that Weber sorely needs, and if Weber can provide the defensive zone shutdown work that the 19-year-old almost certainly does, it could end up being a perfect match.