Wickenheiser challenges NHL, stars on Olympic participation
Hayley Wickenheiser says the National Hockey League's stars need to speak up if Olympic participation is important to them.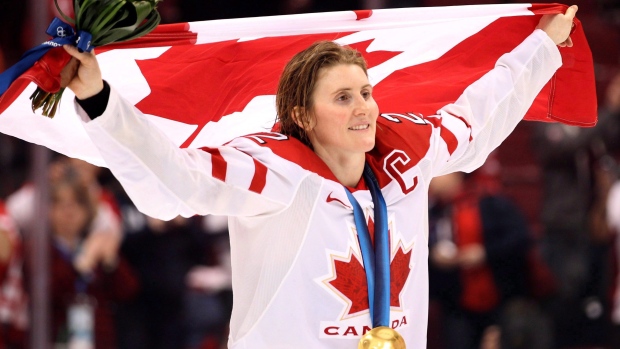 Hayley Wickenheiser says the National Hockey League's stars need to speak up if Olympic participation is important to them.
The NHL announced in April that it would not allow its players to compete at the 2018 Winter Games in PyeongChang, South Korea. But many of its marquee players have voiced their displeasure with the decision.
"They all want to go to the Games. I think they need to be vocal and the [National Hockey League Players' Association] could do a little bit more to advocate on the players' behalf," Wickenheiser – a six-time Olympian with four hockey golds – told BNN in an interview on Thursday. "The stars in the game need to step up if they truly want to go."
The decision was a bone of contention between the NHL, its Players' Association (NHLPA), the International Olympic Committee (IOC), and the International Ice Hockey Federation (IIHF), all of which had different priorities riding on participation.
For the players, national pride was at stake, while the NHL and its owners voiced concerns about the League's schedule, player insurance, travel, and a re-prioritization of advertising with the IOC. However, the League's perceived desire to be represented at the 2022 Games in Beijing was a bargaining chip for the IOC, potentially hoping to gain NHL participation in Korea with a 'both or none' scenario.
Reigning League MVP Connor McDavid said Wednesday he is "really upset" about missing his first Olympic opportunity as a pro. Russian superstar and six-time goal scoring champion Alex Ovechkin, meanwhile, has threatened to participate whether the NHL signs off on it or not.
Wickenheiser called the negotiations between all the parties "unfortunate."
"This is all about money, whether it's between the IOC, the IIHF and the NHL," she told BNN. "It's a power struggle and it's unfortunate [for] Canadian fans that the best players in the world won't be there."
However, Wickenheiser did see a silver lining with the potentiality of returning to an Olympic tournament without NHL participation, which was the norm prior to the League's participation at the 1998 Games in Nagano, Japan.
"I started on the national team when the men's national team was full-time and was full of amateur players here in Calgary, and there's something kind of pure and really uniquely Canadian about that, as well. It's going to make our hunt for the gold medal that much more difficult, but maybe that much more exciting, too," she said.
Wickenheiser spoke to BNN after being selected as one of Canada's Top 40 Under 40. She serves as founder and CEO of the Calgary-based Wick Hockey, a program dedicated to growing the game worldwide at a grassroots level.