Wickenheiser relishes role at Leafs development camp
Four-time Olympic gold medalist Hayley Wickenheiser is embracing the opportunity to assist Leafs prospects in a player development role this week. And the players have been noticeably receptive to and interested in her feedback, a positive foundation to build on for what could be a historic next step in her own development, Kristen Shilton writes.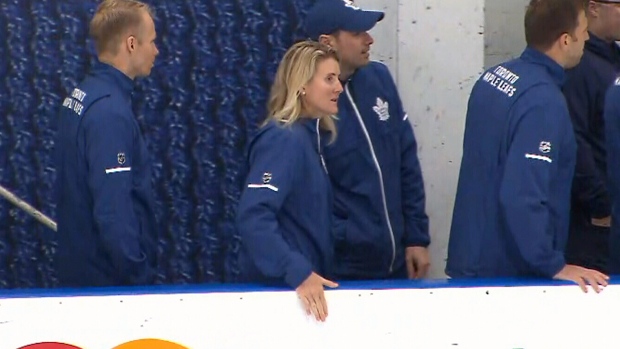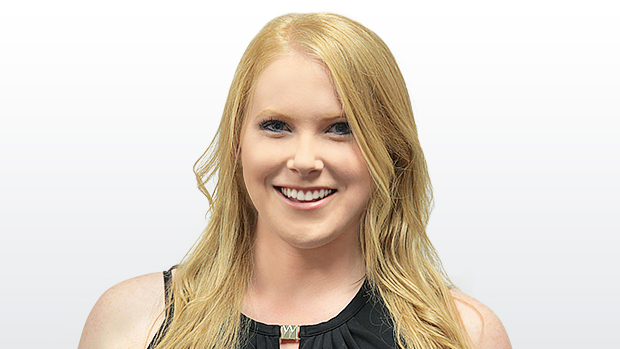 TORONTO – Hayley Wickenheiser retired from her 23-year hockey playing career as one of the sport's most revered athletes. For her next act, Wickenheiser is in talks for a potentially barrier-breaking return to the game – this time at the NHL level.
It started with a phone call from new Toronto Maple Leafs general manager Kyle Dubas a couple of months ago, inquiring as to whether Wickenheiser, a four-time Olympic gold medalist and seven-time World Championship gold medalist with Team Canada who hung up her skates in January 2017, would be interested in joining the Leafs for their annual prospects camp. Wickenheiser eagerly agreed, and that initial conversation would be far from her last with Dubas. Known for his outside-the-box thinking, Dubas has kept up a dialogue with Wickenheiser about extending her involvement with the Leafs beyond this week's camp.
"[Dubas and I] have talked a few times and if there is a role for me here then that would be great moving forward," the 39-year-old Wickenheiser said during Thursday's development camp scrimmage. "I'd be interested to see what happens and stay in hockey, that would be fun to do that and see where it takes me at this point."
Wickenheiser has been a part of development camps before, as both a guest coach (last year in Edmonton) and a player (with the Philadelphia Flyers). But as the sport has continued to evolve, so, too, has Wickenheiser's view of where a woman with her credentials – and her own forward-thinking mindset – might be a good fit. In many respects, Toronto's interests are mirroring her own.
"The best thing about Kyle is that he's very open to diverse thinking," she said. "I think they've left a lot on the table in terms of new ideas and exchanging ideas which is why they're bringing in a lot of different people from all over. He's very open to exploring a lot of different ways to make the team better, and also the development of the players coming up. I really appreciate that, I think that that's a winning attitude and it's something I like to be around."
For all the strides the NHL has made in trying to be more diverse itself, there is still a lack of gender diversity among its coaching and development ranks. The Leafs already boast legendary skating coach Barb Underhill as part of their staff, but their instructor field is male-dominated after that. In the wake of the NBA's San Antonio Spurs promoting assistant coach Becky Hammon to their front of the bench role, it begs the question of whether a woman like Wickenheiser could be far behind on a bid for a coaching stop of her own in the NHL.
Admitting that "maybe; sometimes" she thinks about potentially taking that step, Wickenheiser said right now that her heart is more in player development. When and if that changes, she anticipates an uphill climb for her (or any woman) looking for an NHL coaching gig – but singled out Toronto as a possible landing spot eventually for the right candidate.
"I think hockey is probably behind all pro sports in that [coaching] area, to be honest," she said.
"I think that there are a couple of women I could see would have the ability and maybe the interest to do it. I don't think it's out of the realm of possibility; it's more about getting around the tradition and the culture that exists in hockey, which is not easy for a woman to break into. I think we'll see it at some point in time. It's got to be a progressive organization, but I think Kyle here with the Leafs, he wants to think differently and do things differently and I think that's good for the game and good for the team in general."
In the aftermath of this year's Hockey Hall of Fame induction announcement on Tuesday – her former teammate Jayna Hefford will be enshrined in November as part of the class of 2018 – Wickenheiser said she doesn't think much about the possibility of her own induction someday, but called it "inevitable" that more women will continue populating the Hall in coming years.
What's on Wickenheiser's radar now, though, is finishing Leafs camp armed with more knowledge than she came with. Toronto's prospects have been noticeably receptive to and interested in Wickenheiser's feedback during drills, a positive foundation to build on for what could be a historic next step in her own development.
"I think for me it's just a great opportunity to come and see what it's like here in Leaf Land in terms of the type of style and the type of game they want to play here," she said. "Very similar to the way I think the game should be played, with the individual player development and the way they're looking at players with the [AHL] Marlies and bringing up through the system, you can always learn something everywhere you go, and maybe I have something to share with them as well."​