Wild clinch playoff spot despite loss to Sharks
James Reimer made 29 saves for his third shutout in eight games and the San Jose Sharks beat the playoff-bound Minnesota Wild 3-0 on Tuesday night. The Wild clinched a playoff spot with the Colorado Avalanche's loss to the Nashville Predators.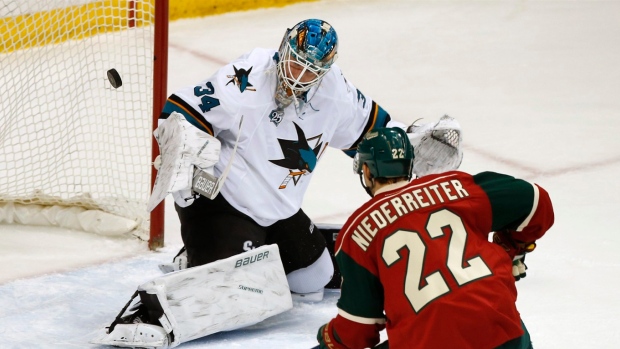 ST. PAUL, Minn. - The San Jose Sharks got to celebrate a franchise record for road wins following a 3-0 victory at Minnesota on Tuesday night.
The Wild had to wait a few more minutes, but they got a nice result, too.
James Reimer made 29 saves for his third shutout in eight games for San Jose, and the Sharks set a franchise record with their 28th road win of the season.
Minnesota lost its fourth straight game and second straight with a chance to clinch a playoff berth, but ended up with a post-season spot when Colorado lost to Nashville later.
"It's nice to get that over with," said Wild goaltender Devan Dubnyk, who made 17 saves. "It doesn't make you feel any better right now, but it's been talked about for the last week. It's nice to get it out of the way and we can shift our focus. I don't know if that was affecting what we were doing, but it doesn't have to anymore."
Patrick Marleau scored twice and Logan Couture added his fifth goal in the past four games for San Jose, which leads the NHL in road wins this season and set a franchise record of 59 road points with seven wins in the past eight road games.
"I think it's a great accomplishment what they did today and through the season setting the road record, considering our travel and the type of miles we put on compared to some other teams," coach Peter DeBoer said. "To be able to do that, I think, is a testament to how these guys prepare themselves and the grittiness of the group."
Reimer has become a stout complement to goaltender Martin Jones after coming to San Jose in a Feb. 27 trade from Toronto.
In eight games with his new team, Reimer has allowed 13 goals. Reimer was making his first back-to-back starts with the Sharks after beating Nashville on Saturday.
"We work hard and we've got some skill," Reimer said. "We can put the puck in the net. So, it's just fun being back there and watching these guys do their thing. Right now, we're playing some really good hockey the last couple of days. Just fun to watch."
Another lacklustre performance from Minnesota allowed San Jose to take control early.
Couture scored his 15th goal of the season less than 5 minutes into the game after grabbing a loose puck out of the air, dropping it to his stick right in front of the goal and knocking it past Dubnyk.
Marleau scored on the power play in the second and added his 24th with just 1:45 remaining.
"We've got a lot of work that we need to do," Wild forward Zach Parise said. "There's just some areas of our play that aren't good. That's inexcusable in Game 81. When we're trying to prepare for the playoffs, you can't play the last four games the way we have. That's just, right now that's not good."
Of course, Minnesota dismissed any idea of backing into the playoffs after qualifying for the post-season for the fourth straight season. Interim coach John Torchetti pointed to the team's 15-10-1 record since he replaced Mike Yeo in February.
"How do you back into the playoffs going (15-10-1)," Torchetti said. "You don't do that. The guys have done a great job. I'm proud of them. They could have folded when I got here, too, so I'm really proud of them."
NOTES: Wild D Jared Spurgeon returned to the lineup after missing two games with a lower-body injury. F Thomas Vanek missed his third of four games with an upper-body injury. ... Minnesota's 21 home wins are the second fewest among the top eight teams in the West, ahead of only San Jose's 17. The Sharks are 17-19-3 at home and finish the season with home games against Winnipeg and San Jose ... Wild D Matt Dumba was scratched for the first time. He was on pace to play in every game but Torchetti made moves to change up his third defensive pairing. Rookie D Mike Reilly was also sent to the American Hockey League, with Christian Folin entering the lineup after being recalled on Monday.