Wild erase two-goal deficit to defeat Jets
Marco Scandella's goal with 12 seconds left in the second period held up as the game-winner in the Minnesota Wild's 3-2 victory over the Winnipeg Jets on Monday. Scandella's ninth goal of the season was the third of three straight goals Minnesota scored in the second period to erase Winnipeg's 2-0 lead.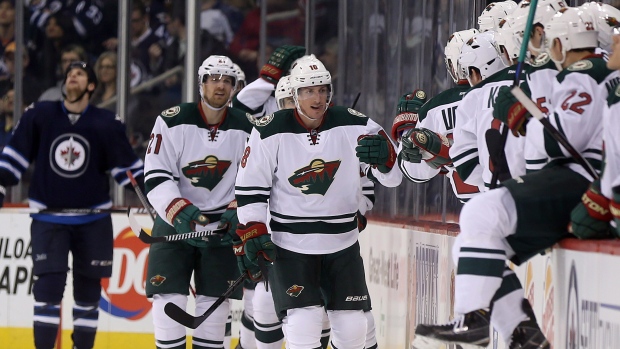 WINNIPEG - Backstopping the Minnesota Wild to a 3-2 victory over the Winnipeg Jets on Monday left a good taste in Darcy Kuemper's mouth.
And that's not something the netminder had been feeling on the weekend, when food poisoning caused him to miss playing in a 4-3 overtime loss to the Jets on Saturday.
Kuemper made 28 saves as the Wild (17-13-4) snapped a five-game winless streak.
"We've had quite a bit of bad luck with illness and injuries," Kuemper said. "We're hanging in there.
"It's been a tough road. We're trending in the right direction. It was nice to get rewarded tonight. We really picked up our game in the second half and it showed with a big win."
Marco Scandella's goal with 12 seconds left in the second period held up as the game-winner.
It was the third of three straight goals Minnesota scored in the second period to erase Winnipeg's 2-0 lead.
Ryan Carter and Justin Fontaine had the other goals for Minnesota and Brett Sutter and Kyle Brodziak assisted on both.
It was Winnipeg's first loss in regulation in its past six games (4-1-1).
Michael Frolik and Mathieu Perreault both scored on the power play for the Jets (19-11-7).
Scandella's blast from the point may have hit a Jets' skate on the way past goalie Michael Hutchinson.
That's how Hutchinson, who made 28 saves, saw the puck change direction.
"It was going wide and then all of a sudden their guy was driving wide to the net with our guy tied up," Hutchinson said. "I'm not sure if it hit our guy or their guy, but it hit his skate and went right in the net."
Hutchinson made his third straight start after Jets head coach Paul Maurice had Hutchinson and Ondrej Pavelec rotate for 12 games.
The rookie netminder said he wasn't thinking about who'd get the start in net when Winnipeg hosts the New York Islanders on Wednesday afternoon.
"The only thing that matters is us winning on New Year's Eve," Hutchinson said. "You can't lose back-to-back games in this league, especially at home. I'm sure we'll be ready to go for that game."
Winnipeg didn't get its first shot on goal until seven and half minutes into the game. The Wild had seven at that point.
Frolik scored his eighth goal of the season, unassisted, at 16:00 with a shot that went off Kuemper and into a top corner.
"We feel comfortable to play with the lead, but after the second period we said we are one goal short. We want to feel comfortable in those situations, too, so we just want to go there and have a push.
"We got a couple chances there, but (the puck) didn't go in. We just have to kind of learn from it and forget this one and go for the next one."
The Wild had a two-man advantage for 1:54 late in the period, but couldn't capitalize. They outshot the Jets 14-8.
The Jets carried their third power play of the game into the second and Perreault scored his ninth of the season at the 20-second mark to make it 2-0.
Blake Wheeler sent a quick pass across the front of the net and Perreault shot the puck over Kuemper's left pad. Bryan Little also assisted on the goal, extending his point streak to four games with two goals and three assists.
Carter made it 2-1 with a close, high shot over Hutchinson at 4:12, while Fontaine evened the score at 16:31 when he went to the net on a breakaway and got a nice pass from Sutter.
"I'm real happy with how we played the game and the contributions from everybody at both ends of the rink," Wild head coach Mike Yeo said.
"I think we did a lot of really good things. There's a small margin between winning and losing. It's one save at a crucial moment, one goal at a crucial time. We were able to bust through."
Wild defenceman Ryan Suter slashed the back of Perreault's right knee early in the third period, sending Perreault to the ice in pain. He limped to the bench, but soon returned to the ice. No penalty was called.
Kuemper made a couple of big saves late in the game to preserve the win.
"That's what we need from him," Yeo said. "If we get that kind of goaltending on a consistent basis, we're going to be a dangerous team.
"We know that's what he's capable of. We're trying to rush a young player along a little bit here, but that's the reality of where he's at. He's good enough to be a starter."
Minnesota goalie Niklas Backstrom is out with a stomach virus.
The Wild travel to play Columbus on Wednesday.
Notes - Winnipeg forward Evander Kane is out until February with a lower-body injury. Kane took a shot by teammate Jay Harrison to his foot area during last Saturday's 4-3 overtime win over Minnesota … Winnipeg recalled forward Patrice Cormier from the AHL's St. John's IceCaps … The Jets are still without injured top-four defencemen Toby Enstrom, Zach Bogosian, Jacob Trouba and Mark Stuart … Minnesota centre Mikael Granlund broke his left wrist in last Saturday's loss to Winnipeg and is out about one month … Wild defenceman Jonas Brodin didn't travel to Winnipeg after suffering an upper-body injury in the same game.