Will Sens' Uber video see NHLers go back in their shell?
In the wake of the release of a video that went viral showing seven members of the Ottawa Senators criticizing an assistant coach in an Uber, will some NHLers close ranks and slam the door shut when it comes to their own stories?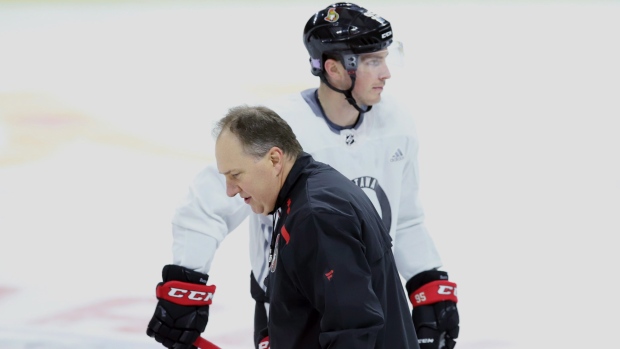 Toronto Maple Leafs centre Auston Matthews gracing the cover of a fashion magazine. Always-in-the-limelight Nashville Predators defenceman P.K. Subban continuing to be a social media force.
Historically a conservative sporting culture, hockey has only very recently begun to see some of its stars share glimpses of their personalities in public.
The photo shoots and Instagram posts offer fans something different, while at the same time marketing and growing the sport.
But in the wake of the release of a video that went viral showing seven members of the Ottawa Senators criticizing an assistant coach in an Uber, will some NHLers close ranks and slam the door shut when it comes to their own stories?
Max Pacioretty thinks that, even though the players in question didn't know they were being filmed, it's a possibility.
The Vegas Golden Knights winger also wonders how real the recent shift towards NHLers opening up truly is.
"If you're coming out of your shell and it's on camera, I don't know how genuine you're able to be, you know?" he said. "Just naturally you want to make yourself look good and that's what we're doing as a team when we do interviews, we want to make our team look good, we want to be professional.
"So you can't really come out of your shell when there's a camera on, that's the human nature of it, so I don't know how it will affect others in the future. (But the Uber video) definitely makes you think twice."
Unlike NBA, NFL or MLB players, NHLers have largely lived a buttoned-down existence where being an individual or speaking one's mind has usually been frowned upon.
"I wonder what it is?" Pacioretty asked of hockey's reserved culture. "No one can pinpoint exactly what it is. We're all supposed to be these perfect people that have never made a mistake, and everybody wants to see, 'Hey, he made a mistake, they're just like the rest of us.'"
Speaking last week before the Senators' Uber video dealt that franchise its latest blow, Dallas Stars centre Tyler Seguin was asked about how the NHL has started to market its players and their personalities.
"Oh, they're doing that finally?" responded Seguin, tongue firmly planted in cheek.
"We have a ways to go compared to other leagues and other sports, but guys are putting their foot forward, which is great," he continued. "What P.K. does, I think is awesome, what Matthews has been doing lately with all the fashion stuff has been great. I enjoy it. I'd like (Edmonton Oilers superstar) Connor McDavid to fall in love and marry some big-time celebrity. I think that would be great for our game, too.
"Guys are stepping out of their comfort zones and showing more personality. I think that's great for the game."
Vegas goalie Marc-Andre Fleury has allowed his personality to shine through since his days with the Pittsburgh Penguins, often pulling pranks on teammates and seemingly always playing the game with a smile on his face.
He said opening up isn't for everyone, but the 33-year-old added he hopes the trend continues.
"You don't want to force anybody to do what they don't like," Fleury said. "If guys are having fun and they're showing that they're having fun, it's good."
COACHING CAROUSEL STARTS SPINNING
There were no in-season NHL coaching changes in 2017-18 for the first time since 1966-67, but it took just five weeks for the axe to fall in two markets. The Los Angeles Kings were first up, firing John Stevens on Sunday before the Chicago Blackhawks axed Joel Quenneville, who led the franchise to three Stanley Cups, on Tuesday. Any coach currently on a hot seat across the league, and there are a few, might be looking over their shoulders knowing that Quenneville — the owner of the second-most wins in NHL history behind Scotty Bowman — is now available.
LAINE OFF THE MARK
Patrik Laine put questions about his early slump to rest with a terrific performance on home soil. The Jets sniper combined for four goals, including a hat trick, for Winnipeg in the club's two NHL Global Series games against the Florida Panthers in his native Finland. Before the trip overseas, Laine had been held off the scoresheet in five straight contests and had just one point at even strength this season.
HOME COOKING
All nine home teams in action Tuesday were victorious for just the fifth time in league history. The last time that happened was in 2004. Home teams have never swept the schedule when there's been more than nine games played on the same day.
---
Follow @JClipperton_CP on Twitter
Joshua Clipperton's weekly NHL notebook will be published every Wednesday