Will the extension deadline come and go for Ross?
The Toronto Raptors have until midnight on Monday to offer an extension to swingman Terrence Ross. Has he merited one?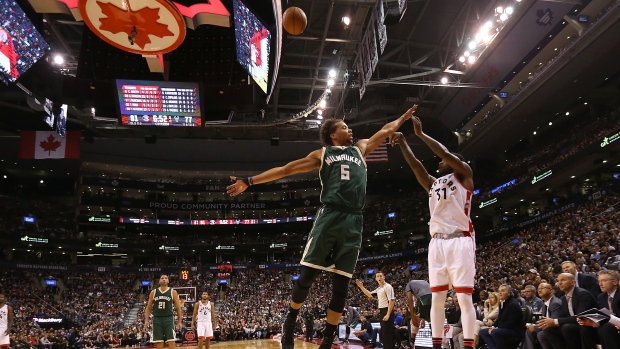 The Toronto Raptors have a tough decision to make on the future of swingman Terrence Ross and must make it by midnight on Monday. Midnight on Monday night marks the deadline for NBA teams to offer contract extensions to players on rookie-scale deals and the 24-year-old Portland native falls under this category.
Ross wants to get something done.
"We're working on it, so we'll see what happens," Ross told TSN Radio 1050's Josh Lewenberg on Saturday.
Some players have already been locked down to long-term extensions (including Ross's teammate Jonas Valanciunas, New Orleans Pelicans big man Anthony Davis and point guard Damian Lillard of the Portland Trail Blazers), while others will continue to negotiate up until the eleventh hour (among them Harrison Barnes of the Golden State Warriors, Washington Wizards two-guard Bradley Beal and Andre Drummond of the Detroit Pistons) on a new deal.
If no deal is reached, the player becomes a restricted free agent on July 1.
Now, on the surface, not reaching an extension in time seems relatively low risk. The team still retains control of the player and can match any offer sheet submitted by another club. For the player, an absolute worst-case scenario is a one-year qualifying offer with his team that comes with an increase and the opportunity for unrestricted free agency a summer later.
Why the impetus to get a deal done now, then? Well, there's the whole matter of goodwill. There's a give-and-take involved in all contract negotiations and a failure to get an extension done, followed by an eight-month moratorium on talks, can leave simmering bad feelings between the two parties, something that isn't advantageous for either side. You don't want the type of situation to play out like it did with Greg Monroe and the Pistons, where enmity remained (Monroe did not sign an extension, took the qualifying offer and jumped ship to the Milwaukee Bucks as an unrestricted free agent this past summer) after protracted start-and-stop negotiations and the player ultimately walked for nothing. On top of that, if both sides intend to get a deal done, then, the sooner the better. Why prolong the inevitable?
On the other hand, the player could view the fourth season as a final audition to raise his asking price. By foregoing the security that comes with the early extension, the long-term payout could be increased with a strong season.
The issue that complicates the matter this season is the salary cap and the massive increase set to take effect for next season. Right now, the cap sits at $70 million, but will spike drastically over the next few offseasons thanks to a bumper new TV deal set to kick in. Next season's cap is expected to come in around the $90 million-mark with it rising upwards of $108 million two years from now. There are teams that will have cap room to spare this upcoming summer and that will likely result in a spike in offer sheets tendered. The Raptors can ill afford to get caught unawares by a rival looking to sign Ross or even to simply drive up his cost.
So what's Ross worth?
That's the (maybe up to) $10 million question. The one hallmark of Ross's three-year career has been his maddening inconsistency, making any extension for the former Washington Huskie a risky proposition, but do the flashes of brilliance – athletic perimeter defending, a deadly shot from outside and the ability to score in bunches that was put on display in a record-tying 51-point performance against the Los Angeles Clippers in January of 2014- outweigh the struggles?
You never really know what you're going to get from Ross. On Friday night against the Boston Celtics, Ross was ruthlessly efficient, scoring 21 points – 13 in the fourth quarter - in 21 minutes, keeping Avery Bradley in check and helping the Raps shut down a division rival. Then, on Sunday against the Bucks, Ross looked lost defensively in the first half and was scoreless until the fourth before scoring 11 points – nine from outside – in under four minutes.
This is typical of the man taken with the eighth-overall pick in the 2012 NBA Draft.
To be fair to Ross, he hasn't always been in the best possible position to succeed and was slowed down greatly by ankle woes last season. Following the trade of Rudy Gay to the Sacramento Kings in December of 2013, he's been the starter at the three, but forced to take a back seat to the likes of DeMar DeRozan, Kyle Lowry, Lou Williams and Greivis Vasquez when it comes to offence. It's difficult to establish a consistent shot when you're a third or even fourth option. Now, a scorer off of the bench to spell DeMarre Carroll, Ross is presented with a role in which he should be able to shine with lessened expectations.
There is, of course, also the dearth of wing players under contract for the team after this season. Both DeRozan and James Johnson are unrestricted free agents this summer and it's difficult to forecast what kind of impact Bruno Caboclo or Norman Powell will have going forward with neither player expected to receive meaningful playing time this season. As it stands, Carroll is the only guaranteed return next season. That uncertainty alone might force the Raptors' hand in dealing with Ross.
Ross will obviously receive a raise in any new deal. The question is, how much? Ross is very aware of the situation his team finds itself in, as well as the influx of cap room to the league. This is fortuitous timing for contract negotiations for a player. He also must know that, as a player, he's not in the same category of a Beal, Drummond or Barnes and that he can't expect to dealt with as such.
The Raptors, then, are left to carefully tread the line of lowballing, paying for potential and overshooting entirely. It's a delicate balance that will take some thought, but a process that needs to be sorted in a hurry.
One thing is guaranteed, though: We will know very quickly how soon Terrence Ross's future will be sorted.