Wilson on suspended life: 'It's terrible'
Washington Capitals forward Tom Wilson is five games into his 20-game suspension and it's safe to say he's not enjoying sitting out. "It's terrible," Wilson told the Washington Post on Sunday. "The guys go on a one-day road trip, and it feels like you haven't seen them in a month."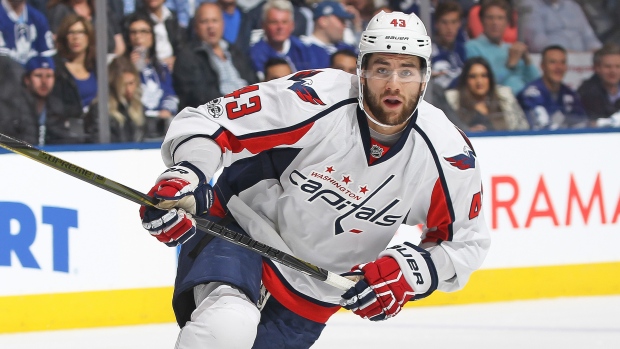 Washington Capitals forward Tom Wilson is five games into his 20-game suspension and it's safe to say he's not enjoying sitting out.
"It's terrible," Wilson told the Washington Post on Sunday. "The guys go on a one-day road trip, and it feels like you haven't seen them in a month."
The Capitals forward is currently slated to sit out until Nov. 21 for his preseason hit for Oskar Sundqvist, though he will appeal his suspension to NHL commissioner Gary Bettman on Thursday. Once Bettman makes his ruling, Wilson can then take his case to a neutral arbitrator for a final decision.
As the Post points out, there's a chance Wilson will have already served the majority of his suspension by the time the process is complete. In 2016, Calgary Flames defenceman Dennis Wideman had his 20-game ban for abuse of an official dropped to 10 games by an arbitrator, though he had already served 19 games of his suspension at the time.
"It's definitely an experience that you hope you never have to go through," Wilson said. "There's a lot of learning. All of a sudden you're surrounded by lawyers and stuff like that. I'm a hockey player and I want to play hockey. … [The appeal is] going to take on the business side of it. I have to focus when I come to the rink every day, and then obviously when something comes up with the situation, I have to address that in the best way that I can."
Wilson said he's trying to keep his focus on being game-ready, though the top-line winger admits it's difficult while serving as an extra in practice for the Capitals.
"You could describe it as a guy that's an extra forward or whatever," Wilson said. "You have to be ready. I'm training like I am today expecting that maybe I'll be in there tomorrow. I just have to have that mind-set. Obviously, that's not realistic but that's something that I'm trying to focus on and improve when I can with skill coaches and stuff like that. Keep my conditioning and work ethic up and keep my focus up in making the right plays in practice and battling hard out there, being a part of the group and staying in the same sort of routine.
"You have to make sure you do whatever you can so that adjustment period when I come back is short-lived and I'm right back into it."
The 24-year-old has been suspended four times in his nearly five-year career, all four occurring in the past 13 months. He stands to lose $1.2 million as a result of his current suspension and admitted Sunday he's going to have to change the way he plays the game.
"I can talk a little bit more in depth once this is all over with, but yeah, for sure," Wilson said. "The hitting aspect of the game is definitely changing a little bit, and I've got to be smart out there and I've got to play within the rules. And at the end of the day, no one wants to be in the situation that I'm in right now.
"I've got to change something because obviously it's not good to be out and not helping your team."
The Capitals have started the season 2-2-1 and will host the New York Rangers on Wednesday.