Wings acquire Zidlicky from Devils
The New Jersey Devils have traded defenceman Marek Zidlicky to the Detroit Red Wings in exchange for a third-round pick in the 2016 NHL Draft.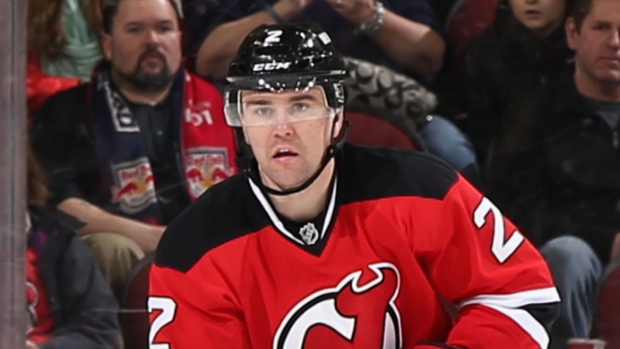 NEWARK, N.J. - The Detroit Red Wings picked up one of New Jersey's most reliable defenceman for their playoff push in a move that left many wondering whether Devils general manager Lou Lamoriello was giving up on the current season.
The Red Wings completed their second big move in 24 hours on Monday, acquiring veteran Marek Zidlicky for a conditional draft pick just hours before the NHL trading deadline expired.
Detroit added forward Erik Cole from Dallas on Sunday night for two minor league players and a couple of draft picks. Cole has 18 goals and 17 assists this season.
Zidlicky, who had to waive a no-trade clause, gives the Red Wings a right-handed shooting defenceman who can play the power play and is good at even strength.
"We've been talking about a right-shot defenceman for probably 12 months or 10 months," said Red Wings general manager and executive vice-president Ken Holland. "He's a guy that's been real competitive through his career. He's got skill. He can play on the power play."
The 38-year-old Zidlicky has played in all 63 games for the Devils this season, scoring four goals and adding 19 assists. He practiced with the team Monday.
"I don't know what more Marek could have given us," said Lamoriello, who acquired Zidlicky in 2012 from Minnesota for run that ended in a Stanley Cup Finals loss against the Los Angeles Kings. "He was a warrior. He brings intensity each and every night."
Detroit is currently in fifth place in the Eastern Conference with 81 points.
"The growth of our team and the growth of our younger players, I guess sent a message to me at least that we've got a good team. We're right in the thick of things in the Eastern Conference, and if we could add a piece or two, leading up to the deadline, to make us a little deeper, a little better-prepared for a playoff series, at a price that we could live with, we wanted to do it," Holland said.
The Devils will receive a third-round draft pick in 2016, but they will also get a fifth-rounder this year if Detroit reaches the Eastern Conference finals. If the Red Wings reach the Stanley Cup Finals, the third-rounder next year becomes a second-round pick, but the fifth-round choice in 2015 is wiped out.
The deal is the second the Devils have made for draft picks in recent days. They sent right wing Jaromir Jagr to Florida for two draft picks.
The loss of two of the team's best players hurts the Devils' long shot chances of making the playoffs. They are nine points behind Boston in the race for the final wild-card spot in the East and the Bruins have played one less game.
Lamoriello does not believe the moves indicate New Jersey is giving up on the season. He noted that Adam Larsson has stepped up, and fellow young defenceman Damon Severson is about ready to return to the lineup after missing two months with an ankle injury.
Larsson and Severson are both right-handed shots who can play on the power play.
"If these players had not proven themselves ready to play and that they were ready for minutes, then you wouldn't do this," Lamoriello said, adding the opportunity to get an extra pick also played into his decision to deal Zidlicky.
Lamoriello added if he was giving up on the season, he would have dealt several other players.
Severson, who has been skating for three weeks, said he had been ruled out for the Devils' home game Tuesday against Nashville. Lamoriello said that might change, depending on how he feels before the game.
The Red Wings return to action on Wednesday at home against the Rangers.