Wings-Leafs, Blackhawks-Blues outdoor games taking shape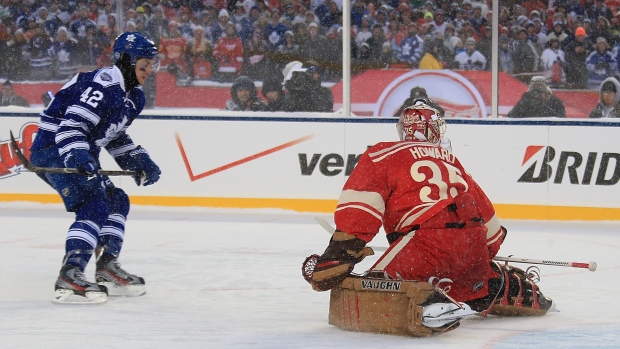 The NHL's outdoor calendar for 2016-17 is quickly taking shape.
On Sunday, the NHL made the 2016 Heritage Classic official, announcing that the Edmonton Oilers will visit the Winnipeg Jets at sparkling Investors Group Field on Oct. 23.
Paperwork has yet to be finalized, but three other long-rumoured matchups could be announced as soon as Wednesday.
The Toronto Maple Leafs are tentatively expected to celebrate their centennial season by hosting the Detroit Red Wings at newly renovated BMO Field on New Year's Day. That would mark the second clash between these two Original Six rivals on Jan. 1 in three years, hoping to repeat the magic seen by 105,491 at the Big House in a more intimate setting.
The next day, the St. Louis Blues are expected to host the 2017 Winter Classic on Jan. 2 against the Chicago Blackhawks at Busch Stadium, home of the Cardinals. It would be the Blues' first time playing outdoors, leaving just seven NHL teams to not play an open-air regular season game since the Winter Classic bonanza began in 2008.
Sidney Crosby and the Pittsburgh Penguins would then wrap up the outdoor slate with a Stadium Series game against the hated Philadelphia Flyers, likely on Feb. 18 at Heinz Field. The Flyers, Penguins and Blues are all celebrating their 50th season next year, as members of the NHL expansion Class of 1967. Heinz Field will also hold its second al-fresco contest after negotiations fell through for a neutral site matchup at 106,572-seat Beaver Stadium on Penn State's campus.
The Ottawa Senators are believed to still be working on an outdoor game, preferably in a temporary stadium set on Parliament Hill, but that game would likely not be until the 2017-18 season. That matchup could come on the exact 100th anniversary of the first-ever NHL game, played between the Canadiens and original Senators in Ottawa on Dec. 19, 1917.