With frustrations mounting, the time is now for a Raptors move
As the Toronto Raptors continue to slide down the Eastern Conference standings after their ninth loss in 13 games and frustrations mounting, now is the time for the club to pull the trigger on a rare in-season trade, says former assistant coach Tom Sterner.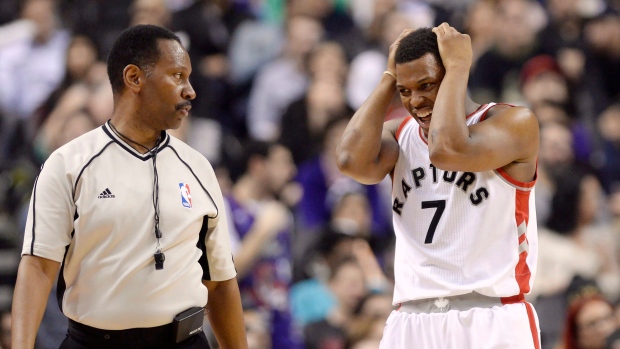 "Something gotta give, something gotta change."
Toronto Raptors point guard Kyle Lowry was blunt with his assessment of where his club was at following an embarrassing fourth-quarter collapse in a 102-101 loss on Sunday evening to the Detroit Pistons. Once firmly ensconced as the number two seed in the Eastern Conference, the Raptors have falled to 32-26 and now sit only a half-game above the Atlanta Hawks for the fourth spot in the conference.
"I am starting to get worried, yeah, it's not going where we're supposed to be going," Lowry continued after the Raptors' fourth loss in six games and ninth defeat in their last 13. "Things aren't changing, so yeah, I'm starting to get worried…Keep putting us in the same situations over and over, and not being successful."
Asked if he knew what needed to be done, Lowry stopped short.
"I have an idea, but I'mma keep my mouth shut."
On Monday, Lowry told reporters that his comments weren't aimed at anybody in particular.
"No, they were not directed at anyone," Lowry said. "They were just general. They were in general. They were more so for me saying, 'Okay, we've got to change things and get better' and hold guys accountable more and that's from me. I don't dictate or do anything but play basketball. I don't make management decisions, I don't make coaching decisions. I say what I feel from my heart and at times, that's how I feel. Last night, changes do need to be made. We've got to find ways to win some damn games."
Though Lowry didn't name any names and claims to not have targeted anybody with his remarks, former Raptors assistant Tom Sterner believes the three-time All-Star seemed to be directing his comments towards coach Dwane Casey.
"Kyle's a very calculated person," Sterner told TSN Radio 1050 Toronto's Landsberg and Naylor. "And so, he has an agenda on his mind in terms of who he thinks is at fault. Losing 10 of 14, he's pointing it at Casey. The last two possessions were scrambled possessions in which they just didn't scramble enough. You've got Bebe and JV on the floor, who can't scramble. Kyle's probably pointing at that and the difference for the team is that, a year ago when they were winning games, they're winning all the close ones; now, they're losing all the close ones. That builds frustration and the easiest thing to do is point it at Casey."
An assistant under Casey for four seasons from 2011 and 2015, Sterner believes Casey will let his star guard speak his piece, but that Lowry, too, is showing restraint.
"Casey is an upfront kind of guy," said Sterner, now the director of player development at Central Florida. "He'll talk to Kyle and give Kyle an opportunity to talk about what his frustrations are. He'll be the guy who can take it. Certainly over the years, Kyle is one of the guys in the league – and I think he's a terrific player, but he's one of the guys in the league who's very volatile. He gets frustrated with himself sometimes. He gets frustrated with his teammates sometimes. And so, a lot of times he doesn't necessarily handle it well. I'm giving him a lot of credit because he hasn't come out and said – he's smart enough not to come out. He doesn't want to be labelled a coach-killer or a killer of his teammates. So he's just throwing it out there in a sense to say, 'Hey, I want somebody to notice this. I want everybody to be on notice that things aren't all well and I want a change.'"
If somebody does notice, it won't be because Lowry is going to force the issue. Lowry says he's just out to do his job and won't tell Casey or president Masai Ujiri how to do theirs.
"That's not my job to speak to those two," Lowry said on Monday. "That's not my job to speak to those guys about anything. My job is to get my shots up, come to work, watch film, get it over with and get out of there. That's my job. I don't get into the management and the coaching side. That's their job. That's what they get paid for."
For his part, Lowry didn't expect any blowback for his comments on Sunday.
"No, what are they gonna say to me?" Lowry said. "What are they gonna say? I said something that I felt and I don't think I said anything wrong. I think I said something needs to change. If it's we have to play better, we have to change it ourselves. No matter what happens, we have to change it ourselves as players."
And Lowry didn't get any from Casey.
"We're all frustrated," Casey said on Monday. "I take that as frustration. Kyle and I have a husband/wife relationship, that it's good and bad. We go at each other, but then we know at the end of the day we're in the foxhole together. I didn't take that in any way whatsoever as a slight or a negative. We're all frustrated. I'm frustrated. His teammates are all frustrated. I didn't take that as a personal slight or a throw-me-under-the-bus-type comment."
If change is the answer, it's been something that hasn't been fast in coming for the Raptors. The team hasn't made a trade in 20 months. The last deal the team made was one with the Oklahoma City Thunder for Luke Ridnour on June 30, 2015. Ridnour, as you recall, didn't ever play a game for the team. Five days prior to that at the 2015 NBA Draft, the Raptors dealt Greivis Vasquez to the Milwaukee Bucks for a second-round pick (that became Norman Powell) and the Los Angeles Clippers' 2017 first-round selection. If you want to go back to the Raps' last honest-to-God, player-for-player in-season trade (No, Nando De Colo for Austin Daye in 2014 doesn't count), it was the Rudy Gay deal with the Sacramento Kings on December 9, 2013.
Sterner believes now is the time for Ujiri and general manager Jeff Weltman to make a move if the team is intent on another long postseason run.
"There has to be a trade prior to this trade deadline if the Raptors are going to survive, make the playoffs and have the same type of run this year," Sterner said. "They need an injection of new blood into that group and the rookies and all of the young guys aren't doing it. They thought [Jared] Sullinger was going to do it, he's not. He's not even playing."
In the past several days, the team has been attached to Serge Ibaka of the Orlando Magic and the Denver Nuggets' Danilo Gallinari.
The 2017 NBA trade deadline is set for 3pm et on February 23.