With highs and lows of Olympics behind them, Team Homan looks to future
At the end of last curling season, Rachel Homan and her Ottawa teammates announced they would be sticking together for the love of the game and now they're in the thick of things with a 4-2 record heading into Saturday's round-robin finale at the Canada Cup, Ryan Horne writes from Estevan, Sask.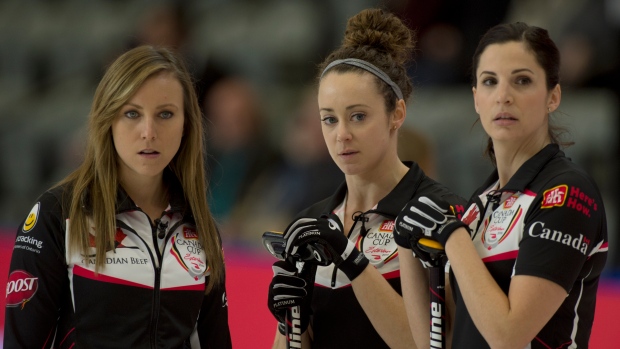 ESTEVAN, Sask. – Rachel Homan and her Ottawa rink have experienced just about every emotion there is in curling.
They've reached the pinnacle of the sport in Canada with three Scotties Tournament of Hearts wins, one world title and numerous Grand Slam victories.
They also know what it's like to come up short, having finished sixth at the Pyeongchang Olympics last winter, marking the first time Canada failed to medal in the sport since it became a regular addition to the Winter Olympic Games in 1998.
The result was gut-wrenching, for sure, and might have led to a breakup for some rinks, especially at the completion of an Olympic cycle.
This was not the case for Team Homan. At the end of last season they announced they would be sticking together and are now in the thick of things at the Canada Cup this week in Estevan, Sask., with a 4-2 record heading into Saturday morning's round-robin finale.
Homan, who has curled with third Emma Miskew since their junior days, says the team took a positive approach during the off-season in preparation for the next quadrennial.
"You're always trying to get better every year you play," Homan told TSN.ca this week. "After the four-year cycle, you kind of re-evaluate and set new goals. We got excited over the summer and starting training again over the next four years."
Second Joanne Courtney, who was part of Team Homan's Canadian and world title run in 2017, said it's important to look to the future after so many highs and lows from their entire Olympic journey.
"The desire to win is always there. We had such a great experience. We had all the emotions, the highs and lows of not quite finishing where we wanted to, but we still are so proud to be Olympians," said the 29-year-old Courtney. "So dialing into this season, it would be a long four years if all you thought about was what you thought about last year.
"I think we continually invest in what we want to. We love this game. We want to keep pushing ourselves until we get better and that's what we're focusing on right now."
Homan, 29, said competing in the Olympics is an experience that can make their rink stronger in the long run.
"Going through any big event like that is always going to pull us closer together. The more experience you have, the better it is," she said.
It appears that Team Homan is indeed bringing their forward-thinking, positive mentality to the ice this season. The foursome holds a 31-10 record in 2018-19 with victories at the first leg of the Curling World Cup in China and the Tour Challenge on the Grand Slam circuit.
And part of that success could be attributed to the return of coach Marcel Rocque. The famous lead from Alberta's Ferbey Four has worked with this group in the past and has returned for this season.
"Marcel's a great fit for our team. His intensity, his attention to detail – he pushes us to be the absolute best versions of ourselves and he also loves us like his own kids," Courtney said.
Weekend outlook
Homan defeated Winnipeg's Darcy Robertson 7-6 and Calgary's Chelsea Carey 9-2 on Friday, putting the rink in a good position to finish in the top three and in a playoff spot.
Courtney said the Canada Cup is one of toughest events on the curling calendar, with eight of the best women's teams north of the border competing in a quick five-day event.
"The field is so strong. It's a fast event, you play two 10-end games a day so it's great to see where we're at for all the little things that when've been working on," explained Courtney, who's widely considered the best sweeper in the game. "It's a great display of the fitness of curlers, having so many games and all that high-intensity finesse with the five-rock rule, so it's been a lot of fun."
The top-ranked team after the round-robin schedule gets a bye to the final while the second- and third-place teams battle in a semi-final.
Courtney added that whatever happens on the ice, Team Homan will always be like family to her.
"These girls are like my sisters. We're together all the time. It's something where that support is so important," she said.
Homan and her team finish off their round-robin schedule Saturday morning at 10 am ET against 1-4 Team Allison Flaxey.