With honesty and integrity, Kirby bids adieu to pro golf
Jennifer Kirby, one of Canada's top players, recently decided to walk away from professional golf, admitting that she just wasn't enjoying it anymore. This may be surprising to some because not many golfers have had as much success on the way to the LPGA Tour as the 27-year-old from Paris, Ont., Bob Weeks writes.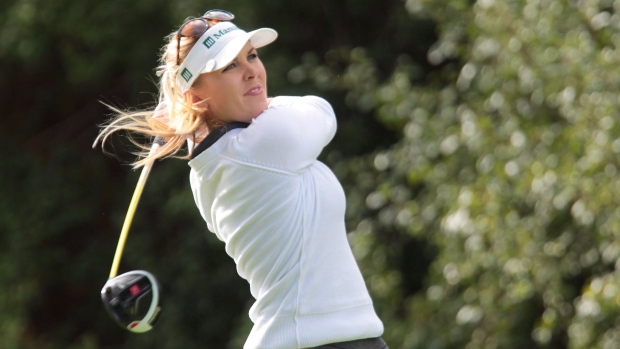 To the average fan, the life of a professional golfer looks glamourous, filled with beautiful courses, private jets and big-money tournaments.
While there are certainly some who do enjoy those riches and many others who get plenty of perks on the job, it is still just that – a job. And sometimes the job just isn't fun anymore.
That's the decision that one of Canada's top players came to recently when she decided to walk away from her professional career. Jennifer Kirby, a national champion and NCAA winner, has left tournament golf admitting that she just wasn't enjoying it any more.
"I didn't come to this decision lightly," she admitted to me while sitting at a Starbucks just a drive and a five-iron way from Glen Abbey's front gates. "I've been thinking about it for a while. I think every professional golfer at one point or another struggles with the decision."
While her choice is personal and specific to her situation, it also peels back the layers on what can be, for many, a difficult life, filled with self-doubt and loneliness. It's especially so for women who have fewer opportunities to reach success.
For those who look at her resume, it may be surprising that the 27-year-old from Paris, Ont., is ending things. Not many golfers have had as much success on the way to the LPGA Tour as Kirby. A talented junior, in 2009 she put together what may be the best season by any Canadian amateur golfer, winning the Ontario Junior, Ontario Amateur, Canadian Junior and Canadian Amateur titles. She went on to the University of Alabama and helped the school win the NCAA Championship, and represented Canada on several occasions, including the World Team Amateur Championship.
After turning professional, Kirby won her very first event, cashing a cheque at a Canadian Women's Tour event. Later that year, she went on to earn her LPGA Tour card, a move that she admitted surprised her.
"I actually think it was a shock that I got my card the first time through [qualifying school]," said Kirby. "I knew I was a good golfer, but through my junior career, it's not like I was a phenom. Everything was a building process and I was 18 when I won all those junior events and the amateur as well. So that was kind of the end of that chapter and then I started my college career and near the end of that chapter I hit my stride. It was always a building process.
"I went into pro accepting that I might be on the Symetra Tour and was OK with that. When I made it [to the LPGA Tour] it was kind of like, 'Oh, what's next?' I really didn't think about what my next goal was going to be."
Her first year on the big tour saw her make the cut in nine of 18 events, a promising start for a rookie. But she wasn't prepared for the adjustment to life as a professional. In amateur golf, she generally played as part of a team and fell in with the camaraderie. But as a pro, it was different on so many levels.
"The game really changes when you're playing for money and it's just a different dynamic when you're not really used to it," Kirby stated. "There's a lot of adjustments and demands on you."
One of those was the image that every golfer is rolling in the dough and cashing big cheques every week. Nothing, said Kirby, could be further from the truth, especially for a young player.
"I think there's a big misconception with professional golf," she said. "I know I went to a lot of pro-ams and played with people who thought the sponsors paid for our hotels and plane fares.
"My first year on tour, I spent over $25,000 on a caddie. After that I had to pay for hotels, flights, my tournament entry fee – people don't even know that we have to pay to play in each event on the LPGA. That's a big reason why a lot of people do step away is because they just can't afford it. I was very fortunate to have people backing me. A lot of people can't even afford Q-school and that's a big reason why they stop because they can't get status anywhere."
While the top of the money list in women's golf can be lucrative, things fall off quickly. The 100th-place finisher on last year's LPGA money list earned $98,261, barely enough to cover expenses. On the PGA Tour, the same spot on the money list brought in $1,070,754.
Kirby had a number of sponsors including Manulife and Adidas Golf, and stressed said she's not leaving the LPGA Tour due to financial circumstances. It's more about the emotional toll it took on her.
"I was lonely out there," she admitted. "It was nice when the other Canadians were around but everyone has a different schedule and they have their own way of doing things.
"I talked with friends and family about this and they would ask if it was just because I wasn't playing well. But the first year I kept my card and I still wasn't happy out there. It wasn't what I thought it was going to be. I think that's the tough part. I worked my whole life to get up on the LPGA Tour and when I got there it didn't fit the vision."
Her second year on the Tour, Kirby missed the cut in all 10 tournaments she played. It set off a chicken-and-egg question for her: was she playing poorly because she wasn't happy or not happy because of her poor play? It didn't really matter; the end result was the same.
The last two years, she played on the Symetra Tour and saw mixed results.
"I really just lacked the motivation the last couple of years because it wasn't something I was enjoying doing," said Kirby. "At this point in the game, if you're not out there 100 per cent, if your heart's not in it, what are you doing? Because you're not going to be making cuts, you're not going to be making money and you're not enjoying yourself. A lot of times I'd be out there and asking myself, 'what are you doing?' "
While she can't speak for others, Kirby knows she's not the only LPGA Tour player going through what she did. Being constantly on the road, away from family and friends, in cities where you might not know anyone or even speak the main language, it's easy to see why there is loneliness. But Kirby's quick to point out that everyone should chase their dreams, just as she did.
"I don't want people to think that playing on the LPGA is not for everyone, it just wasn't for me," she stated. "I'm very happy that I could make it to the highest level and really make that decision. I think it would be hard for people to walk away if they haven't made it to the highest level because they might think they're walking away from something they haven't accomplished. I think that's why I can walk away in peace."
Kirby described her emotions as part sadness and part relief. The sadness comes from the fact that she has devoted her life to something for so long and is now ending that. The relief part, however, comes with a healthy dose of optimism.
"The relief is that I'm opening new doors and asking what's next for me and who am I. I've always been considered Jennifer Kirby, the golfer. It's fun to see where the next path leads to."
Kirby doesn't know exactly what's next for her just yet. She feels she has a lot to offer in terms of coaching or mentoring girls who are looking at going down the road she travelled. She'd like to stay connected to the game and golf would be better with her there. Kirby still has a lot to offer.
And so as she leaves the competitive part of the game, she does so with a lengthy list of achievements but perhaps more importantly, she leaves with honesty and integrity. She can live with that.