With injuries mounting, rookie WRs getting a chance with B.C. Lions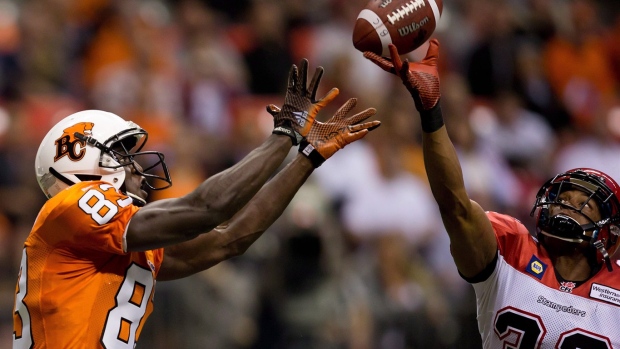 SURREY, B.C. - Stephen Adekolu and Bryan Burnham are close friends off the field, so it's probably fitting their careers have followed similar paths.
Both experienced injuries in university that affected their ability to catch on with professional teams, both had to fight for spots on the practice roster with the B.C. Lions, and both are now getting their chance to play because of injuries.
It's something the rookie receivers could only dream of back in training camp.
"When we first started I remember guys' lockers clearing out," Adekolu said after practice Wednesday. "If you really looked at me and Burnham, it's no secret that we were the bottom two that had to fight our way up and beat out a lot of guys. That's what we both did."
The 25-year-old Adekolu and the 24-year-old Burnham were happy to work with the scout team and said running opponents' plays against the CFL's No. 1 defence in practice for the first 12 weeks of the season did a lot for their confidence.
"We would make small bets or joke around on who would get the most yards on our first-team defence," said Adekolu, a native of Brampton, Ont. "We were like: 'If that's the best defence and we give them a good look, we could go out and play.'"
And that's exactly what they did last week when both dressed for their first pro games in a 40-23 home loss to the Toronto Argonauts.
Adekolu watched mostly from the sidelines, but Burnham wound up as the Lions' second-leading receiver with five catches for 90 yards and a touchdown in place of Courtney Taylor, who has a foot injury and is likely lost for the season.
"I've always stayed ready. Those older guys have really helped me stay mentally in it and always ready for when they called my number," said Burnham, who grew up in Moorestown, N.J. "I definitely didn't think it was going to come this quick. You never want to see someone get hurt.
"You never wish for that, but when it does come you've got to be ready for it because that's football."
Lions head coach Mike Benevides said both players have earned their chance, adding that Adekolu will see time on offence this week against the Calgary Stampeders.
"(Burnham) performed at a high level during the (Toronto game) and I think there's a high level of confidence of what he can bring," said Benevides. "With Stephen, he's preformed throughout the entire season in practice. He had a strong pre-season and it's time to see what he can bring to the table as a fifth guy and a rotational-type of person."
Burnham played at the University of Tulsa in the NCAA, while Adekolu spent five CIS seasons at Bishop's University. Each suffered knee injuries late in their college careers, which meant they had to work even harder to get a chance at the next level.
Adekolu went to rookie camp with the Montreal Alouettes last season but experienced tendinitis before returning to Bishop's, while Burnham's last game with Tulsa was the 2012 season opener when he tore his anterior cruciate ligament.
Both signed with the Lions this winter and have climbed the depth chart much quicker than expected.
"I think the biggest thing and the best thing is that the young guys are willing to take coaching," said quarterback Kevin Glenn. "They're very good character guys. They're humble and they're really just out there wanting to help the team."
That attitude has resonated with teammates, who can often sense when a player is unhappy with a situation.
"I like to try to come to practice everyday with the same attitude. I'm out here having a great time. I love being here," said Burnham. "I think if you come out here and start to be too serious when things are going wrong, that's when things start to split and you see guys start to change their demeanour."
Part of Burnham's even-keel approach comes from his father Lem, who played for the Philadelphia Eagles in the late 1970s before becoming a psychologist.
"He always just stayed on me about being patient and managing my stress and being anxious to get out there — you've got to manage that or it's going to tear you apart," said Burnham, whose sister works in the Lions' front office and suggested he try out after NFL teams passed. "It's something I really worked at ... he always gives me little mental exercises.
"He always said for the longest time: 'I've been there.'"
The Lions (7-5) visit the Calgary Stampeders (10-2) on Saturday as they continue to battle for playoff positioning in the West Division. Apart from Taylor's ailment, the door has been opened for Burnham and Adekolu because of injuries to return man Tim Brown and defensive back Dante Marsh.
B.C. handed Calgary its only home defeat of the season in a 25-24 decision back on Aug. 1, and Glenn said the Lions can take some positives from that game even though there's been a lot of personnel changes on both sides.
"The biggest thing I think is we came back from being 11 points down in the second half," said the veteran pivot. "We never quit. That's a big thing."
Adekolu and Burnham also haven't quit, and both are excited to step on the field together in a game situation.
They also know if they don't perform, there's a hungry recruit just like them waiting to jump up and snatch their spot.
"You always keep the mentality that when you get your chance either someone's not doing their job or someone got hurt," said Adekolu. "Football is you're taking someone's job or you're playing well enough to get a job. I want to step in and show that I can do the job they're expecting."