Woll ready to take the next step at Leafs development camp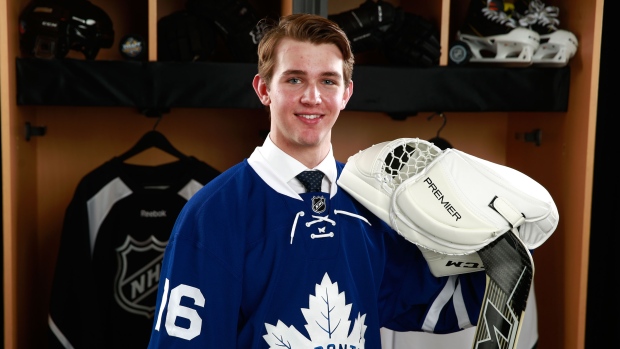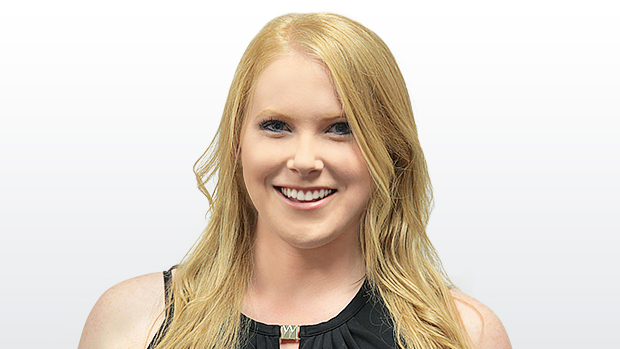 TORONTO – The Toronto Maple Leafs have a turbulent recent history in cultivating successful goaltending prospects, but in Joseph Woll the Leafs may well have unearthed a gem.
The 18-year-old just finished his freshman season at Boston College, posting a 2.64 goals-against average and .913 save percentage in 34 games as the team's starter. This week he's attending his second development camp with the Leafs, who drafted him 62nd overall in 2016, in part because of his off-ice intangibles. The most affable and genuinely personable Leafs' prospect since James Reimer, Woll long ago earned a reputation for being as mentally tough as he is genial.
But after a year of living and working among men with goals as lofty as his own, he's maturing further and faster both on and off the ice.
"I wanted to make sure I was playing the [majority] of the games and being someone my team could trust," Woll said after camp practice. "Going into this year I want to make sure that I set myself up [well] and solidify being one of the best goalies in college hockey; that's a goal I have for myself."
Woll has a long history of tackling challenges head on. As a kid he trained as a forward, but was always drawn to the goaltender's equipment and would sub in when he could in Mini Mites. When the St. Louis native was eligible to try out for AAA STL Elite, he did so as a goalie - and actually made the team as an alternate.
From there, Woll went on to face older, more talented players than most in the junior ranks as part of the U.S. National Team Development Program, which included fellow Leafs' draftees Auston Matthews and Jeremy Bracco. Woll credited the diversity of opponents, from college to international teams, as good preparation for an initially daunting task before him in the NCAA. He committed himself to having a big summer after being drafted, pushing himself physically so he'd be prepared to carry the load.
"Playing at Boston College, with them being such a historically good program, and especially with [former starting goaltender] Thatcher Demko leaving, those are pretty big shoes to fill," Woll said. "But I think the biggest thing is not focusing on the shoes your filling but making your own story and setting your own impact on Boston College."
Woll impressed enough to earn a spot on Team USA for last winter's IIHF World Junior Championship, where he backed up Calgary Flames' draftee Tyler Parsons. Woll played in two games, with a 1.50 goals-against average and .935 save percentage, on the U.S.'s run to the gold medal, calling the entire experience "one of the most memorable of my life."
But even as he's racked up opportunities at different levels, Woll has avoided the goalie pitfall of developing onerous superstitions. He simply prefers routine, and tries modeling himself after NHL goalies who exhibit the type of characteristics he strives to emulate.
"I've always looked up to Carey Price. That's an easy answer," Woll said. "Watching Frederik Andersen in Toronto this year, I think he's really proven himself to be one of the best goalies in the NHL. I try to find the happy medium of playing the technical aspect, but every goalie is going to need athleticism to play in the NHL and need that side. Andersen and Price, they do a great job of balancing that."
Saying "it's hard to pick" a single aspect Price or Andersen's game he'd like to add to his own, it's clear what impresses him most, and what he aspires to emulate, has as much to do with how top goaltenders handle the process as much as the puck. That's important as he looks ahead to where he might be suiting up full-time in a few years.
"Playing in Montreal and Toronto, those are two tough markets," he said. "But if you look at those guys…when you look at how [they've] handled the ups and downs, you have to really look up to that. Having the experience of playing in the World Juniors and playing in a big [college] market, you really focus on your game and as much as you can, block out the outside noise."
That laid-back attitude to handling the crease has already impressed Ian Scott, a Leafs fourth round pick from 2017 who is the only other drafted goalie in camp with Woll. The two have done almost everything together since it began last Thursday, and Scott is grateful for the comparatively veteran presence Woll provides.
"When he does something in practice, I just pick his brain a little bit. It helps a whole bunch," Scott said. "He's a great guy, and he's a great goalie. There's so many things I can learn from him too, like how relaxed he is, that's something I could get myself doing too, just to help calm the game down like that."
Woll and Scott have gotten one-on-one instruction from the Leafs' stable of goaltending tutors, including goalie coaches Steve Briere and Piero Greco. With his sights set on not only starting at Boston College next season once again, but also earning the starting job for Team USA at the World Juniors, Woll is determined to evolve even further before summer training ramps up.
"Coach Briere's work is that each day has a purpose. He finds a specific skill to work on every single day," Woll said. "In the goalie skate we go out and work on that specific technique and on the drills with the players we try to implement it as much as we can. It's about smaller things, expanding on my game, taking little details that I can make better."
When he was first drafted, Woll's longtime goalie coach in St. Louis, Bruce Racine, described his pupil as being "very, very passionate" about his position. His hunger to improve even by inches is apparent just in how he carries himself on the ice, whether in visualizing shots or responding to frustration after allowing a goal by immediately looking to a coach for instruction.
Woll wants to be great, and sooner rather than later, great for the Maple Leafs.
"Everything that goes along with [being a goalie] - being able to determine a game, being a leader in the net, how fun the game is and making that big save and winning," Woll said with his usual smile. "It does go along with the losses and the tough times, but that's just being a part of the team. [Toronto] has a lot of good prospects on their depth charts and I'm excited to see how the Leafs grow over the years."​​