World Juniors a family affair for Team Canada
Team Canada practiced again on Sunday in Mont-Tremblant, QC. TSN's Mark Masters is with the team and has the latest as Canada prepares for its first pre-tournament game against Finland on Monday in Montreal.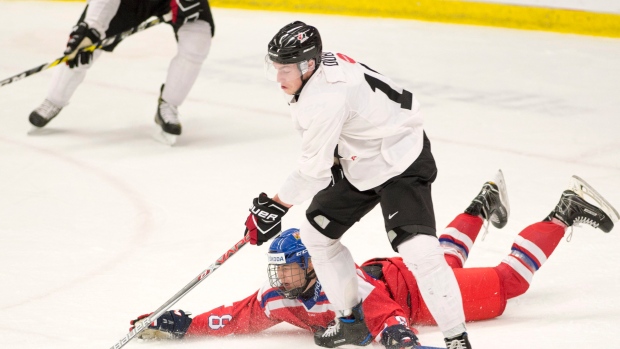 Team Canada practiced again on Sunday in Mont-Tremblant, QC. TSN's Mark Masters is with the team and has the latest as Canada prepares for its first pre-tournament game against Finland on Monday in Montreal.
--
* "I remember pretty much every world junior tournament," Pierre-Luc Dubois says with a big smile. "The fact I get to play here, especially in Toronto and Montreal, I mean, I'm speechless. I can't wait to start playing." The wait is almost over for the Quebec native as Team Canada opens its pre-tournament schedule against Finland on Monday night. For Dubois, it will be his first ever game at the Bell Centre. In fact, he's only been in the building once before. He was at the Canada-Switzerland world junior pre-tournament game two years ago. "I had goosebumps just being in the stands so I can't imagine what it's going to be like tomorrow. Coming from Quebec, growing up watching the Habs play, you hear the fans are loud, it's one of the biggest rinks in the NHL. I was talking to (Canadiens prospect and Team Canada defenceman) Noah Juulsen and he was saying it's a pretty special thing to play there."
The funny thing is Dubois didn't expect to be in this position. He hoped to be in the NHL, but his first training camp as a professional didn't go the way he wanted and he was sent back to the QMJHL by the Columbus Blue Jackets. "It was a little tough coming back," Dubois admits, "but now this year is about getting better and improving on small details that can make me make the team next year in Columbus. That was one of the reasons they sent me back was to get better without the puck. I played centre for half the year last year so they sent me back to keep playing the position, keep learning to play without the puck." Dubois averaged 1.6 points per game last season in Cape Breton while this year he's averaging 0.9 through the first 20 games. But the third overall pick in June's NHL draft believes he's primed for a breakout performance on the biggest stage in junior hockey. Why? "The fact I can play all three forward positions and I'm a big guy, I can be good on the forecheck. I'm a smart player. A lot of people say it's a 19-year-olds' tournament, I'm 18-years-old, but I'm a big guy, a strong guy so I feel I can bring a lot to the table for this tournament." Dubois will start Monday's game as the left winger on Canada's top line alongside Dylan Strome and Blake Speers.
Eric Dubois, Pierre-Luc's father, is an assistant coach with the Manitoba Moose and has received permission from the American Hockey League club to get some time off so he can be at the Air Canada Centre when his son makes his world juniors debut. The elder Dubois is a long-time coach so what sort of advice has he passed along? "Just to have fun," Pierre-Luc said. "It's a tournament that happens once, maybe twice in your life. Everyone thinks there's a lot of pressure, but everyone wants to win so we just got to do our thing, work hard and have fun."
* One of the more emotional moments at last June's NHL draft occurred when the Colorado Avalanche picked Tyson Jost 10th overall. After Joe Sakic made the announcement, Jost and his mom Laura shared a long hug. "She's my rock," said Jost. "She's the person who holds me up. She was so unbelievable to me in my childhood and just growing up and supporting my dreams and my goals." Laura raised Tyson and his sister Kacey as a single parent. "My mom's really special to me. She means a lot. She's a special person." Dante Fabbro, who played with Jost on the Penticton Vees of the British Columbia Hockey League for two seasons, believes Tyson's relentless work ethic was inherited from his mom. "She instilled a lot of work ethic. And he never puts himself first, he always puts others first. He was a great leader. Just from talking with him you can see and sense what kind of kid he is and how hard working he is."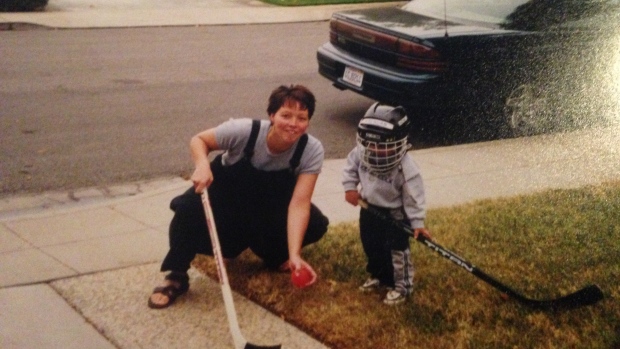 While Jost and his mom hugged at the draft, his grandfather Jim broke down in tears. "He's awesome," Jost said with a smile. "He's kind of been there for me throughout my childhood just like my mom has. When my mom was working long hours, my grandpa would come in. He's an emotional guy who cares a lot about his family and how he wants us to be successful. You all got a glimpse of that at the draft. We all knew he was going to cry because he cares about us so much." When Jost, a native of St. Albert, Alta., moved to Kelowna, B.C. to be part of Pursuit Of Excellence Hockey Academy, it was his grandparents who moved right along with him to ensure he had the support necessary in a new city.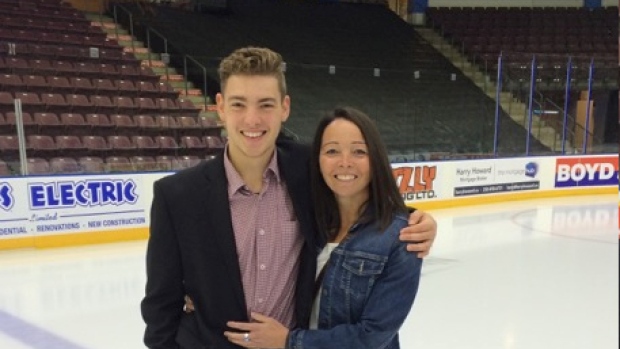 Jost's family will be at the world juniors watching with great pride and Tyson wants to make sure all the sacrifices made over the years leads to a golden result. "One of my goals was to make this team and the other one was to win a gold medal, so I'm pretty excited I have the opportunity to do that," the 18-year-old said. "It's not every day that you can make a dream become a reality and, I mean, it's sitting right in front of us right now." Jost is also motivated by what happened at the 2016 under-18 championship in Grand Forks, North Dakota where Canada lost in the bronze-medal game to the United States. Jost was the captain of that team and came through with a huge performance, breaking the Canadian scoring record at the tournament, which had been owned by Connor McDavid. "I learned a lot from being a leader on that team. I definitely learned what it's like to represent your country, that's something that's very humbling. I was disappointed that we didn't win and I guess this could be my redemption here."
* Wednesday night was an emotional experience for former Vees teammates Jost and Fabbro, who learned they would be reunited on Team Canada. "When we got the call for this team, our moms called each other and they were both crying on the phone, so it's going to be an emotional moment for them and for us as well," said Fabbro, a defenceman at Boston University. "It's amazing," said Jost. "It adds to the experience. We're such good family friends too. Right when we found out we made it, apparently are moms were on the phone together just crying and talking on the phone and saying how exciting it will be to be together Toronto and Montreal."
Jost, a forward at the University of North Dakota, has been practising on a line with QMJHL standouts Nicolas Roy and Julien Gauthier. He likes how things are working so far with one exception. "There's a little bit of a language barrier sometimes on the bench," he said with a grin. "I have to remind them to speak English."
Jost and Fabbro are the only NCAA players on the Canadian roster. "There's been a lot of talk in the dressing room," Jost said. "A lot of the guys are asking us what it's all about and how many games we play and what we do on a regular basis. It's fun to talk about, just because I love my time in North Dakota. Nothing but great things down there. It's a special program so any time I get to brag about it I love to do that around the guys."
* Mathieu Joseph isn't shy on or off the ice. On the ice he plays a high-skill game with a blue-collar attitude. Off the ice, he's not afraid to show off his personality. "I'm a pretty outgoing guy," said Joseph, who has 45 points in 29 games for Saint John this season. "Honestly, it's easy for me to talk. My family has been raised like that. My parents are like that, maybe not as hyper per se, but I'd say they raised me like that." Joseph's Twitter account features him dancing and lip syncing.
Joseph is tying not to get too carried away since joining Team Canada. "I'm trying not to be too much," he said with a sheepish smile. "You don't want to be too big. There's a middle lane and I'm trying to find that lane." Although Joseph said the energy is pretty high around the team these days. "Everyone around here is a little hyped." For Joseph, a native of Chambly, Que., he doesn't need any extra energy when it comes to tomorrow's game at the Bell Centre. "It's a special moment. I've always been a Montreal fan. I've been there lots for Montreal games and it's always special to be part of such a good fan base and such a good place to play."
* Team Canada has cancelled Monday's morning skate. The lines at Sunday's practice are expected to be the ones they use to start the game against Finland:
Dubois-Strome-Speers
Joseph-Barzal-Raddysh
Jost-Roy-Gauthier
Dubé-Cirelli-Stephens
McLeod
Chabot-Myers
Bean-Juulsen
Clague-Fabbro
Lauzon
Hart, Ingram
(Note: Head coach Dominique Ducharme has not named a starting goalie for Monday's game. He said it will be team policy to do so only on the morning of each game day.)
* Team Canada PP units at Sunday's practice:
Chabot
Barzal-Raddysh-Strome
Dubois
Myers
Bean/Clague-Gauthier-Jost
Roy