Canada wraps up Summer Showcase with loss to USA
Team Canada wrapped up the World Junior Summer Showcase with a 7-5 loss against Team USA on Saturday night. It was the second time Canada lost to their cross-border rivals at the camp. The teams split a pair of scrimmages on Tuesday.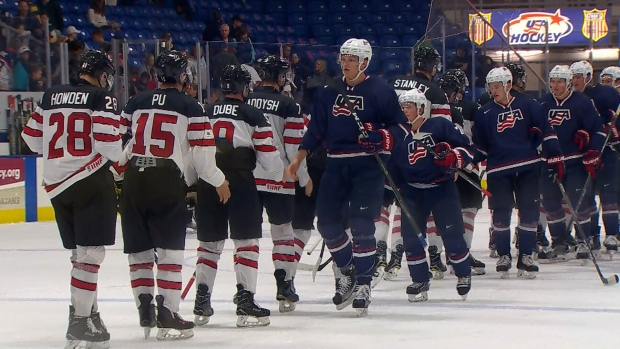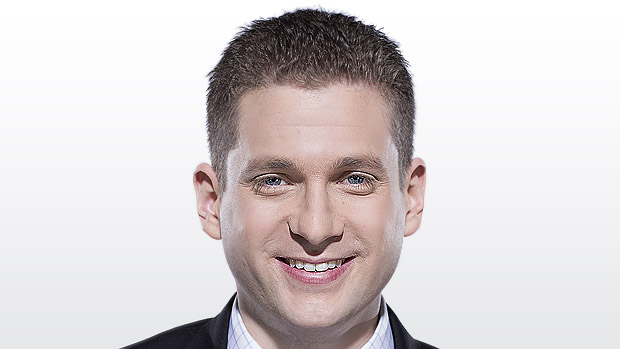 PLYMOUTH, MICHIGAN – Team Canada wrapped up the World Junior Summer Showcase with a 7-5 loss against Team USA on Saturday night. The lines are listed below.
It was the second time Canada lost to their cross-border rivals at the camp. The teams split a pair of scrimmages on Tuesday.
"At this camp we haven't been ourselves against them," said Flames prospect Dillon Dube. "I think we're a little bit nervous. It's just tough ending the camp like that. They're a team we don't like at all so it'll be a good battle when we play them in the tournament."
The next time Canada will play the United States will be on Dec. 29 outdoors at New Era Field during the preliminary round of the World Juniors.
Canada had eight players with World Junior experience in the lineup on Saturday, including Dube. Tyson Jost, who is dealing with an injury issue and hasn't been on the ice at the camp, was the only returning player missing.
"My mom's American, but I don't like the American hockey team," said Pierre-Luc Dubois, who had a goal and an assist. "Playing against them at the U17, U18, U20 and losing last year to them, even though it's the middle of the summer, losing is not fun especially against the Americans."
Joey Anderson (three goals, one assist) and Adam Fox (one goal, three assists) led the way for the Americans.
Team Canada's lines in Saturday's game:
Forwards
Dube-McLeod-Raddysh
Kaspick-Howden-Pu
Smith-Dubois-Thomas
Shaw-Steel-Kyrou
Gadjovich
Defencemen
Girard-Fabbro
Stanley-Clague
Bean-Makar
Mete
Goaltenders
Hart (10/14)
Wells (7/9)
CANADA'S MAN OF STEEL
Sam Steel was one of the final two forwards cut by the Canadian World Junior team last year. It was a bitter pill to swallow for the then 18-year-old, who had arrived at the camp as the WHL's leading scorer.
"It's tough right now," a downcast Steel said on Dec. 14, 2016 as he made his way out of the Team Canada hotel. "I'm sure I'll get through it and hopefully learn from it."
"He was a hard guy to cut," said Joel Bouchard, part of Hockey Canada's management group. "When I spoke to him, he's the guy that it was hard to cut him, because I felt he really brought his game to another level, which was nice to see. So, I was happy to see him when we met with him this year. It is exciting to see he grew from it."
Steel used that setback as motivation and is now a leading candidate to be Canada's top-line centre at this year's World Juniors.
"I see a little bit more jump in his game," said Team Canada head coach Dominique Ducharme. "We saw all his offensive abilities last year, but to be playing at this level and to be playing a complete game and to be playing 15 minutes at five-on-five you need pace and you need that jump and you can see that he's got that now."
"It's a few little things," Steel said of his development. "You always want to try and improve so I've been working on getting stronger and a little faster … Obviously, it was a team I wanted to be on (last year), but, you know, once it happens you can't do anything about it except just go out and play the best hockey you can."
And that's exactly what Sam Steel did. He led the Canadian Hockey League in scoring last season with 131 points in 66 games with Regina.
"One of the most skilled guys I know at the junior level," said goalie Carter Hart of the Everett Silvertips, who is a long-time friend of Steel's. "I wouldn't be surprised if he's up in the NHL next year. He's got such good vision and a quick release and he's one of the best passers in the game."
For now, Steel is focused on achieving his dream of wearing the Maple Leaf at the World Juniors and he helped his cause by scoring a goal and adding two assists on Saturday night. "It would mean a lot," he said. "This is a team I always wanted to make."
And he isn't simply motivated by his own desire to play for Canada. He wants to succeed in order to honour the memory of his older brother Patrick, who passed away suddenly in his sleep in 2011 at the age of 18. Patrick was playing Junior A Hockey in Canmore at the time.
"We'd always watch the tournament and I'm sure he'd want me to be on that team and try and win a gold medal."
PART OF THE FAMILY BUSINESS
One of the stand outs at the World Junior Summer Showcase was American Brady Tkachuk. This fall he will follow in his father Keith's footsteps by playing at Boston University. And next Spring he's expected to follow in his brother Matthew's footsteps by being a top pick in the NHL draft.
The following is a Q&A with the 17-year-old about what it was like growing up in the Tkachuk family.
Q: How does your game compare with your dad and brother?
Brady Tkachuk: "To my dad, I think I got his feistiness. I'm not afraid to go in the tough areas. And for my brother, I like to be around the net, like both of them actually were, I like to make plays in close and in tight to the net."
Q: How are you different?
BT: "Probably I'm a little faster then they were, but besides that we're all pretty similar."
Q: Like your brother, you play with an edge. What is it that makes the Tkachuks so feisty?
BT: "I don't know. It's just, I've been taught from a young age that you don't have friends out there so you just always compete and play hard."
Q: What was the sibling rivalry like when you were growing up?
BT: "Usually, when we were younger, he'd win pretty much everything and I'd win maybe once a year and, yeah, everything we did it was always me and him and my little sister joined in later in years, but from roller blading to mini sticks to basketball, you name it, we were always one-on-one with each other."
Q: Any good memories of when you got the better of Matthew?
BT: "One roller hockey game a while back I won and usually I never won those so I was pretty pumped and he was not too happy."
Q: What was it like to spend time around NHL arenas as a kid?
BT: "I got to go in the locker room almost after every home game and be with all the guys. It was awesome and usually on weekends we'd go to practice with him. It was a lot of fun."
Q: What was it like being in the dressing room? What did you notice?
BT: "Just being with all the guys. I mean, there was a lot of big names back then like Al MacInnis, Chris Pronger so I didn't realize it back then, but right now it's like, they're Hall of Famers so just to hang with them and get to know them was pretty awesome."
Q: Do you have a favourite moment?
BT: "For sure, my dad's last home game. They had a little ceremony after so my brother and I got to stay on the ice after and just go one-on-one on the rink so it was just us two in the whole arena. It was awesome."
Q: Did you guys compete? Were you keeping score?
BT: "There was no net so we were just kind of hitting each other. But, it was a lot of fun."
Q: What was your favourite moment of Matthew's rookie NHL season?
BT: "I only got to see him play once last year and it was at The Joe so it was my last time at The Joe too so it was pretty cool to see him and we got to see him after too so that was probably my favourite memory of him last year."
Q: What would it mean to you to make the World Junior team?
BT: "It's been a goal of mine for pretty much my whole life. I've been working for it for the past couple years now. My brother went through it and I got to watch him so it'd be a huge honour to be on this team."
WORLD JUNIOR SUMMER SHOWCASE RECAP
In case you missed it, here are some highlights from TSN's coverage from Plymouth, Michigan:
Leafs GM Lou Lamoriello talks about the progress of prospects defenceman Timothy Liljegren and goalie Joseph Woll and evaluates Toronto's off-season moves:
Team Sweden head coach Tomas Monten explains how the team is using a different camera angle – "The Eye of the Puck" – to improve their face-off results:
TSN director of scouting Craig Button believes that Windsor's Michael DiPietro has a chance to unseat Everett's Carter Hart as Canada's starting goalie:
Vegas Golden Knights GM George McPhee on why NHL executives have to be careful when it comes to evaluating players in the middle of the Summer:
Avalanche fourth overall pick Cale Makar hopes to develop into the Canadian version of Erik Karlsson:
Lightning prospect Cal Foote is following in his father Adam's footsteps by choosing to play for Canada internationally:
The nine Canadian players eligible to return to the World Juniors in 2018 are eager to avenge last year's heartbreaking shootout loss to the Americans: