World Peace makes Lakers' final roster
Metta World Peace has already carved out a remarkable 15-year NBA career that took him from the low of an 86-game suspension to the height of a championship with the Los Angeles Lakers.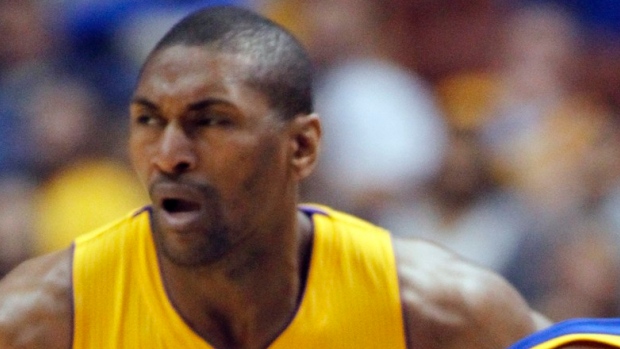 EL SEGUNDO, Calif. - Metta World Peace has already carved out a remarkable 15-year NBA career that took him from the low of an 86-game suspension to the height of a championship with the Los Angeles Lakers.
And the man formerly known as Ron Artest isn't done yet.
World Peace earned a spot on the Lakers' roster on Monday, punctuating his comeback attempt after 19 months out of the league.
"It wasn't easy being a vet and trying to get back in the league," World Peace said after practice at the Lakers' training complex. "I don't want people to think I didn't work and just got lucky. I did a lot of hard work. Success for me is just enjoying the process, working hard, continuing to master the game of life and staying ready."
Los Angeles cut Jabari Brown to trim its roster to 15 players ahead of Wednesday's season opener against Minnesota. World Peace stuck with the Lakers, who value his veteran leadership and personal resilience as they attempt to come back from the worst season in franchise history.
The 35-year-old World Peace returned to the Lakers for training camp on a nonguaranteed deal last month, two seasons after the team waived him with the salary cap amnesty clause. He won the 2010 NBA title with the Lakers during four years with the club as a defensive stopper and a valued teammate of Kobe Bryant and Pau Gasol.
World Peace also revitalized a public image that had previously been defined by his role in the infamous Malice at the Palace brawl in November 2004. He became a respected veteran leader for the Lakers, leaving bad behaviour behind — well, aside from an elbow to James Harden's head in 2012.
"I try not to dwell on being on top of the mountain and then having that down time, some ups and downs," World Peace said. "I try to dwell on the future, but yeah, I did have some great times and some bad times in my career. Being a Laker, that's good times again. It's all about just staying persistent with your goals, seeing it through and staying consistent with your work ethic. Things will work out."
World Peace spent 29 games with the New York Knicks in 2013-14 before getting waived. His NBA career apparently over, he played in China and Italy last season, and he even became an assistant coach for the girls' team at a high school in suburban Pacific Palisades.
But World Peace got back in the game with hard work that didn't even start as a tryout. He trained at the Lakers' training complex last summer and worked extensively with Julius Randle, the promising power forward who broke his leg in his first NBA game last fall.
"We're trying to just balance the youth and experience on this team, and obviously Metta has that experience," Lakers coach Byron Scott said. "To balance all these young guys that we have, and to have some veteran leadership made it difficult, and the fact that we know Metta extremely well made it even more difficult to let go of Jabari, but this is a decision we're going to live by."
Brown played alongside Lakers guard Jordan Clarkson at Missouri, and he worked his way up from the D-League last season to play 19 games for Los Angeles, including five starts and a 32-point performance in the regular-season finale.
"It's probably the most difficult cut that I've ever had to make," Scott said. "He's a great kid and works his tail off. He's gotten so much better from last year to this year."
After his experience tutoring Randle during the off-season, World Peace sees a future as an NBA assistant, perhaps in player development to start. Until then, he is focused on adding more good chapters to his playing career.
"Who wouldn't want to be a coach?" World Peace said. "It's a great life. I'm learning a ton from Coach Scott. I'm grateful to be able to compete with young athletes and be able to learn from young minds. You just never know. One day you're playing, and one day you could be coaching, so I just try to prepare myself for both."