Rays win thriller in Game 4 of World Series
The Tampa Bay Rays have tied the World Series at two games apiece in one of the wildest playoff games in baseball history. Brett Phillips hit a walk-off double to score two and beat the Dodgers 8-7 in one of the greatest finishes in postseason history.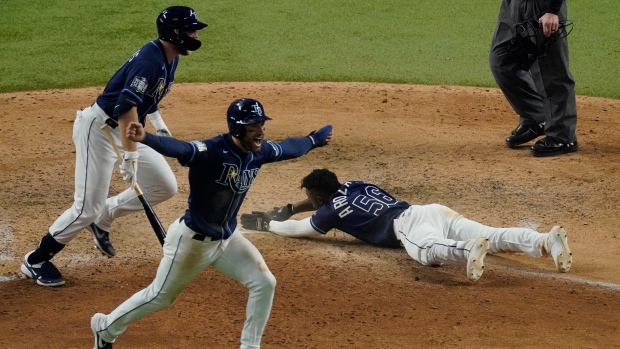 Dodgers 7 vs. Rays 8
Final
Series tied 2-2
---
Bottom 9th
What just happened? Brett Phillips hit a walk-off double to score two and beat the Dodgers 8-7 in one of the greatest games and finishes in postseason history.
Top 9th
Dodgers come up short as well. To the bottom of the ninth we go. Dodgers can take a 3-1 series lead if they hold on.
Bottom 8th
After eight straight half innings of runs being scored, the streak has ended. Dodgers lead 7-6 heading to the ninth.
Top 8th
With two outs, Corey Seager came up clutch once again, hitting a bloop single over the shortstop's head to score Chris Taylor. At least one run has been scored in eight straight half innings, a World Series record.
Bottom 7th
Game 4 is officially a classic. Centrefielder Kevin Kiermaier went deep on Baez with nobody on base and we're tied 6-6. Having fun yet?
Top 7th
This game just keeps on getting better. With two outs and the bases loaded, Joc Pederson came up to bat as a pinch hitter for A.J. Pollock. With a 3-1 count, Pederson hammered a line drive to left field that was just out of reach of second baseman Lowe. Two runs scored and the Dodgers are back up top in a thriller from Texas.
Bottom 6th
Drama in the sixth inning. The Rays have taken a 5-4 lead after Brandon Lowe hammered a one out, three-run opposite field home run off Dodgers reliever Pedro Baez. It was his third home run of the World Series.
Top 6th
Another inning, another clutch two out RBI by the Dodgers. This time it was the number nine hitter, Enrique Hernandez, who hit a double off of Diego Castillo to score Will Smith and give Los Angeles a two-run lead once again.
Bottom 5th
Tampa is back to within one run of the Dodgers after Hunter Renfroe hit his second home run of the postseason in the fifth. Urías was pulled for Blake Treinen after throwing 4.2 innings with four hits, two earned runs, one walk and nine strikeouts.
Top 5th
Max Muncy smacked a two out single to centre that scored Seager and extended the Dodgers lead to 3-1.
Bottom 4th
Rays slugger Randy Arozarena set a MLB postseason record with his ninth home run of the playoffs. Arozarena's solo shot off Urías has pulled the Rays within one run of the Dodgers.
Top 4th
Yarbrough recorded one out in the inning before being pulled with a runner on second. His final line read: 3.1 innings pitched, five hits, two earned runs, one walk and one strikeout. Ryan Thompson is now in the game.
Bottom 3rd
Urías is locked in. The 24-year-old has five strikeouts through three innings and has allowed just one hit.
Top 3rd
Corey Seager added to the Dodgers' lead with a two out, solo home run, his eighth of the postseason. Dodgers lead 2-0.
Bottom 2nd
Urías made quick work of the Rays in the second, retiring them in order.
Top 2nd
Rays starter Ryan Yarbrough stranded a runner on second base by striking out Chris Taylor to end the inning.
Bottom 1st
Dodgers starting pitcher Julio Urías allowed one hit but no runs in his first inning on the mound.
Top 1st
For the second straight night, Dodgers third baseman Justin Turner has hit a opening inning solo home run to give Los Angeles an early 1-0 lead. He becomes the first player in World Series history to hit a homer in the first inning in back-to-back games.
Starting Lineups
Dodgers
Rays