Yost: Thornton still performing at an elite level
Travis Yost looks at the struggling San Jose Sharks, and one player that most certainly hasn't been a problem this season.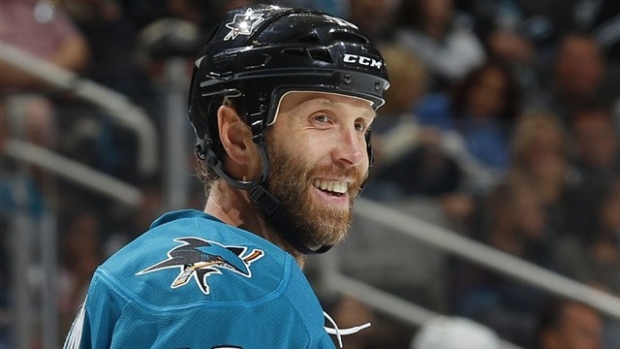 Imagine you are flipping a coin, with the goal of trying to land 'heads' four times in seven chances. What's the better outcome?
Game A: T H T H T H T
Game B: H H H T T T T
Obviously, the answer is neither – you only managed to land 'heads' three times out of seven chances. In coin-flipping, we would almost certainly treat the two sequences as equals.
Beyond the realm of coin-flipping, rational thought can deviate in a hurry. What if we changed the coin-flipping game to a best-of-seven hockey series, with 'heads' signifying wins, and 'tails' signifying losses? We have seen enough hockey to know the answer to this question.
'Game A' would be treated as an unbelievably competitive best-of-seven; Game B, despite lasting the same number of games, would be treated as (a) an incredible choke-job by the 'heads' group; and (b) a comeback story for the 'tails' group.
This accurately captures what happened to last year's San Jose Sharks. The Sharks didn't just lose to rival Los Angeles in seven games – they went down in flames, blowing a 3-0 series lead. The Kings went on to win the Stanley Cup. San Jose could have spent the summer arming their roster to the teeth. Instead, they decided to do absolutely nothing, save for some predictable scapegoating of now ex-captain Joe Thornton.
The overreaction to the first-round loss has left San Jose in a bad situation. One week ago, I noted that San Jose has experienced one of the biggest drops in 5-on-5 play this season, a far cry from the dominance they exhibited in years past. The poor play has translated unfavorably in the standings – they have only compiled 24 points in 23 games, good enough for tenth place in the West.
San Jose's not universally struggling this year. The larger problem with this team is that their depth is getting beaten up pretty badly compared to previous years. Since San Jose's mostly stuck with the same guys down the middle of the lineup, troubleshooting the problem areas shouldn't be difficult:
Sharks Lines
| Line | Corsi +/- Per 60 | Corsi% | Goal% |
| --- | --- | --- | --- |
| Couture Line | +5.9 | 52.3% | 47.4% |
| Thornton Line | +16.4 | 57.0% | 52.0% |
| Sheppard Line | +11.7 | 55.3% | 42.9% |
| Burish*/Desjardins Line | -29.9 | 35.9% | 25.0% |
It's not really a surprise to see Adam Burish waived – San Jose's fourth-line has been a massive Achilles heel for this team in the early going, a far cry from past competent depth that wasn't leaking scoring chance after scoring chance.
On the other hand, the most impressive part of San Jose's team remains Joe Thornton. He's played a bulk of his minutes with Joe Pavelski and Tomas Hertl, the trio more or less caving in the opposition with frequency and relentlessness through the first quarter of the season. Also of note, they are really the only group of the four that's in the black as it pertains to goal rates.
There's a special kind of irony, I think, with the above table. San Jose spent an awful lot of time talking up a long-term rebuild and the closing of their contending window in the past few months, and for the most part, the team has taken a decisive step back. Except for Joe Thornton – the guy who was more or less fingered for San Jose's early post-season exit. He's been sensational, carrying an otherwise shaky Sharks team.
And it's important to note that Thornton doesn't just compare favorably to other lines in San Jose. We can pull out the same numbers for some of the best centers around the league, and Thornton still shines. I've included individual scoring rates in this table as well:
Elite Centre Production
| PLAYER | TEAM | Corsi +/- Per 60 | Corsi% | Goal% | Points/60 |
| --- | --- | --- | --- | --- | --- |
| Jonathan Toews | Chicago | +17.4 | 57.5% | 50.0% | 1.72 |
| Joe Thornton | San Jose | +16.4 | 57.0% | 52.0% | 2.27 |
| Henrik Sedin | Vancouver | +13.1 | 56.6% | 57.1% | 1.95 |
| Jonathan Tavares | N.Y. Islanders | +12.2 | 55.2% | 48.5% | 2.01 |
| Sidney Crosby | Pittsburgh | +11.6 | 56.8% | 68.2% | 2.51 |
| Anze Kopitar | Los Angeles | +11.6 | 55.0% | 47.4% | 1.51 |
| Tyler Seguin | Dallas | +4.3 | 51.8% | 63.2% | 3.52 |
In this group, the first six elite centers that came to my mind, along with the veteran Thornton. You can make the argument that every one of these centers plays on a likely playoff team, though Dallas and San Jose have obviously had slower-than-anticipated starts.
The important takeaway from this group is that there's virtually nothing separating any of the other six centers from Joe Thornton in terms of production. Thornton's towing the second-best possession rate of the group, has seen favorable goal-rates on the ice, and is scoring at a better per-60 rate than guys like Toews, Sedin, Tavares, and Kopitar.
We are left with maybe the most fascinating dynamic in the National Hockey League. By design, San Jose's front office may have done just enough to push their team out of the top-eight this year. And yet, they simply have no answer for Joe Thornton – a player of such unique talent, he's capable of carrying an entire lineup for games on end.
Most teams would kill for this sort of player. San Jose? Don't ask me to explain it.