Young guns Bottcher, Dunstone learning on the fly at trials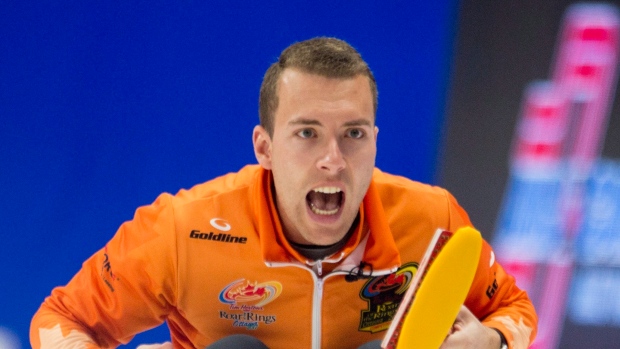 Brendan Bottcher and Matt Dunstone are two of the youngest curlers you'll see this week at the Canadian Tire Centre.
Both throw last rocks for their rinks and both are making their first appearances at the biggest event in Canadian curling – the Olympic trials.
The two young guns squared off Sunday morning with Bottcher picking up the 8-6 victory in a back-and forth affair.
Bottcher, 25, who shot 78 per cent in the contest, was pleased with how his team's first trials experience went.
"It felt like we had the momentum the whole game and we could never really put it away until that last end. First game of the trials, it was always going to be tough," Bottcher told TSN.ca after the morning draw. "Every game out here is going to be tough, so at least we were in a situation where we trying to close it out as opposed to claw back."
The pre-trials winner fell to Team Brad Gushue in the afternoon draw to even his record at 1-1.
Dunstone, who at 22 is the youngest curler at the Roar of the Rings, throws last rocks for Steve Laycock's squad out of Saskatchewan. The foursome is 0-2 in Ottawa [UPDATE: Dunstone claimed victory over Team John Epping in the evening draw to improve to 1-2] and might be in tough to make the playoffs.
"The guys played well. I got to start making a few more for them on the back end if we're going to start winning some games here," said Dunstone. "So, I have to be better for sure."
Despite the slow start, the two-time Canadian junior champ (2013 and 2016) is living in the moment as he never expected to be at an event like this in just his second season of pro curling.
"Yesterday [Saturday] was very cool being apart of the opening ceremonies. Playing that first game was obviously an extremely cool experience and one I didn't think I'd have this early on in my curling career," he said. "Today I feel a little bit more at ease, just another event playing teams I've played before."
Bottcher, the 2012 world junior champ, has a little more experience with prime-time arena curling as his Edmonton squad, dubbed "The Bottcher Express," competed in their first Brier last season after winning the Alberta playdowns.
"It's different, these pinnacle type events. Just the atmosphere is different, teams play you a little different, he said. "Having the experience has prepared us more than anything I could have done at home."
And Bottcher seems confident that his team could be in the thick of things by week's end. Remember, it was a 25-year Brad Gushue who surprised everybody at the 2005 trials, eventually claiming gold at the Winter Olympics in Turin, Italy.
"I've said to a lot of people that getting here was the victory and it is. Just to be apart of this conversation. And once we're out here I certainly think we can win it," he said.
Dunstone left his hometown Winnipeg squad this off-season to play second for Team Laycock. He admits it was tough choice to leave some of his "best friends" in curling, but the allure of the trials and the chance to better his career was too hard to pass up.
"It's tough to look at it that way [learning experience] because you want to win so bad," Dunstone explained. "I know regardless of how the rest of this week goes, I'll look back on it and it will be a total learning experience."
The former junior skip took over last rock duties in early November after Laycock proposed the change and has noticed a vast difference in shot-making ability. Dunstone knows he needs to get to that level to see the same success he had in the junior.
"You don't get those open misses. So that's why I got to be better for sure. I've had a couple of those zeros and you can't toss up too many of those against these guys."