Zibanejad has natural trick in Sens' win
Mika Zibanejad's natural hat trick in a 2:38 span in the third period led the Ottawa Senators to dramatic 6-4 comeback victory over the Calgary Flames on Saturday night.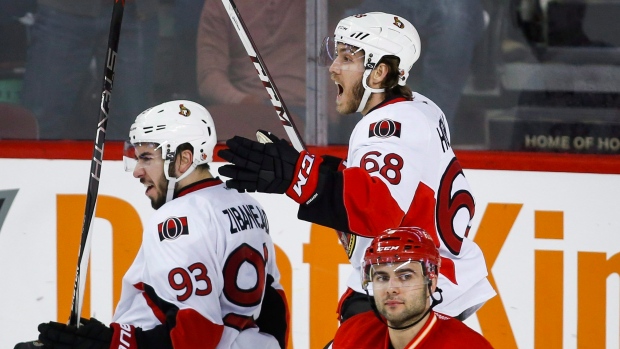 CALGARY - Mika Zibanejad made Senators history and his team made off with a crucial two points.
Zibanejad's natural hat trick in a team-record 2:38 span in the third period helped Ottawa to dramatic 6-4 comeback victory over the Calgary Flames on Saturday night.
Zibanejad got the rally started at 6:10, beating Joni Ortio on a wrist shot to cut the deficit to 4-3.
"I tell myself to shoot a little bit more. That first one, I just threw it at the net and it went in," said Zibanejad.
At 7:59, he tied the game with Ortio caught out of his net after he was contacted by Bobby Ryan in a collision outside the crease. The goal was allowed to stand after Flames coach Bob Hartley challenged it.
Forty-nine seconds later, Zibanejad capped his first career three-goal game, chipping the puck into the net from in close.
It was the fastest three goals in a row for the Senators since Marian Hossa did it in a 7:05 span on Jan. 2, 2003. At age 22, he also becomes the youngest to score a hat trick for Ottawa since Martin Havlat on Feb. 22, 2004.
"When the goals come you get a little bit more confident, you want the puck more," said Zibanejad, who entered the game with one goal in his previous 15 games.
Zack Smith, Nick Paul and Jean-Gabriel Pageau, into an empty net, also scored for Ottawa (30-27-6). The Senators have won five of their last six and remain six points back of the Pittsburgh Penguins and the second wild-card spot in the Eastern Conference.
"We told ourselves we had nothing to lose. We're just going to go into the third and do everything we can. If we play in their zone we're going to have a chance," said Senators captain Erik Karlsson, who had two assists. "We ended up doing that for 20 minutes and we got away with two points."
Johnny Gaudreau had two goals and an assist to lead the way for Calgary (27-31-4). Joe Colborne and Sean Monahan also scored. Winless in their last four, the Flames open up a four-game road trip in Philadelphia on Monday.
"Turnovers, plain and simple," said Flames coach Bob Hartley. "It's unfortunate because we played an unbelievable first period."
The Flames dressing room remained closed for a long time post-game as Hartley held an impromptu meeting.
Making matters worse, after Zibanejad's go-ahead goal, a Flames jersey was tossed onto the ice from the crowd. It was quickly scooped up.
"It's sad to see something like that but we can't control their actions and as a team we need to be better," said Gaudreau.
On the day his linemate Jiri Hudler was traded to the Florida Panthers, Gaudreau didn't miss a beat, extending his point streak to a career-best seven games. He has three goals and eight assists in that span.
"He was a huge part of helping me get into this league and helping me become an NHL hockey player. I owe a lot of thanks to what he did to help me out in my career," Gaudreau said about Hudler.
Craig Anderson had 34 saves for Ottawa. He improves to 27-20-4.
Ortio made 20 saves and falls to 0-5-2.
Notes: Flames D Kris Russell (lower body) missed his seventh consecutive game... RW David Jones took Hudler's spot on the Flames top line with Gaudreau and Monahan... Senators announced that RW Chris Neil has signed a one-year, $1.5 million contract extension... Calgary D Dennis Wideman served the 13th game of a 20-game suspension.