10 players who made a mark at Leafs development camp
For the second straight scrimmage at Toronto Maple Leafs development camp, Auston Matthews was on the losing side. While winning may not have been the point of development camp, competitive nature doesn't take games off. TSN.ca Toronto Maple Leafs Reporter Kristen Shilton has more.
Kristen Shilton, TSN.ca Toronto Maple Leafs Reporter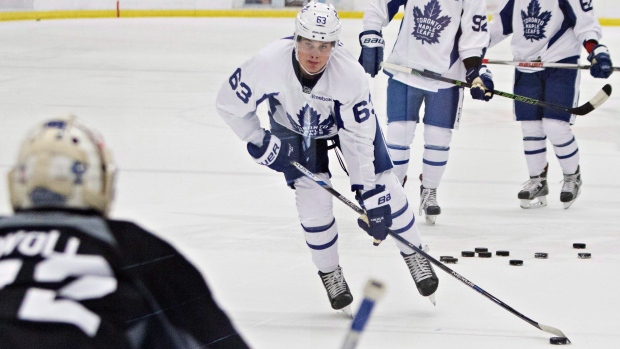 For the second straight scrimmage at Toronto Maple Leafs development camp, Auston Matthews was on the losing side.
His Team White was trounced 4-1 Friday and 5-2 Saturday by Mitch Marner's Team Blue. And while winning may not have been the point of those contests, competitive nature doesn't take games off.
"I hate losing. Everybody hates losing," Matthews said Saturday. "So that's kind of a tough one. But everybody is here to get better, here to learn. So in the end, as much as you want to win, the score isn't exactly the biggest factor. It didn't really feel like a July skate; it was a fast pace."
Tyler Wong (two goals), Mitch Marner (two goals) and Trevor Moore (a goal and three assists, 3) led the way for Team Blue to complete the sweep. The game capped a long week of activities for the camp's players and coaches. Over six days between Niagara Falls, Ont., and Toronto, 41 Leafs prospects and camp invites went through drills, skating sessions and off-ice seminars on nutrition and mental health to become equipped to succeed at the highest level possible for them next season.
Here are 10 players who made their mark during camp:
1. Auston Matthews (2016, First overall): The 6-foot-2 centre demonstrated the puck possession and shooting skills of a player who goes at the top of the draft; all Matthews doesn't have yet is a contract. Wearing No. 63 instead of his usual No. 34, Matthews may still be able to snag the number favoured by his father and grandfather – it was vacated by James Reimer in his trade to San Jose. The Scottsdale, Ariz., native will head home for a few weeks before returning to Toronto in August to skate with Leafs' player development consultant Darryl Belfry.
2. Mitch Marner (2015, Fourth overall): Marner's 2016 camp experience couldn't have been more different from his last. Needing to work on improving – and using – his shot, the right winger focused on his own game without worrying about expectations or "making the pretty pass." The result was dominant performances throughout the week, particularly in the team scrimmages. With a summer under the Leafs training staff ahead, Marner is zeroed in on adding weight (he's at 163 pounds but wants to reach 170 by training camp) and making Toronto's roster in the fall.
3. Travis Dermott (2015, Second Round, 34th overall): With Stuart Percy and T.J. Brennan exiting Toronto's organization via free agency, roster spots for defenders with the AHL's Marlies opened up and Dermott is primed to take one. He suited up in one AHL playoff game last season after getting called up when the Erie Otters' season ended. Throughout camp he took a leadership role on and off the ice, performing well in puck protection work and showing off his hockey sense with smart two-way plays in scrimmages. He's ready to make a jump to the AHL.
4. Andrew Nielsen (2015, Third Round, 65th overall): The Leafs have a decision to make about this defender: Do they send the 19-year-old back for an overage season with the WHL's Lethbridge Hurricanes, or start with the AHL's Toronto Marlies after his made a five-game cameo with them to end last season? Nielsen (6-foot-3, 207 pounds) was a standout all week in puck drills, and a commanding presence for Team White's blueline in scrimmages. In the best season of his junior career with the Hurricanes (18 goals, 52 assists in 70 games) last season, Nielsen made major progress from the season before (seven goals, 17 assists in 24 games). He's moving in the right direction quickly and ready for full-time work at the next level.
5. Jeremy Bracco (2015, Second Round, 61st overall): Often found near his U.S. National Team Development Program teammate Matthews, Bracco is an emerging dynamo in his own right. In camp action he showed off the shiftiness and great shot that made him so hard to play against last season with the Kitchener Rangers (21 goals, 43 assists in 49 games). Marner, another small forward, praised Bracco Saturday for how hard he plays. Another season in the OHL will refine the 19-year-old forward's game.
6. Dmytro Timashov (2015, Fifth Round, 125th overall): Explosive and agile with the puck on his stick, Timashov looks more ready to graduate to the AHL than his fifth-round draft selection would indicate. Often pitted against Matthews during puck battle drills, the winger held his own in their feisty battles despite his 5-foot-10 size. In scrimmage work he was electric coming out of the zone. The Marlies are stacked with a young forward group he can easily slide into.
7. Joseph Woll (2016, Third Round, 62nd overall): The Leafs have a budding goalie prospect in Woll. The youngest of the five netminders in camp, Woll, 17, was arguably the most impressive. His net presence and athleticism were on display in shooting drills and the efficiency of effort he's vastly improved was a big part of Team Blue's victories in both scrimmages. He'll spend at least a couple seasons at Boston College.
8. Adam Brooks (2016, Fourth Round, 92nd overall): Brooks found real chemistry with Marner in camp scrimmages, showing off good vision and puck possession skills. His battle drills were noticeably strong. Without an entry-level deal with Toronto he'll return to the WHL's Regina Pats as a 20-year-old centre next season.
9. Tyler Wong (Undrafted): Signed to an Amateur Tryout by the Marlies last season, Wong's speed and tenacity in puck drills throughout the week culminated in a two-goal performance in Saturday's scrimmage. The right winger appeared in three games for the Marlies during his stint, grabbing one assist. He's the type of high-character, hard-working player the Leafs like; seeing whether he builds on his tryout opportunity makes him one to watch.
10. J.D. Greenway (2016, Third Round, 72nd overall): When Greenway is on the ice, players take notice. The defenceman's stride, physicality and offensive abilities are hard to ignore, not to mention his 6-foot-5 frame. But the 18-year old is a raw talent; figuring out how to harness all those gifts is what the University of Wisconsin will help him to do.