2016 HHOF class - The Candidates
Who is up next for enshrinement in the Hockey Hall of Fame?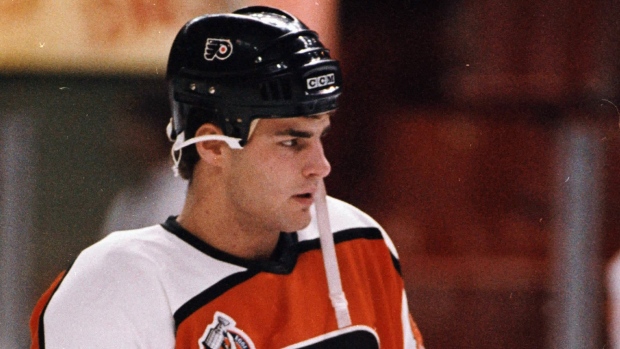 So who are the candidates who might finally get the call in 2016?
This could be the year for holdovers to make the jump.
Eric Lindros could hear his name called. A Hart Trophy winner and Olympic gold medal winner with Canada, the largest knock on Lindros's candidacy has been a career riddled with injuries. Still, if Peter Forsberg can be enshrined with his lengthy spells spent in the press box with injury, why can't Lindros, arguably the game's most dominant forward at his peak, join him?
Dave Andreychuk scored 640 goals, tallied over 1,300 points and won a Stanley Cup. That is certainly an impressive resume, but it's one tempered by the fact that it took him 1639 games to accomplish that. But is longevity really a bad thing?
A pair of goaltenders could also have cases. Chris Osgood backstopped the Red Wings to two Stanley Cups (and won a third as a back-up). Curtis Joseph found the Stanley Cup to be elusive, but is the owner of the fourth-most victories in NHL history. Interestingly for Osgood and Joseph, every other goaltender in the top 10 in wins is in the Hall of Fame, barring Martin Brodeur (the 'keeper with the most wins), who isn't yet eligible for induction.
The class of first-time eligible players include Jason Arnott, Milan Hejduk, Jose Theodore, Roman Hamrlik, Vaclav Prospal and Zigmund Palffy, so those still holding out for a call should feel better about their chances next June.
Here's a look at the candidates for the Hockey Hall of Fame's Class of 2016:
Eighth Year of Eligibility

Dave Andreychuk
Left Wing
KEY STATS
GAMES PLAYED

1,639

GOALS

640

ASSISTS

698

POINTS

1338
ACHIEVEMENTS
- Played 23 seasons with the Buffalo Sabres, Toronto Maple Leafs, New Jersey Devils, Boston Bruins, Colorado Avalanche and Tampa Bay Lightning
- Stanley Cup champion (2004)
- Two-time All-Star (1990 and 1994)
- Most power-play goals in NHL history (274)
Eighth Year of Eligibility

Theoren Fleury
Right Wing
KEY STATS
Games Played

1,084

Goals

455

Assists

633

Points

1,088
ACHIEVEMENTS
- Played 15 NHL seasons with the Calgary Flames, Colorado Avalanche, New York Rangers and Chicago Blackhawks
- Stanley Cup winner (1989)
- Seven-time All-Star (1991, 1992, 1996, 1997, 1998, 1999, 2001)
- Olympic gold medallist (2002)
- Canada Cup winner (1991)
- World Junior gold medallist (1988)
Fourth Year of Eligibility

KEY STATS
Games Played

943

Wins

454

Goals Against

2.79

Save Percentage

.906
ACHIEVEMENTS
- Played 19 seasons with the St. Louis Blues, Edmonton Oilers, Toronto Maple Leafs, Detroit Red Wings, Phoenix Coyotes and Calgary Flames
- Three-time All-Star (1994, 1999 and 2000)
- Fourth-most wins in NHL history
- Olympic gold medalist (2002)
- Spengler Cup winner (2007)
Fourth Year of Eligibility

KEY STATS
Games Played

989

Goals

402

Assists

587

Points

989
ACHIEVEMENTS
- Played 15 NHL seasons with Mighty Ducks of Anaheim, Colorado Avalanche, Nashville Predators and St. Louis Blues
- Seven-time All-Star (1996, 1997, 1999, 2000, 2001, 2002, 2003)
- Two-time Lady Byng Trophy-winner (1996, 1997)
- Olympic gold medallist (2002)
- World Champion (1994)
- World Junior Champion (1993)
Sixth Year of Eligibility

KEY STATS
Games Played

760

Goals

372

Assists

493

Points

865
ACHIEVEMENTS
- Played 13 seasons for the Philadelphia Flyers, New York Rangers, Toronto Maple Leafs and Dallas Stars
- Hart Trophy winner (1995)
- Seven-time All-Star (1994, 1996, 1997, 1998, 1999, 2000 and 2002)
- Olympic gold medalist (2002)
- Two-time World Junior Champion (1990 and 1991)
- Canada Cup winner (1991)
16th Year of Eligibility

Sergei Makarov
Right Wing
KEY NHL STATS
Games Played

424

Goals

134

Assists

250

Points

384
ACHIEVEMENTS
- Played in seven NHL seasons with the Calgary Flames, San Jose Sharks and Dallas Stars
- Played 11 seasons with CSKA Moscow and Soviet Union national team
- Calder Trophy winner (1990)
- Two-time Olympic gold medal winner (1984, 1988)
- Eight-time World Champion (1978-79, 1981-83, 1986, 1989-90)
- Two-time World Junior gold meadallist (1977-78)
- Canada Cup winner (1981)
- Elected to the IIHF Hall of Fame (2001) and named to the IIHF Centennial Team
Eighth Year of Eligibility

Alexander Mogilny
Right Wing
KEY STATS
Games Played

990

Goals

473

Assists

559

Points

1032
ACHIEVEMENTS
- Played 16 seasons for the Buffalo Sabres, Vancouver Canucks, New Jersey Devils and Toronto Maple Leafs
- Stanley Cup Champion (2000)
- Lady Byng Trophy winner (2003)
- Six-Time All-Star
- Gold medal at Olympics (1988), World Championship (1989) and World Junior Championship (1989)
- Second All-Time amongst Russian point-getters in the NHL
- Last player to score 70-plus in an NHL season (1992-93, tied with Teemu Selanne)
Third Year of Eligibility

KEY STATS
Games Played

744

Wins

401

Goals Against

2.49

Save Percentage

.905
ACHIEVEMENTS
- Played 16 seasons with the Detroit Red Wings, New York Islanders and St. Louis Blues
- Three-time Stanley Cup champion (1997, 1998 and 2008)
- Two-time Jennings Trophy winner (1996 with Mike Vernon and 2008 with Dominik Hasek)
- Two-time All-Star (1996 and 2008)
- 10th-most wins in NHL history
Third Year of Eligibility

Key Stats
Games Played

1.652

Goals

577

Assists

956

Points

1533
ACHIEVEMENTS
- Played 22 seasons with the Pittsburgh Penguins, Philadelphia Flyers, Montreal Canadiens, Carolina Hurricanes, Atlanta Thrashers, Tampa Bay Lightning and Boston Bruins
- Three-time Stanley Cup winner (1991, 2006 and 2011)
- Seven-time All-Star (1991, 1993, 1994, 1997, 1998, 1999 and 2001)
- World Champion (1997)
Fifth Year of Eligibility

Key Stats
Games Played

1,363

Goals

513

Assists

703

Points

1,216
ACHIEVEMENTS
- Played 20 seasons with the Chicago Blackhawks, Phoenix Coyotes, Philadelphia Flyers, Los Angeles Kings and San Jose Sharks
- Nine-time All-Star (1991, 1992, 1993, 1994, 1999, 2000, 2002, 2003 and 2004)