A closer look at the NCAA free agent crop
Insider Trading: Hunter to helm Canada for WJC, what if NHL team comes calling?
The NCAA hockey season is coming to an end, meaning NHL teams will soon be looking to boost their organizational depth with college free-agent signings.
TSN Hockey Insider Bob McKenzie listed eight former undrafted players who are expected to draw interest in the coming weeks on Insider Trading Thursday. TSN.ca takes a closer look at the players who could soon make the leap to professional hockey.
Forwards
Nico Sturm, Clarkson University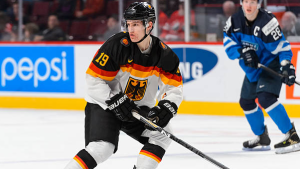 Sturm scored 13 goals and posted 41 points in 34 games with Clarkson in his junior season this year. The 23-year-old German had 14 goals and 37 points in 40 games last season and was named the best defensive forward in the ECAC Division.
"We have played a lot of good teams this year and to us, we haven't seen a better player than him," Clarkson head coach Casey Jones told the College Hockey News in January. "He is just a 6-3 player that is skilled. To be big and skilled is a big difference in college hockey.
"He is really committed to a 200-foot game, which is really nice. It is really easy to hold everyone else accountable when your best player plays that 200-foot game. The thing about him is that he wins faceoffs, he blocks shots and he bites pucks. He does everything and it makes it easier for the others to follow him."
Sturm attended development camp with the Ottawa Senators last June.
Clarkson will open their playoffs on March 15.

Max Veronneau, Princeton
Veronneau has 13 goals and 36 points in 29 games with Princeton this season. The 23-year-old posted career-best offensive totals as a junior last season with 17 goals and 55 points in 36 contests. He led the NCAA in assists with 38 and was named First-Team All-ECAC Hockey and Second-Team All-American.
The Ottawa native is listed as six-foot and 180 pounds.
Veronneau attended Vegas Golden Knights development camp in 2017 and went to camps with both the Los Angeles Kings and New Jersey Devils last summer.

Ryan Kuffner, Princeton
Kuffner edged his linemate Veronneau for the Princeton lead in goals and points this season with 20 goals and 40 points in 29 games.
Also a native of Ottawa, the senior is listed at 6-foot-1 and 195 pounds. He posted a career-best 29 goals and 52 points in 36 games last season, being named both a Second Team All-American and Second-Team All-ECAC.
Kuffner was at the Winnipeg Jets development camp in 2017 and attended Ottawa Senators development camp last summer.
Princeton will begin their best-of-three playoff series against Brown on Friday night.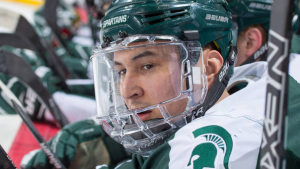 Taro Hirose, Michigan State
The Calgary native scored a career-high 15 goals and 50 points in his junior season with the Spartans, leading the team with a plus-15 rating.
A left-winger, Hirose stands 5-foot-10 and is listed at 165 pounds. He had 12 goals and 42 points in 36 games as a sophomore last season and was a Second-Team All-Star in the Big Ten.
"He drives a lot for us offensively," Spartans head coach Danton Cole said in November. "Confidence-wise, I think guys like the way he plays. He blocks shots, and he does good things defensively. He works hard and doesn't run a lot of guys over, but he does things the right way. And when your better players do things right that just makes it a lot easier. He's a heck of a hockey player and a really, really good young man."

Lukas Craggs, Bowling Green
Craggs has 13 goals and 24 points through 30 games in his Junior season with Bowling Green with a plus-19 rating. The 22-year-old had 10 goals and 19 points in 40 games last season.
"I'm a simple player, who likes to play very physical, fast, and I like to shoot the puck," Craggs told FloHockey in January. "With that, I create turnovers from skating and putting pressure on the D, and I keep it simple, as much as I can.
The six-foot, 190-pound forward led the Falcons with 108 penalty minutes this season, including a team-high four major penalties.
"Playing on the edge, it's easier said than done," Craggs added. "I continue to have to work on it each week. I got two five-minute majors, or misconducts, early in the year. I had to tone it back a little bit. I think because of that it helped my overall game play, it's helping our team win."

Defence
Jimmy Schuldt, St. Cloud State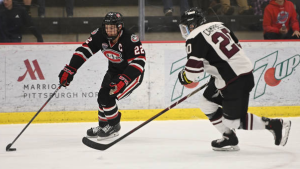 Schuldt was believed to be drawing NHL interest last year before electing to return to St. Cloud State for his senior season and third as captain of the team.
The 23-year-old has nine goals and 28 points in 28 games this season with a plus-19 rating. He scored a career-high 10 goals and 38 points in 40 games last season and was named a Top 10 Hobey Baker Award Finalist.
The Minnetonka, Minn., attended Montreal Canadiens development camp in 2017 and skated at the Vegas Golden Knights development camp last June.
"I think for me just the right fit, the right organization, the right culture," Schuldt said last summer. "If the culture is the same throughout the players and there's a lot of character that goes into it, those are the teams that have success."
Schuldt is listed at 6-foot-1, 205 pounds.

Connor Mackey, Minnesota State - Mankato
Mackey has six goals and 22 points in 36 games with the Mavericks this season. The 22-year-old sophomore has a plus-11 rating on the year while leading the team's defencemen in points.
The 6-foot-2, 183-pound blueliner scored four goals and posted 12 points in 40 games last season while being named to the WCHA All-Rookie Team.
Mackey attended Buffalo Sabres development camp last summer, and worked with the Calgary Flames in 2017 after being named the USHL defenceman of the year.
"I'm a late bloomer for sure," Mackey told the Mankato Free Press last summer. "I was never projected to be drafted."

Goaltender
Mat Robson, University of Minnesota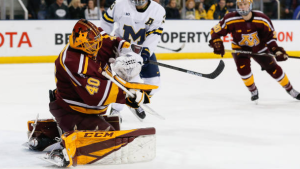 A Mississauga, Ont., native, Robson was the lone goaltender listed by McKenzie on Thursday. The 22-year-old has a 12-11-4 record this season with a .918 save percentage and a 2.93 goals-against average.
Robson had a 7-5-1 record as a sophomore last year with a .933 save percentage and a 2.11 goals-against average. He made the leap to the NCAA in 2017 after spending a season with the BCHL's Penticton Vees.
"He's calm and cool, but there's a fire under him and he knows what he's doing out there," Gophers head coach Bob Motzko said of Robson in December. "You want a goalie that's intelligent and reads the play, so as calm and cool as he looks, he's got fire in there and he verbalizes it with his teammates."
Robson is expected to get the start as the Gophers begin their playoffs on Friday against Michigan on Friday.