Insider Trading: Could Hunter leave Hockey Canada role for NHL opportunity?
Insider Trading: Hunter to helm Canada for WJC, what if NHL team comes calling?
TSN Hockey Insiders Bob McKenzie and Darren Dreger discuss Mark Hunter taking the helm of Canada's World Junior program and his potential out for an NHL opportunity, potential head coaching candidates for the numerous vacancies around the league, the NHL's player safety summit, and some college free agents to keep an eye on.
Hockey Canada announced Mark Hunter will head up the National Junior program but we know he was a finalist for the GM job in Toronto and there is a lot of time between now and the World Juniors. What happens if an NHL team comes calling?
McKenzie: If Hunter has an opportunity to go to the NHL, he is free to do so. Hockey Canada understands the dynamic at work here and they're fine with that. They'll just put the next best man in place if Hunter leaves. But right now Hunter's excited and looking forward to that challenge.
The next big question is who is going to coach this team? Could it be Mark Hunter's brother Dale? They're together with the OHL's London Knights and run that operation lock, stock, and barrel. My understanding is that even though Mark Hunter doesn't make the final decision – there is a Hockey Canada committee in place with the CHL commissioners and executives from Hockey Canada – Dale Hunter is one of 10 coaches that have already been interviewed for that position. I don't think there's any question where Mark Hunter's allegiance and loyalty lie on that one, but they have to go through the process. I would think Dale is a leading contender for that position.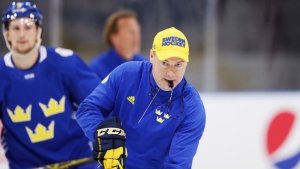 There will be some coaching vacancies in the NHL at season's end and you're going to hear the usual suspects named as candidates – Alain Vigneault, Joel Quenneville – but are there some new names to throw into the mix as well?
Dreger: Yes, an international flavour if you will, but the hockey world won't recognize these names as being new because they've been around. Rikard Grönborg is Sweden's national team coach and this guy has been on the NHL radar for a few years. He interviewed for the head coaching job with the New York Rangers last year and once again he's on the radar for some NHL clubs, either as a head coach or an assistant. He's highly regarded and he has a North American connection so it makes a lot of sense.
Another name also familiar to the NHL is Ralph Krueger. I'm told that he's interested in coming back to be a head coach but only if the fit is right.
McKenzie: We've got lots of vacancies for head coaching: Anaheim, Edmonton, Los Angeles, Philadelphia, St. Louis, and of course Ottawa all looking for head coaches when this season ends.
As far as the Ottawa process goes, it won't begin in earnest until after the NHL regular season is over. Between now and then GM Pierre Dorion is going to be very busy with his hockey staff putting together a very long list of possibilities. They could have upwards of 30 to 40 names on that list but by the time the regular season is over they'd like to have it whittled down. The last time the Senators went through this process, when they hired Guy Boucher, they interviewed nine people, and I wouldn't think the list would be any longer in terms of the people they're going to interview.
Last time it was skewed heavily to veteran guys: Boucher, Mike Yeo, Bruce Boudreau, Randy Carlyle, Bob Hartley, and Brad Shaw amongst others. It may skew younger this time and could include AHL head coaches and NHL assistant coaches with some head coaching experience.
The GMs meetings just wrapped up down in Florida with the NHL inviting organizations around the world involved in hockey for the first-ever player safety summit. What can you tell us about that?
Dreger: Fifteen hockey organizations worldwide were invited in while every aspect of the NHL was represented here. You had NHL hockey ops, you had player safety, you had head of officiating Stephen Walkom, and deputy commissioner Bill Daly, all speaking on the practices of player safety but also sharing ideas with these 15 hockey organizations. Bringing multiple levels of the sport together in the spirit of player safety can't be a bad idea.
It's that time of year again: college free agent signings. Who are some names on the radar?
McKenzie: This is a busy time of year and actually there are some Canadian names to take note of as we look at the names you're going to be hearing a lot of: Max Veronneau, Ryan Kuffner, Taro Hirose, Mat Robson - those guys are all Canadians.