A final farewell to my idol
TSN Sr. Managing Editor of Hockey Content, Steve Dryden, grew up in Montreal and shares memories of his idol Jean Beliveau.
Steve Dryden, Sr. Managing Editor, Hockey Content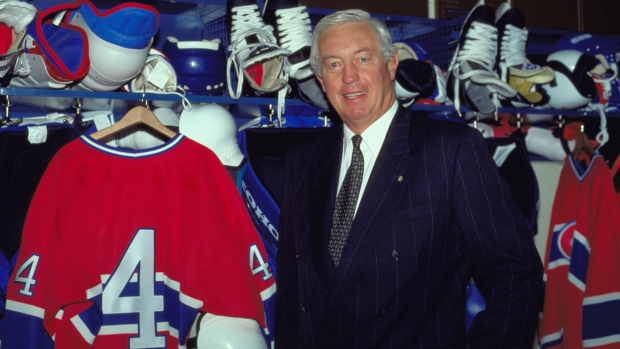 Hero worship is unbecoming for a man of 56 years. But until December 2, 2014, Jean Beliveau was my idol. The last icon from a childhood in Montreal.
Now he is gone and so is a connection to 1950s and 1960s Quebec, where Beliveau ruled hockey with a dignity and elegance never before seen and never seen since. It wasn't that he seemed larger than life. He was. Monsieur Beliveau - that is what he was called, never by the familiar Jean, by those in the Canadiens' family - was without flaw. He was Le Gros Bill, a man of mythical stature. Of course, he could not have been perfect but we believed he was.
As The Hockey News wrote: "Regal on the ice, humble and diplomatic away from the rink, Beliveau made red, white and blue the colours of hockey royalty."
At 6-foot-3 and 205 pounds, Beliveau was among the first magnificent big men in the game during an 18-season NHL career. He was an unparalleled puckhandler, blasted bullets with his Victoriaville and had few peers as a playmaker. Beliveau placed among the top 10 in scoring nine times in a 10-season span, earned two Hart Trophies, won the first Conn Smythe Trophy and was a 10-time NHL all-star. Wayne Gretzky is the only centre to have more first or second all-star berths.
And, of course, one of hockey's all-time team-first players won 10 Stanley Cups, the last in 1971 when he raised the Cup above his head … retired and took his place in the Hockey Hall of Fame.
Beliveau was voted the seventh best player in NHL history when The Hockey News conducted a poll of 50 hockey experts in 1997. Beliveau, like all his contemporaries, has been surpassed statistically. His numbers have been dwarfed. He stands No. 39 in all-time goals (507), No. 49 in assists (712) and No. 39 in points (1,219). But it is worth remembering Beliveau ranked second (only to Gordie Howe) in all-time scoring when he retired.
Even more significant to remember is that he ranks No. 1 to this day in another category. It is not hyperbole to call gentlemanly Jean the most respected player in the history of the game.
He was the consummate captain, a natural leader of five Cup championship teams. But when his country came calling in 1994, offering the honorific Governor General's position, family concerns kept Beliveau from accepting. It was the ultimate act of leadership.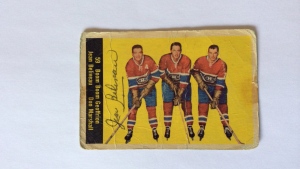 When I was 11 and living in Toronto, Beliveau made a promotional appearance at a local car dealership. My best friend and I took the bus across town to meet him. He signed all my hockey cards and answered all my questions. Before we left, another fan asked a question of Beliveau that tested his memory. When Beliveau hesitated, I provided the answer. Beliveau turned to me and said, "You know more about me than I do."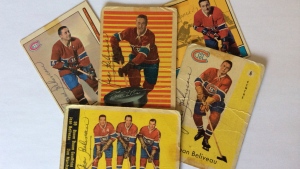 Beliveau was the yin to the legendary Rocket Richard's yang on the only team to win five consecutive Cups. They were Gretzky and Messier. The Canadiens (and Beliveau) of the 1950s were so good the NHL had to change the rules of the game. At the time, penalties were served in their entirety - regardless of how many goals were scored with the man advantage. In a November, 1955, game vs. Boston, Beliveau scored three power play goals in a record 44 seconds. The following season, a player serving a minor penalty was allowed to leave the box when a goal was scored.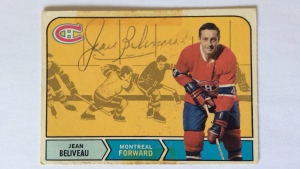 Beliveau, himself, was no stranger to the penalty box. He collected 341 penalty minutes (with purpose) over a three-season period in the mid-1950s to carve out his own space during an era when stars were expected to stand up for themselves. Eventually, the Canadiens groomed John Ferguson to provide protection for their most precious asset.
Beliveau's No. 4 was not immortalized in literature like Richard's No. 9, but it had a power and magic all its own.
Guy Lafleur, Beliveau's successor in the pantheon of Canadiens' legends, wore 4 for the Quebec Remparts in the Quebec Colisee, dubbed 'The House that Beliveau Built,' so great was Beliveau's popularity there in the early 1950s. Vincent Lecavalier, wearing No. 4, channeled Beliveau in style with Tampa Bay - and on celluloid when he portrayed Beliveau in the Rocket Richard film.
But Beliveau's influence extends far beyond the best hockey league in the world. To this day, doubtlessly like hundreds of others of my vintage, I instinctively reach for No. 4 when the sweaters are hung at season's start on my team. I will do it again next year.