A trio of talented players trying to find their way
TSN Hockey Insider Bob McKenzie takes a closer look at the recent struggles of Jeff Skinner, Michael Dal Colle and Sean Day.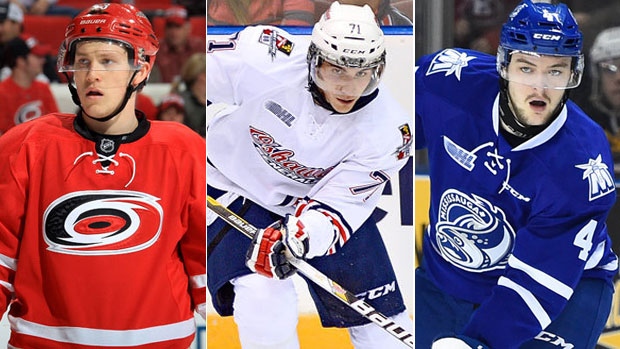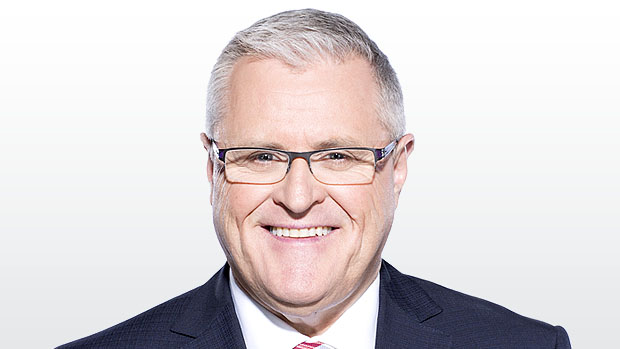 At the best of times, it can be a hard game; an unforgiving one.
Burdened by the weight of great expectations – a wildly productive rookie season; high-end draft status; or, the branding of precocious and prodigious talent at a young age; maybe even all of the above – the game can become that much more difficult.
So it is for a trio of talented young hockey players who are trying to find their way while wearing that heavy yoke of expectation. Here's a look at each of them and their unique situations early in the 2015-16 season:
JEFF SKINNER
I watched (on TV) the 23-year-old, sixth-year pro play in Carolina's 4-3 loss to the Tampa Bay Lightning on Sunday and I could scarcely believe what I was seeing. Playing on a line with (the struggling) Elias Lindholm and Riley Nash, Skinner had just two shots on goal in 15:01 of ice time, with only 10 seconds of power-play time. He was only noticeable in the sense of not being very noticeable at all.
Outside of a good third period in a game against the New York Islanders last Thursday and a strong one-goal performance the next night against Colorado, it would seem that, more or less, has been the norm for Skinner this season – two goals and three points in 12 games, with an average ice time of 15:50 (seventh amongst Carolina forwards).
Meh.
By rights, the seventh-overall pick in the 2010 NHL draft should be one of the NHL's more dynamic offensive players.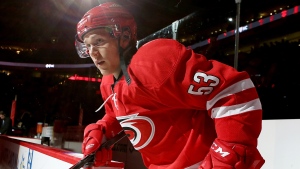 I remember being in Traverse City in September of 2010 – my son Mike had the good fortune to play with Skinner for Carolina's rookie team in the annual prospects tournament – and really getting to see what this kid was all about.
Skinner was a whirling dervish, a trained figure skater with explosive speed and power. His agility and edgework were incredible – no one since Sidney Crosby could evade a defender at top speed with his feet opened up to 10 and 2 like Skinner. As good as his feet were, his hands were just as good, if not better. He played the game with unbridled passion and pure joy. He radiated star quality and offensive artistry.
He made good on all that promise, too, scoring 31 goals and 63 points in an impressive rookie season. His numbers fell off some in his second and third seasons – 20 goals and 44 points in 64 games in his sophomore year; 13 goals and 24 points in 42 games in his third year – but he also had to deal with concussions in each of those years, missing 16 games and five games, respectively.
As he came out of his entry-level contract, then Carolina general manager Jim Rutherford gave Skinner a six-year deal with an AAV of $5.725 million, the same sort of deal given to foundational talents like John Tavares of the New York Islanders and Taylor Hall of the Edmonton Oilers. And damned if Skinner didn't immediately make good on that promise once again, scoring a career-high 33 goals and 54 points in 71 games in his fourth NHL season.
Since then, though, his game has fallen off a cliff.
Maybe it's concussion related. Skinner suffered a third one to start last season. He only missed five games at the start of the season, but when he came back, he produced only 18 goals and a paltry 31 points for new GM Ronnie Francis and new head coach Bill Peters. The start to this season would suggest a trend is emerging, and not a good one.
Whatever has become of Jeff Skinner?
If we're all being honest here, I think the Canes would say Skinner needs to be far more assertive, that he needs to play harder and go to the blue paint with a lot more authority; not be so careful. On the flip side, I think Skinner would say he needs to play a lot more, certainly see a lot more power-play time; be used and trusted in a lot more meaningful situations with better players.
It would appear to be the classic coach-player hockey Catch 22: the coach says, "Play better and I'll play you more"; the player says, "Play me more and I'll play better." Which has to come first: The player finding his confidence or the coach showing confidence?
Carolina doesn't play a game this week until Friday. Peters has said there will be a heavy emphasis on the power play in practice this week and it looks like Skinner may get more of a role with the man advantage. There may also be new line configurations.
Whatever the reasons for how it's gotten to this point with Skinner and the Canes, the reality is a budget team like Carolina can't afford to have its fourth-highest paid player – only Eric Staal, Jordan Staal and netminder Cam Ward make more – playing third-line minutes and/or underachieving greatly.
In the coming weeks, Carolina and captain Eric Staal have to chart their course – his contract is up at the end of this season and he's scheduled to be an unrestricted free agent. If Staal moves on, either via trade or free agency, the offensive baton was supposed to be passed to a burgeoning young talent like Skinner.
Right now, though, Skinner's game is nowhere close to being at that level.
Maybe that's why Skinner's name has come up in trade talk recently. It doesn't appear that Carolina is intensely shopping its under-performing 23-year-old, but there seems to be a sense the Canes would move him for the right price.
Therein lies another great hockey Catch 22: the Hurricanes may be open to trading Skinner because he's not meeting expectations; other teams aren't eager to trade for a player with a concussion history who's not producing. If he starts to produce, more teams will be interested; if he starts to produce, the Hurricanes likely wouldn't want to trade him.
Either way, it will be interesting to see how this all unfolds.
MICHAEL DAL COLLE
It has been said of New York Islander first-round pick (fifth overall in 2014) Michael Dal Colle that the Oshawa General left winger has been having terrible "puck luck" this season.
And that was before he had to leave Sunday night's game against Kingston because he blocked a shot that hit him square in the, uh, well, you get the picture. Oshawa general manager Roger Hunt said Dal Colle should be good to go for the Generals' next game Friday. Still, the shot to Dal Colle's nether region was so intensely painful it caused the player to be violently ill on Sunday night.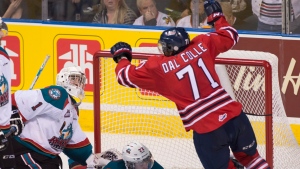 Perhaps a goal-scorer – Dal Colle scored 42 goals and 93 points last season, as well as eight goals and 31 points in 21 playoff games to help lead Oshawa to the Memorial Cup championship – sacrificing his body by blocking a shot will be good karma for Dal Colle.
He could use some. This season, since being returned to junior by the Islanders at the end of the NHL team's training camp, Dal Colle has just one goal and nine points in 14 games. His only goal, plus two assists, came against Sudbury, the Eastern Conference's last-place team, last Friday night. He was hoping to build on that in Sunday's game, but "puck luck" took him out of that game.
"It hasn't been for lack of trying or caring, I can tell you that," GM Hunt said of Dal Colle's offensive struggles. "He's hit a lot of posts and crossbars."
A slumping junior hockey player, even one with possible a Memorial Cup hangover, isn't normally a national story. This one has the potential to have national implications.
It's fair to say Hockey Canada has had Dal Colle pencilled into a left-wing spot on Canada's national junior team. But a goal-scorer who isn't scoring, or by most accounts not playing very well, is bound to set off some alarms now that we're entering into national junior team "selection season."
The Canadian Hockey League Super Series against the Russians – two games in each of the WHL, OHL and QMJHL – commences next week. Those games, small sample size that may be, go a long way towards determining who gets invited to the national junior team's final selection camp in Toronto on Dec. 10.
Suffice it to say Dal Colle needs to start scoring in the OHL or he could really be under the gun to produce in the one Super Series game he's scheduled to play in at Windsor on Nov. 16.
The Islanders have also taken note of Dal Colle's slow start. Marty Reasoner, who works in prospect development for the NHL team, has already paid Dal Colle a visit this season. The player is being urged to not rely as much on his tremendous natural ability – he has pro size and a pro shot – and put in the work off the ice required to be successful at the next level.
Dal Colle's skating needs work – he has weekly sessions with power skating coach Tracy Tutton – and like many gifted young players his age, he's more comfortable doing his thing on the ice than he is in the gym.
In the meantime, though, what Dal Colle could really use is a goal.
SEAN DAY
Sean Day was granted "exceptional" status – following in the footsteps of John Tavares, Aaron Ekblad and Connor McDavid – to play in the OHL as a 15-year-old.
Now that it's his NHL draft year – Day turns 18 on Jan. 9 – Day has been afforded "exceptionally interesting" status by the scouts who turn out in droves to watch him and his (draft eligible) talent-laden Mississauga Steelheads team.
"I'd like to get all the scouts in one room and hear what they have to say about (Day) because I really think you would get everything from A to Z on this kid," an NHL team head scout said. "He's the most interesting prospect we've seen in a long time."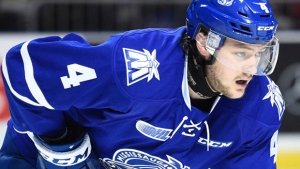 What's become clear is that in Day's case, the "exceptional" status bestowed on him has effectively expired. That is, in this instance, as opposed to those of Tavares, Ekblad and McDavid, Day isn't going to be first overall in his NHL draft year. He wasn't even first overall – he went fourth to Mississauga – in his OHL draft year.
Mind you, as the young man himself has noted, the technical definition of "exceptional" is whether a 15 year old is suited to play junior hockey a year earlier than normal. Day accomplished that. He's not going to fare well in comparisons to NHL No. 1 overall picks Tavares, Ekblad and McDavid, who have continued to be exceptional in every sense of the word.
Fair enough, but the 6-foot-3, 230-pound (that's his height and weight from the Steelheads' website) defenceman remains exceptionally interesting.
He showed up to Hockey Canada's Under-18 camp this past summer weighing 248 pounds. He did not earn a spot on Canada's roster for the Ivan Hlinka tourney, virtually unheard of for a seemingly high-end prospect. But he's also one of the most powerful and gifted skaters ever seen in any draft year.
On any given night, when NHL scouts show up to see elite Top 10 draft talent on the Steelheads (Michael McLeod and Alex Nylander), Day alternately wows them and terrifies them, often on the same shift.
Here's a sampling of the scouts' comments:
"NHL size, NHL skater, NHL passer, NHL shooter, limited hockey sense," one said.
"He skates so well, passes the puck like a pro, he has so much poise, there is a lot to like," said another scout. "There's also lot not to like. Is he in shape? Probably not. Does he lack urgency in his game? Yes. I'd really like to put this kid under the microscope to see what makes him tick. He's only 17 years old."
"Incredible tools," a third scout said. "He can make the game look easy and then makes it incredibly difficult. Horrible body language when not used the way he wants to be. Does he love the game? Lots of questions but he has NHL assets galore."
It's far too early to say when Day will be drafted. Some scouts have already said they wouldn't take him at all – too many red flags – but a flash poll of scouts puts Day's early-season consensus in the 20 to 40 range. That is, gifted enough to be a first-round pick but far from being a lock to go in the top 30.