After hot start, Conners looking ahead to bigger things
Solid start to the PGA season has Canadian confident he can compete with the top players in the game, Bob Weeks writes.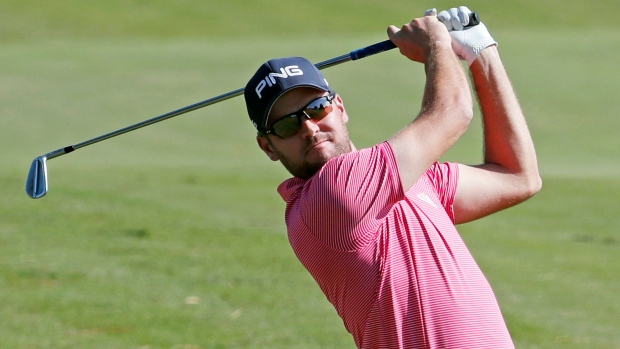 First off, Corey Conners fully admits that he doesn't have a honeymoon planned.
Even though he was married just a week ago, his understanding bride, Malory, realizes that it will have to wait a bit as her new husband plies his trade on the PGA Tour.
But there's a good chance that in a month or so, when the two do get some time to jet off somewhere to celebrate their nuptials, they'll do it in style. That's thanks to a tremendous performance last week at the Sanderson Farms Championship where Conners ended up a strong second.
"Maybe she would have been happier going somewhere else for a honeymoon," Conners laughed, "but I think it worked out really well and I'm happy that I played well and we both had an awesome week."
The final round was a good test for the Listowel, Ont., product who faded in the final group twice last year. He shot 77 at the Valspar Championship and was just a shot better a week later in Puerto Rico. This time, however, despite starting the day four shots off the lead, he was confident.
"I felt way more relaxed going into Sunday's round than I had in the previous few times," he stated. "I think those other experiences definitely helped prepare me for that. I just took things slow and really focused on my game plan and all day felt comfortable, really relaxed out there.
"Happy to have had those other experiences to draw from. I wrote a bunch of things down that I learned from those other times last season when I didn't perform that well on Sunday and kind of learned things from other people as well."
Starting the new season on a high bodes well for Conners who ended up his rookie season outside the top 125 on the FedEx Cup points list. He finds himself in a limited status category and must make the most of every tournament in which he plays.
As well, the position of the 25 players in this category gets a priority re-shuffle several times during the season. Conners started the year fifth on that ranking and could move up after the first re-ordering that takes place at the end of the fall session of tournaments.
This year should be somewhat easier for the 26-year-old now that he's been around the Tour for a year. He feels better going back to the courses a second time and won't have to spend as much time grinding to learn layouts that some pros have played more than 100 rounds. Instead, he'll be able to focus on strengthening his game.
Conners also believes he is capable of more than he accomplished in his first year and the runner-up showing is an indication of just what may be ahead.
"I was really trying to get off to a good start to the season and I knew it was important to not leave things until the end and get ahead of it," he stated. "I feel like my game is good enough to be one of the top players on tour so I'm not trying to limit myself to getting inside the top 125 this year. I feel like I can achieve much more than that. But getting off to a good start is really important. It gives me a lot of confidence going into these next couple of events in the fall and then into the new year."
Conners is in Las Vegas this week for the Shriners Hospital for Children Open where he hopes to continue his hot hand.
And, like last week, his new bride is with him. They'll finish out the season, then move into a new house in Florida and then, finally, enjoy their honeymoon.