Agent: 'No reason to continue with Lightning'
The Tampa Bay Lightning suspended Jonathan Drouin indefinitely without pay on Wednesday night after the forward failed to report to an AHL game between Syracuse and Toronto. Drouin's agent, Allan Walsh, released a statement saying in part that Drouin will not accept further risk of injury in the AHL and is waiting for the Lightning to trade him.
Frank Seravalli, TSN Senior Hockey Reporter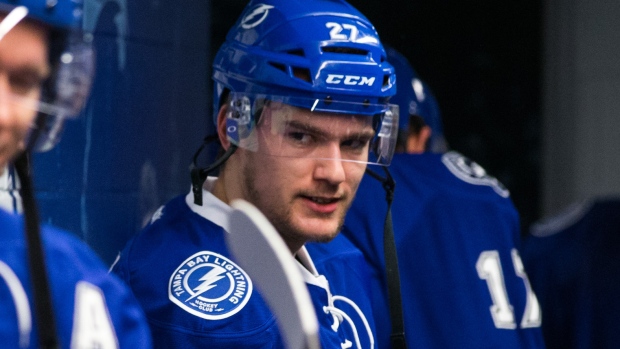 The mushroom cloud towering over Toronto's Ricoh Coliseum marked the explosion of highly touted draft pick Jonathan Drouin's relationship with the Tampa Bay Lightning.
That's because Drouin and agent Allan Walsh hit the nuclear button on Wednesday night, 17 days after publicly announcing a trade request, by refusing to play for the AHL's Syracuse Crunch in a game against the Toronto Marlies.
As a result, the Lightning and GM Steve Yzerman suspended Drouin without pay for failure to report - sending Drouin's immediate future up in smoke.
Drouin announced through Walsh on Wednesday that there is "no reason to continue with the Tampa Bay Lightning organization in any capacity."
Walsh alleged in the statement that the Lightning were "unreasonable" in responding to a request to allow Drouin to sit out games "to avoid potential injury from preventing an imminent trade."
"A few days ago, the Tampa Bay Lightning advised that a trade involving Jonathan was moving closer to completion," Walsh wrote. "We proposed to Tampa that Jonathan not play in the next few AHL games but continue practicing with the club … Unfortunately, the Tampa Bay Lightning refused this reasonable request, however, Jonathan was not willing to accept this risk.
"In light of the latest developments, it is clearly in both sides' best interests that the Tampa Bay Lightning trade Jonathan as there is no reason for Jonathan to continue with the Tampa Bay Lightning in any capacity. We will have no further comment as we await the Tampa Bay Lightning to conclude a trade that involves Jonathan."
The caveat is that the Lightning are under no obligation whatsoever to trade Drouin.
The No. 3 overall pick from just two and a half years ago could remain suspended for the remainder of the season if Yzerman does not find an offer that meets his needs.
Drouin, 20, has one more season left on his entry-level contract and remains until Tampa Bay's control for the next five years as a restricted free agent. For Drouin, this has little to do with money. The suspension without pay will not have any lasting effect; he was earning $376 (U.S.) per day in the AHL. Drouin earned $925,000 last season, plus performance bonuses.
The Lightning said Yzerman would not comment further on Drouin's suspension. On January 3, when Drouin's trade request first became public, Yzerman vowed to do what was in the best interest of the Lightning organization.
Walsh publicized Drouin's trade request, first made in November, that same day - one day after Drouin was unexpectedly sent to the AHL. Walsh said the explanation given to Drouin about his assignment to Syracuse was for a conditioning stint and to provide proof that he had completely recovered from his injury which caused him to miss about a month of action.
With seven AHL games under his belt in 14 days - including a two-goal debut and three points overall - Drouin's camp felt he met both of those obligations.
There were rumblings late last week that a trade for Drouin may have been imminent.
However, a source with knowledge of the trade talks indicated Yzerman was bidding up suitors with offers from other clubs, muddying both the timeline of the deal and the sense for some teams as to whether they were really in the running.
More than a dozen NHL teams have expressed serious interest in Drouin to Tampa Bay, according to colleague Pierre LeBrun.
A handful of teams believed to be in the mix to land Drouin included the Anaheim Ducks, Nashville Predators, St. Louis Blues, Montreal Canadiens and Philadelphia Flyers.
It is unclear now how much Wednesday's surprising move will impact trade talks. This second step in a series of bold moves may shrink the number of interested parties, perhaps nervous about Drouin's personality and willingness to rock the boat in an ultra politically correct league where bold characters are often ostracized.
Drouin posted four goals and 28 assists in 70 regular season games for the Lightning last year. The left winger was then a healthy scratch for 20 out of Tampa Bay's 26 playoff games, peeling back a curtain of discontent, despite the fact his offensive production of primary points (goals and first assists) was elite among his age group when his limited minutes were taken into account.
Drouin did not garner any votes in the Calder Trophy race for rookie of the year. He has made perhaps the least impact on his NHL team among the top 10 picks from the 2013 class, save for maybe Edmonton's Darnell Nurse. Seth Jones, taken by Nashville with the pick after Drouin, was traded to Columbus earlier this month for centre Ryan Johansen.
The nuclear option may ultimately produce a long-awaited trade for Drouin, with a fresh start waiting on the other side.
The risk is that it might have reduced his trade value to an all-time low, leaving Yzerman without a suitable return and a sour taste, and ready to let Drouin sit on the shelf until the summer.
Frank Seravalli can be reached at frank.seravalli@bellmedia.ca.