All-Star changes coming, Boucher returning?
The NHL's All-Star Game is becoming a trio of 20-minute 3-on-3 mini-games. TSN Hockey Insider Bob McKenzie also has more on Guy Boucher's future and more.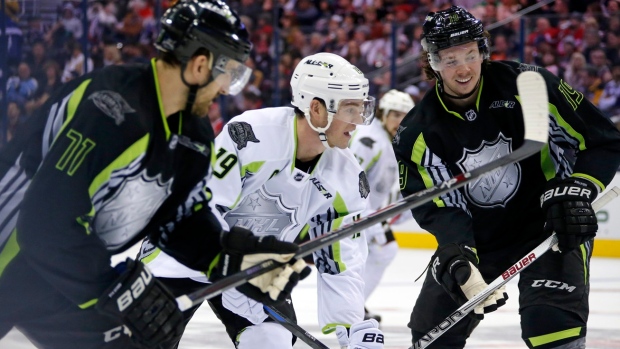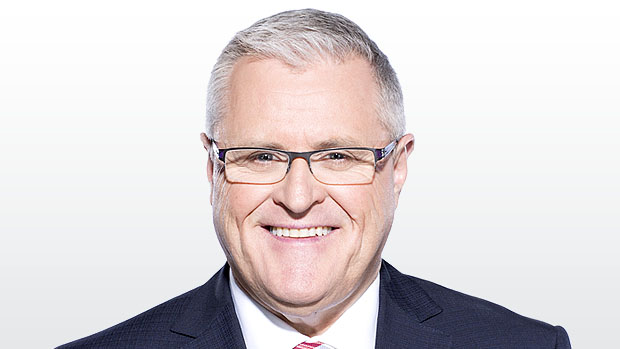 Can the NHL All-Star Game be saved?
We will find out soon enough.
The All-Star Game isn't until Jan. 31 in Nashville, but the NHL is expected to announce some sweeping changes to the format on Wednesday, moving from the traditional 5-on-5, 60-minute game to a trio of 20-minute mini-games featuring four divisional all-star teams playing 3-on-3 hockey.
There's bound to be spirited debate on the pros and cons of the format change, but we should all be able to agree on this: The NHL All-Star Game itself – not to be confused with the overall All-Star Weekend, which is always a pretty good party and spectacle wherever it's being staged – is badly broken.
The game has become unwatchable. It's not even good shinny. At some point, the players stopped trying. No one ever expected them to sacrifice their bodies in a meaningless game but it has gotten to the point where they don't even go through the motions any more. It's painful to watch, so why bother?
The 3-on-3 format in Nashville effectively becomes the Last Chance Saloon for the NHL All-Star Game.
As best we can tell, it's going to look like this:
There will be four teams of nine skaters and two goalies, one team for each of the four divisions (Atlantic and Metropolitan in the East; Central and Pacific in the West). There will be a 20-minute mini-game – likely two 10-minute halves – featuring one division versus another in 3-on-3 action followed by another 20-minute game with the other two divisions playing each other.
The two winning teams would then meet in a third 20-minute session for the so-called "championship" game. The all-star Fantasy Draft, a show the players didn't particularly like but was needed and, at times, was an entertaining way to choose up sides, is no longer required with the players playing for their divisional teams.
It's still 60 minutes of game action, regular intermissions and all the trappings of a traditional game. The key change, of course, is going to 3-on-3.
For the most part, the NHL's move to 3-on-3 overtime has been well received. Fans and media, generally speaking, seem to like it. There have been criticisms – Ottawa's Erik Karlsson and Winnipeg's Dustin Byfuglien publicly trashed the concept – but it's been mostly exciting.
The questions that have to be asked of going to 3-on-3 in the All-Star Game are as follows:
1. Is it too much of a good thing? Will playing 20 minutes instead of five diminish either the excitement or its uniqueness?
2. Will the players try? Will they give the modicum of effort required to make these mini-game passably interesting?
The NHL Players' Association did sign off on the format change. Technically, the players are on board, though we should not confuse official NHLPA sanction with winning over the hearts and minds of the players being asked to break a sweat in a game they've historically treated with no more than perfunctory obligation.
Maybe with fewer players on the ice, it will be harder for them to hide being on complete cruise control. Or maybe with fewer players on the ice, their casual disinterest will be even more obvious. We can only hope it's more the former than the latter.
Mind you, there is likely to be incentive this time around – money.
It's believed there'll be a significant sum on the line for the 11 members of the winning team, perhaps as much as (say it in your best Dr. Evil voice) one million dollars. That's almost $100,000 per player on the winning team. Is that enough motivation to play at a brisk, entertaining pace for 40 minutes of 3-on-3?
Again, we're going to find out, and that's really the takeaway here: if this doesn't work, nothing will.
It would/could never happen, but if the league really wants the All-Star Game to be a roaring success, they should strike a new trophy for it and call it the Escrow Cup. Players on the winning team are excused from CBA escrow payments for this season, getting the full face value of their contract(s).
No escrow and Nashville? Too good to be true.
Boucher ready to return?
Guy Boucher was fired as head coach of SC Bern in Switzerland today. Some might call it being set free.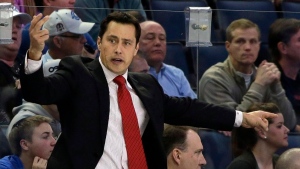 In any case, the former NHL head coach is now ready, willing and able to return to the NHL if an opportunity should arise, now or at any point in the future.
"I want to coach in the NHL again," Boucher said in a telephone interview this morning. "That's my goal."
Boucher's team lost four straight games to fall into ninth place, currently out of a playoff spot in the 12-team Swiss League, and was relieved of his duties. In reality, though, Boucher was on borrowed time with Bern as soon as he announced last week that he wouldn't be coming back to the team next season.
Boucher was offered a two-year extension (beyond this season) last summer, but since it did not include an "out" clause to take an NHL job if it were offered to him, he didn't accept it. He was offered the extension again last week but it still didn't include an out clause, so he rejected it and publicly announced he wouldn't be coming back to Bern next season.
There were also some family considerations for Boucher to want to return home, but make no mistake, he wanted to be in a position this coming off-season to accept NHL work if it's offered.
He's free and clear to do so now if something should become available.
"I knew when I made the decision [to not sign the two-year extension], I was opening the door to this possibility [being fired]," Boucher said. "Once I indicated I wanted to move on at the end of the year I knew the team here could decide to move on before that."
Boucher did have a brief window last off-season to pursue NHL work and came extremely close to being head coach of the Toronto Maple Leafs. In fact, he was in Toronto meeting with Leaf president Brendan Shanahan and the staff when Mike Babcock made the call to go to Toronto instead of Buffalo. Had Babcock chosen Buffalo, there's every reason to believe Boucher would have been offered the Leaf head-coaching job. After that, he was a finalist in New Jersey but the Devils hired Jon Hynes instead. Boucher's availability window closed at that point and he returned to Bern, though is focus remained on getting back to the NHL.
Boucher, along with his wife and three children (one son and twin daughters), will return home to North America, though he said he's still not sure exactly where they'll reside.
MATTHEWS ON THE MEND
Auston Matthews, who has been sidelined since sustaining an upper-body injury Oct. 23, is getting closer to a return to the Zurich lineup, likely within the next five to seven days.
It would appear the presumptive No. 1 pick in this year's NHL draft is erring on the side of caution with his injury. It's believed if he were playing in the NHL right now, or his services were required for a Swiss League playoff game, he could probably suit up.
The injury he sustained didn't cause any structural damage but did require some healing time. Although he's been out for almost four weeks now, there's no reason to believe it will affect his inclusion on the U.S. national junior team for the 2016 World Junior Championship, which starts Dec. 26 in Helsinki.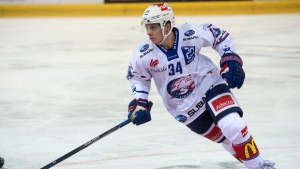 Matthews is a critical piece of that team, especially since the Americans are sure to be without elite junior-aged forwards Jack Eichel and Dylan Larkin, who play major roles for Buffalo and Detroit, respectively.
It's also doubtful that the Carolina Hurricanes would loan defenceman Noah Hanifin to the U.S. team. Hanifin plays enough minutes and enough games for the Canes to not consider taking him out of the lineup for several weeks, especially with the team battling a lot of injuries on the blueline right now.
On the bright side for USA Hockey, it's a sign of how far American hockey has developed when you can lament NOT having elite talents like Eichel, Larkin and Hanifin at the WJC because they're playing in the NHL as teenagers.
WJC DOUBTFUL FOR NYLANDER, KAPANEN
The Toronto Maple Leafs haven't given any thought, at this point anyway, to loaning William Nylander and Kasperi Kapanen to the Swedish and Finnish national junior teams for the 2016 WJC.
So on the sliding scale of Yes-Likely-Doubtful-No, the chances of the two 19-year-olds, currently playing for the AHL's Toronto Marlies, are in the doubtful category, which is to say the door hasn't been slammed shut just yet but the mere fact the Leafs haven't given much thought to the notion is telling.
The Leafs like the progress their young players are making with the Marlies and wouldn't be eager to disrupt them.