Andersen's status for Saturday's big game still in doubt
Sidelined with a groin injury since the Christmas break, Saturday will mark three weeks since Maple Leafs starting goalie Frederik Andersen last played, making this his longest in-season layoff since the 2014-15 campaign, Mark Masters writes.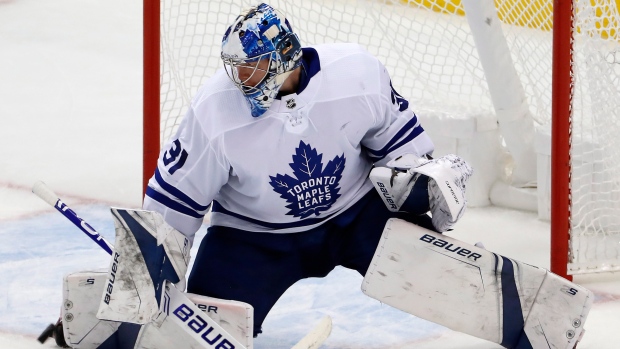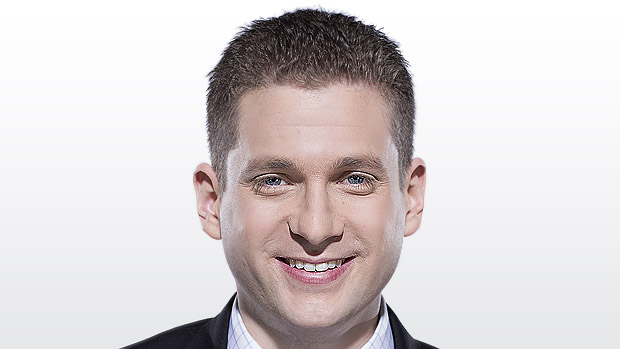 TSN Toronto reporter Mark Masters checks in daily with news and notes on the Maple Leafs, who practised at the MasterCard Centre on Friday.
Frederik Andersen took part in a fourth straight practice with the Toronto Maple Leafs, but his status for Saturday's showdown against the Boston Bruins remains up in the air.
"We need to get back to a point where we're comfortable and not making things worse so that's where the main focus is and it's very close," the goalie said.
Sidelined with a groin injury since the Christmas break, Saturday will mark three weeks since Andersen last played, making this his longest in-season layoff since the 2014-15 campaign.
​After Wednesday's workout, Andersen said he was targeting Saturday for his return game, but Mike Babcock then said Monday's game against the Colorado Avalanche was the more likely option.
"If I go to a player every day and I ask him how he's doing I'm just putting heat on him. I'm not doing that," the Leafs coach said. "So, when they're ready they usually come and tell you or someone comes and tells you and they get a Get Out of Jail Free card and get going."
Babcock said he'll reveal Toronto's starter against the Bruins after the morning skate Saturday. Michael Hutchinson has made the last four starts and was the only other goalie at practice. Garret Sparks (concussion) skated before the team.
---
"It's a little frustrating, to be honest," Andersen said of the road back. "You hate looking from the outside."
Would it be extra frustrating to miss a date with the Bruins?
"Absolutely," he said. "It's obviously a great rivalry and definitely a team we owe a little bit."
Boston beat Toronto in a bitter playoff series last spring and the two teams would face off again in the first round if the season ended today. But, unlike last year, the Leafs would be the higher seed as they hold a four-point bulge on the Bruins with one game in hand.
"They're chasing us and they want to catch us, because come playoff time home ice is pretty crucial," said Leafs centre Nazem Kadri. "Nobody wants to go into an opposing building in a Game 7 and have to win that game. That's something that's tough to do."
The Leafs lost Game 7 at TD Garden last spring and have dropped two games there this season by a combined score of 11-4. Toronto, meanwhile, won the only previous meeting against Boston at Scotiabank Arena this season.
The last game between the teams – Dec. 8 in Boston – featured three fights and plenty of bad blood. Leafs left winger Zach Hyman levelled unsuspecting Bruins defenceman Charlie McAvoy with a big hit, leading to a suspension for interference. Bruins winger Chris Wagner then took a run at Leafs defenceman Morgan Rielly as tempers flared late in the game. The Leafs lost 6-3, but didn't go down quietly.
"We proved that we don't want to be pushed around," said Kadri. "We won't be pushed around so we got guys standing up for each other and standing up for themselves and I think that's a key component to a successful team."
"I don't think you really think about the past," said Rielly, who doesn't believe any retribution will be doled out in Saturday's rematch. "They're playing well right now. They're a good team, they're deep, they have an outstanding power play so we got our hands full, but we're looking forward to the challenge."
Kadri has twice been eliminated by the Bruins in the playoffs, but believes this incarnation of the Leafs matches up better against Boston.
"Our speed could be the difference," he said. "I mean, that's the identity of our team and we don't want to stray too far away from that. We want to keep the puck moving North and South and skate in straight lines and that will give us the best chance. What stops us is coming through the neutral zone sometimes. I really think our offensive play is pretty outstanding just with the elusiveness and the speed and the shiftiness that we have​ throughout our forwards. And the skill, that part speaks for itself, so we just have to figure out a way to get through the neutral zone smoothly."
There's no apparent anxiety about facing the Bruins in the playoffs once again despite the track record.
"We're a different team this year, both personnel and experience," noted Rielly. "This group has confidence right now playing against any team in the league."
---
Kadri fired four shots on net against the New Jersey Devils on Thursday night and again came away empty-handed. He looked dumfounded after Keith Kinkaid made a miraculous save on him in the second period. Kadri has now gone five games without a point and eight without a goal. Earlier in his career, this type of drought would've weighed on the centre.
"Probably would've been a little more stressed about it, a little more frustrated," he said, "but at this point, I know I'm that close to having five, six, seven more so just trying to have that positive mentality."
Kadri has hit the crossbar three times (tied for third in the NHL) while ringing six shots off the post (tied for fifth). After scoring 32 goals in consecutive seasons, Kadri is on pace for just 17 this year.
"I'm not going to complain about it," he said defiantly. "I'm going to do something about it."
Kadri insists he's happy with the chances he's generating.
"They're there every single game," he said. "I could easily be on that 30-goal pace that I was for the last couple years, but I'm not going to sit here and complain about how unlucky I've been. I'm going to change that."
Kadri is averaging 2.4 shots per game, which is a slight dip from 2.6 a season ago. His shooting percentage, however, is 8.7, which is well below his career average of 11.7.
---
Rielly's bid to make the Atlantic Division all-star team came up short despite a series of funny endorsement videos posted by teammates on social media this week.
"I'm happy that's over and we don't have to watch the videos anymore, but I appreciate it nonetheless," Rielly said with a smile. "My favourite was never released. It was Ron Hainsey. He purposefully made it so we couldn't share it with the public."
Did Rielly, who lost out to Buffalo's Jeff Skinner in the new "Last Men In" vote, authorize the campaign commercials?
"No, I didn't. I think Jake (Gardiner) was the one behind it all so I'm appreciative of the effort. I think the acting needs some work, but I love my teammates."
Rielly, putting up career-best numbers much like right winger Mitch Marner, was disappointed to miss out on a trip to San Jose​, but is also excited to get home to Vancouver and see his dog and relax a bit.
"It's unfortunate for those guys," said Babcock. "They're obviously elite players and all-stars, but better for us that they get a little time off."
---
Lines at Friday's practice:
Forwards
Hyman-Tavares-Marner
Johnsson-Matthews-Kapanen
Marleau-Kadri-Nylander
Lindholm-Gauthier-Brown
Defencemen
Rielly-Hainsey
Gardiner-Zaitsev
Dermott-Ozhignaov
Marincin-Holl
Goaltenders
Andersen
Hutchinson
Power play units at Friday's practice:
Rielly
Kapanen/Matthews-Kadri-Marner
Tavares
Gardiner
Matthews-Johnsson-Nylander
Marleau