Canucks come up empty versus Anderson, Ducks
Frederik Andersen had to make just 17 saves for the third shutout of his career Tuesday as the Anaheim Ducks downed the Vancouver Canucks 4-0. Matt Beleskey, Kyle Palmieri, Rickard Rackell and Patrick Maroon scored for Anaheim (32-10-6), which sits tops in the NHL's overall standings and has won six straight and eight of its last nine.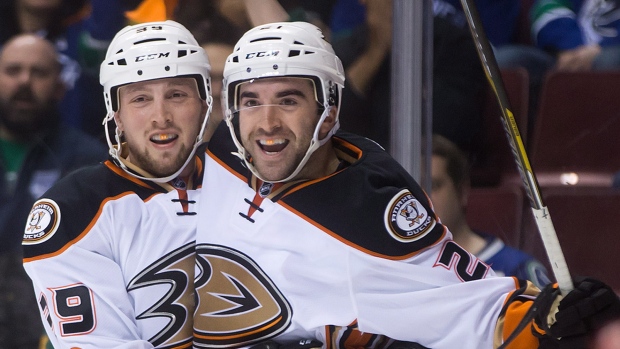 VANCOUVER - Ryan Miller has been lights out for the Vancouver Canucks most of the season.
Tuesday night was one game he would like to forget.
The veteran goalie allowed two questionable goals, but his teammates failed to generate any offence at the other end to bail him out in a disappointing 4-0 loss to the Anaheim Ducks.
Miller saw Matt Beleskey's opener go in off his glove in the first period before Kyle Palmieri beat him with another stoppable shot through the five-hole in the second that gave the Ducks a 2-0 lead they would never come close to surrendering.
"It was a disappointing game. A couple errors on my part or else maybe we get some confidence and they don't get to play the game where they can just kind of sit back at times," said Miller, who finished with 20 saves. "They might have to push a little more and that opens things up.
"Not real happy about that (but) things happen. You move on."
Frederik Andersen had to make just 17 stops for the third shutout of his career for Anaheim (32-10-6), while Rickard Rakell, with a goal and an assist, and Patrick Maroon also found the mark for the visitors.
The Ducks sit tops in the NHL's overall standings and have won six straight and eight of their last nine.
"We just want to go with the same pace we have been and keep showing we are among the very best teams in this league," said Andersen. "It's the second half now and we just want to continue that on and keep playing the way we have been and keep shutting teams out and keep playing that good defensive game."
Canucks head coach Willie Desjardins saw his team fall to 26-17-3 and just 1-1-2 against the Ducks this season.
"I think we can compete with them. I do. Whenever we play them I honestly feel inside that we can compete and we can play well, and we haven't," said Desjardins. "Maybe somewhere along the line I've got to change my mind, but there's stretches there where I believe we can compete and we didn't get it done tonight."
Vancouver entered the all-star break on a 3-2-0 run after a tough five-game road trip, but the club is just 11-9-1 at Rogers Arena this season and hasn't scored at home in nearly nine periods.
"The game is there for us to win, but we give up the first one," said Canucks captain Henrik Sedin. "We never seemed to get the Grade-A chances.
"We weren't good enough, that's the bottom line."
With his team up 2-0 after 40 minutes, Rakell put things out of reach at 9:20 of the third, firing a shot from just inside the Vancouver blue-line that deflected off the stick of Canucks defenceman Frank Corrado and in off the crossbar for his fourth of the season.
Held to just 12 shots through two periods in the first game for both teams after the break, the Canucks didn't muster much more offence in the third on a night when Andersen's crease was rarely threatened.
"Not good enough. Not good enough at all," said Sedin. "If we're a team that's going to roll four lines we need everyone to contribute and we're not getting that right now."
Maroon scored his fifth of the season into an empty net in the final minute for the Ducks.
Part of the problem for Vancouver was a disjointed power play that went 0 for 3 and is now an abysmal 2 for 28 over the last nine games.
"I think we're a better team than that," said Desjardins. "We've just got to find ways. I think we can play better than that and we didn't."
Anaheim led 1-0 after the first and doubled that lead at 7:19 of the second on a delayed penalty with the Canucks already shorthanded when Palmieri beat Miller for his 10th of the season.
Canucks forward Derek Dorsett left the game a few minutes earlier with an upper-body injury after taking a hit from Ryan Kesler and did not return. Replays appeared to show that Kesler, who was dealt from Vancouver to Anaheim in the off-season, made contact with Dorsett's head on the play.
"I haven't seen it yet. All I know is I was going for the puck and I felt him hit," said Kesler. "I hope he's all right, it's unfortunate, it's a fast game out there. I was just going for the puck, trying to make a hockey play."
The Canucks played at home for the first time since Jan. 10 and had just two shots in the period, although Nick Bonino rang another puck off the post behind Andersen that stayed out.
Vancouver's Zack Kassian, who has just two goals on the season, had an opportunity to get his team closer, only to see a pass in front from the corner hop over his stick in tight.
The Ducks — a dominating 9-0-1 over the last 10 against their Pacific Division rivals — opened the scoring at 13:43 of the first period thanks to Beleskey's 18th of the season.
Beleskey unloaded a slapshot from the wing off the rush that Miller could only get a piece of with his glove before it fluttered into the top corner.
"We had to find more," Desjardins said of his team's overall effort. "You have to find ways to win these games."
Notes: The Canucks haven't scored at home since the first period of a 3-1 home loss to the Florida Panthers on Jan. 8. ... All three of Andersen's career shutouts have come this season. ... The Canucks were without defenceman Kevin Bieksa, who suffered a broken left hand in the final game before the all-star break. The 33-year-old underwent surgery and is expected to miss six to eight weeks. ... The Canucks and Ducks play the final game of their season series Mar. 9 at Rogers Arena. ... Vancouver continues its six-game homestand Friday against the Buffalo Sabres. ... Anaheim visits the San Jose Sharks on Thursday.
___
Follow @JClipperton_CP on Twitter