Andersen strong late as Leafs edge Golden Knights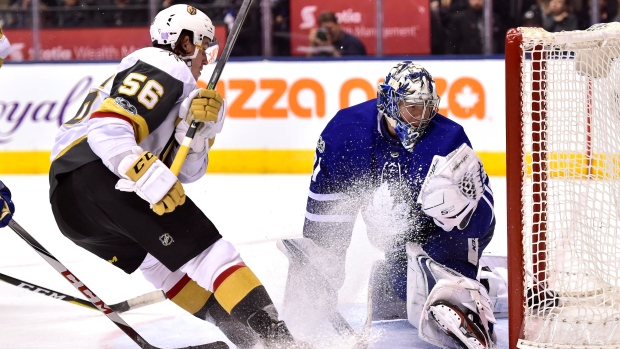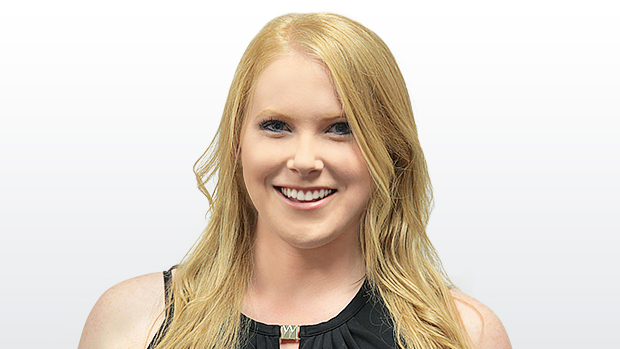 TORONTO – The second the puck flew past him, Frederik Andersen knew it was a goal he wanted back.
The Maple Leafs were leading the Vegas Golden Knights 3-2 early in the third period Monday night when Deryk Engelland caught the Leafs on a change and ripped an easy top-shelf strike over Andersen to tie the game. It was a save Andersen has to make, especially with his team already on a two-game slide and losers in six of their previous eight games.
The netminder gathered himself and resolved then to make the next save. He did that, and then some, stopping every puck he faced through the remainder of the third, overtime and the shootout to help lift Toronto to a 4-3 win courtesy of Mitch Marner's shootout winner.
"Good for him. That was a good win for him," said Mike Babcock. "That shootout is even better for him because you did it, now you get to go home and feel good about yourself and actually sleep good and get up tomorrow and have some zip in practice and stuff like that. I think that's important for us."
Toronto moves to 9-7-0 on the season.
Any reason to feel good about themselves is an all too welcome relief for the Leafs. Their four-game Western Conference road trip ended with a thud and a 1-3-0 record that left everyone from Leafs' players to coaches searching for answers on how to turn things around.
On Monday the Leafs got off to the start they wanted, holding a 3-1 lead after the first period, but in the second they regressed with too many turnovers and gave up too many odd man rushes. Despite the Golden Knights' tapping fourth-string goaltender Maxime Lagace in just his fourth NHL start, the Leafs couldn't exploit his inexperience nearly as much as their offensive talent pool should have allowed. Toronto didn't manage more than nine shots in any period, finishing with their third-lowest total of the season (25).
Meanwhile, Andersen started looking shaky in the second period, finally allowing the Golden Knights' second goal on the power play when a puck ricocheted off the end boards and he wasn't able to recover back into position in time to stop Reilly Smith's shot. When Engelland knotted the game just over six minutes into the third, Andersen didn't dwell on the Leafs' evaporated lead. Instead he made a couple of game-saving stops late in the period from in tight and was rock solid in the extra frames to preserve what Toronto almost let slip away.
"I definitely wanted to make sure I made up for [the third goal]. It's good to see we battled back and got the extra point," he said. "We'll take the points any way they come and today was a big one for us to bounce back and get the win."
"Freddie has that short-term memory as a goaltender being able to shake those ones off," added Nazem Kadri. "Usually he doesn't let those ones bother him so I'm proud of his effort; he gave us a chance to win."
Andersen finished the night with 25 saves on 28 shots for a .893 save percentage, hardly stellar figures but like the rest of the Leafs' performances on Monday, enough to get the job done. Toronto's players were adamant they had left Andersen out to dry on their recent road trip, getting outshot 128-114 and outscored 15-12. Andersen's save percentage after 14 starts (.894) and goals-against average (3.42) both remain near the bottom of the league among regular starters, but his teammates have seen his resiliency on display through the struggles.
"He's mentally tough, he doesn't really care when he gets scored on, he just gets right back in the net and he gives it his all every time," said Auston Matthews. "He's been our guy back there no matter what. We definitely believe in him. We weren't good enough for him on that California trip so we definitely want to make sure we're better."
Monday's victory may not have been pretty, but at least it gives the Leafs' something to build off in pursuit of that goal.
"Sometimes you need to go through some of these things to get better, yet to you never want to be in it when it's going bad for you," said Babcock. "Any time you've been struggling you get in your own way a little bit mentally. I knew we were going to win a game, I just didn't know when."

Takeaways
Answering the bell
Following the Leafs' 6-4 loss to the St. Louis Blues on Saturday, Kadri said the team's performance had been "not good enough, starting with myself" and pledged to do better going forward. He followed up in a big way on Monday, scoring two of the Leafs' three goals in regulation and posting his second multi-goal game of the season. Kadri put four shots total on net, tied for the team lead, and sits second on the Leafs with 13 points on the season. Where Kadri can still improve is his consistency. He was credited with the second-most giveaways by Toronto (three) on Monday and his 42 per cent possession was second-lowest among forwards.
Killer vets
A big key for the Leafs' eventual win on Monday was their impressive, aggressive penalty kill against a Golden Knight 5-on-3 power play over 1:12 in the second period. Ron Hainsey was terrific as always on the kill to keep Vegas from getting set up in the Leafs' zone early, and when they did get some pressure Dominic Moore produced two good blocks to hold Vegas at bay. In a game that would eventually be tied – and when the kill would cede a goal later in that same frame – their work over those minutes stood out at the end. The Leafs' penalty kill has been up and down throughout the season, sitting at 19th in the league (80 per cent), but to have completed the 5-on-3 kill without one of their top shorthanded skaters in Zach Hyman (he was in the box for goalie interference) was one of their better moments of the season.
A-OK, Auston
Matthews caused a stir at Monday's morning skate when he exited the ice early without appearing to be injured and failed to return. Babcock said he would be a game-time decision with "a little soreness", but any concern about the sophomore's status turned out to be unwarranted. Matthews' line started the game and he produced a spectacular assist in the first period, carrying the puck end to end and pulling off a spin-o-rama move next to Vegas' net to feed James van Riemsdyk on the doorstep. It was Matthews' third point in three games and put him at 19 on the season, pacing all Leafs. He finished with three shots on goal and helped generate some quality scoring chances in the third and into the 3-on-3 overtime. After the game Matthews said he felt fine enough in morning skate to play that night, but wasn't at 100 per cent, which could explain the uncharacteristically low possession totals for his line (near 47 per cent) with William Nylander and Hyman. The other blemish on his night, which Matthews took responsibility for post-game, was a tripping penalty. His first infraction of the season led to a Golden Knights goal.
Next game
The Leafs continue their homestand on Wednesday against the Minnesota Wild.