Andersen survives practice scare, feels 'in control' ahead of playoffs
A shot hit Maple Leafs goalie Frederik Andersen in an awkward spot on his left arm during Friday's practice, but Toronto's No. 1 goalie says he's OK and appears to be back in a groove after a rocky month of March, Mark Masters writes.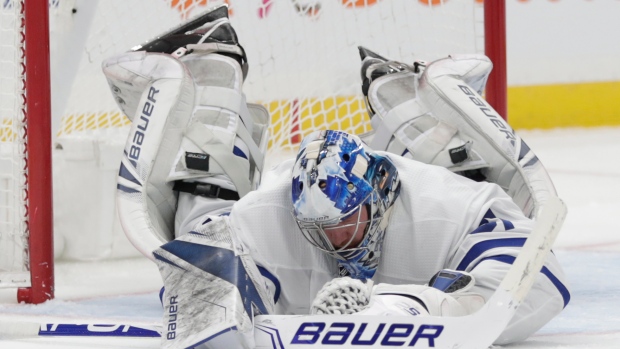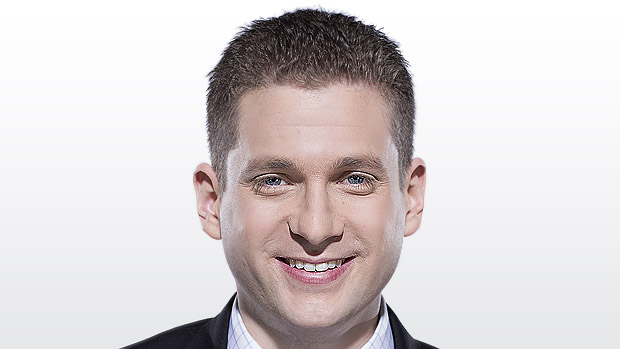 TSN Toronto reporter Mark Masters checks in daily with news and notes on the Maple Leafs, who practised at MasterCard Centre on Friday before travelling to Montreal.
A William Nylander shot deflected off a defenceman's stick catching Frederik Andersen in an awkward spot on his left arm during practice on Friday. Toronto's No. 1 goalie went down immediately and appeared to be in a great deal of pain as his teammates stood silently around him.
"Worried, for sure," Nazem Kadri said of his reaction.
"There's a little bit of fear going through you," admitted Mitch Marner.
After getting some attention from assistant athletic therapist Jon Geller, Andersen stayed on the ice.
"He was lights out the rest of practice," noted fellow goalie Michael Hutchinson, who was called up from the AHL's Toronto Marlies on Friday, "so it's good to see."
Andersen insists he was never overly concerned.
"Not really," he said. "Just get the feeling back in my arm and just shake it off. I was originally thinking it was going to go somewhere else and it got tipped and hit a little bit of a sore spot."
Andersen still expects to start Saturday against the Canadiens in Montreal.
"It'd be nice to get another game in and not sit for a week," he noted.
After stopping 54 of 57 shots in his last two games, the goalie appears to be back in a groove after a rocky month of March.
"Felt good," he agreed. "Feel confident. Playing aggressive and in control at the same time so that's right where you want to be."
"He's so calm in the net," observed Hutchinson, who played five games with the Leafs earlier this season when Andersen was dealing with a groin injury. "He has that kind of Carey Price calmness in the way he does drills and stuff. (Fellow goalie Joseph) Woll and myself were talking today, watching him and it's just like, 'Woah, he looks so calm in net,' and when you get in there you try and mimic it as much as possible."
----
Andersen's value to the Leafs was reinforced on Friday with news that struggling backup goalie Garret Sparks would be spending at least the next 10 days away from the team working with the organization's goalie coaches to try and get back on track. The move caught many off guard.
"Getting the call-up was definitely unexpected," Hutchinson said. "I had my bags ready to go to Utica after the (Marlies) game so I'm real excited to be a part of this."
After being on the NHL roster all season, Sparks no longer had a stall inside the team's practice facility dressing room on Friday.
"I was told today that Hutch was going to be here for practice and beyond that I don't really know," said Andersen. "I try not to worry too much about things I can't control."
Leafs coach Mike Babcock was asked if there was any hesitation to make this type of move so late in the season.
"What we tried to do, because we believe in Sparky, is give him every opportunity and so we went back to the well a number of times and then when we didn't get it worked out or when it didn't get where we needed it to we made this decision," the coach explained. "I mean, you can look at it any way you want. The way we chose to do it is to do everything we could to help him get his game to where he needed to be and now the team's more important than any one individual so you made those decisions."
Sparks recorded just two wins in his last nine starts, posting an .888 save percentage in that stretch.
"Sparks has 10 days basically to work with (Marlies goalie coach) Jon Elkin and (Leafs goalie coach) Steve Briere to get his game back," said Babcock. "We need him to get it back, he needs to get it back and so it's real important as an organization that we help him out and that he helps himself so that's where that's at."
Hutchinson, acquired from the Florida Panthers in a late December trade, has a .910 save percentage in 23 games with the Marlies.
"The times he's been in (our) net, he's been good for us," said Marner. "So, he's just got to be ready in case anything happens to Fred and if anything does happen we'll need him to step up and take that role."
The 29-year-old Hutchinson has more NHL experience (111 games) than the 25-year-old Sparks (37).
"He's a real good person, played hard, has played 100-some games in the National Hockey League and played well for us when he's (been) up," Babcock said.
----
Kadri missed Thursday's tilt against the Tampa Bay Lightning for maintenance and in his post-game news conference Babcock said the centre would not dress for Saturday's game in Montreal. The coach referred to Kadri's issue as a "boo-boo."
Kadri was a full participant in Friday's practice and afterwards explained that he was following the lead of the team's medical staff by resting an issue that popped up earlier in the season.
"A day or two come this time of year can make a big difference, especially if you want to make a long run into the spring so I've liked the way we've approached it," he said.
Kadri also made it clear he wants to play against the Canadiens Saturday.
"I'm hoping to," he said. "We got to re-evaluate. It's not a definitive yes, but I'm hoping to, I'd like to."
Babcock was informed that Kadri is feeling better.
"Bounced back, eh?" the coach told reporters with a grin. "We'll see tomorrow."
----
Marner seems to be on his game with the playoffs looming. On Thursday, he outsmarted Vezina Trophy frontrunner Andrei Vasilevskiy to score his 26th goal of the season.
"I never really shoot on two-on-one's so I thought I'd try it," Marner explained. "Usually, that's a hard save for goalies, I wasn't trying to look at him so he couldn't really see where I was looking and luckily it got through him."
Marner surged down the stretch last season, leading the Leafs in playoff scoring with nine points in the seven-game loss to the Boston Bruins. How much confidence will he draw from that effort?
"A little bit," he said, "but at the same time that was last year so it's a whole other year ... The only thing that I took from last year is that we lost that series. It doesn't matter how well you played, you didn't get it done. We can't take a period off, we can't take a shift off, it's going to be a battle."
----
Toronto has lost seven of 10 games (3-5-2) and Marner has a good read on the problem.
"We haven't been playing a full 60," he said.
Why not?
"We get off our game plan," he said of the hiccups, "stuff goes wrong, get in penalty trouble, get out of rhythm, try to do too much fancy stuff sometimes and it comes back to bite us in the ass."
The Leafs have been zeroing in on the Bruins of late, which may explain why they're mostly unfazed by their lack of wins. Jake Gardiner mentioned after Thursday's game that Boston comes up pretty much in every meeting the team holds.
"If we had to win tomorrow to make the playoffs then I think I would be stressed," said Babcock, "but I'm not stressed today at all. Our team's done a lot of good things down the stretch. We liked our game last night and since our Nashville game, with the exception of the one game, we feel we've played pretty good, to be honest with you."
The Leafs remain sixth overall in the NHL standings despite the recent string of losses.
"I don't know if anyone looks at the whole league, there's good teams on our side here that we're playing," Babcock said. "We're one of those good teams. I think some of us forget that and we'll be ready to play like a good team."
----
Lines at Friday's practice:
Forwards
Hyman-Tavares-Marner
Johnsson-Matthews-Kapanen
Marleau-Kadri-Nylander
Moore-Gauthier-Brown
Petan, Ennis
Defencemen
Rielly-Hainsey
Gardiner-Zaitsev
Rosen-Dermott
Marincin-Ozhiganov
Holl
Goaltenders
Andersen
Hutchinson
Woll
Power-play units at Friday's practice:
Rielly
Matthews-Kadri-Marner
Tavares
Gardiner
Kapanen-Johnsson-Nylander
Marleau​