Anderson: Karlsson reminds me of Alfie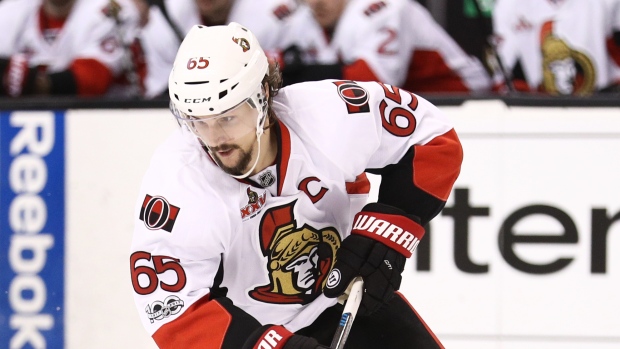 The Ottawa Senators are starting to heat up at the right time after picking up their third consecutive victory over the Boston Bruins Wednesday night at TD Garden to take a commanding 3-1 series lead.
In the centre of everything is Senators captain Erik Karlsson who is playing some of the best hockey of his career in this opening round series.
The defenceman picked up another assist in Ottawa's 1-0 shutout victory on Wednesday, giving him five helpers over four games in these playoffs. His most impressive one came in Game 3 when he made a tremendous saucer pass from his own goal line all to way to Mike Hoffman at the far blue line for a beautiful breakaway goal.
With the excellent play from Karlsson, Sens goalie Craig Anderson is starting to see some similarities to a former Senators great in the 26-year-old defenceman.
"He's starting to remind me a lot like Alfie (Daniel Alfredsson), where guys are starting to kill themselves for him," Anderson told ESPN's Joe McDonald.
The Swede put up 17 goals and 54 assists over 77 games in 2016-17, his eighth season in the nation's capital.
Karlsson missed five of the last seven games of the season with a foot injury, and it's unlikely he's playing at 100 per cent right now.
Alfredsson, a fellow native of Sweden and former Ottawa captain, recently topped the list of best Senators in team history. He netted 426 goals and 1,108 points over 1,178 games played in an Ottawa uniform. Karlsson was number two on that list.