Anderson sets wins mark; Sens extend win streak
Craig Anderson made 14 saves to set the franchise wins mark and the Ottawa Senators defeated the Colorado Avalanche 4-2 on Saturday night for their sixth consecutive victory.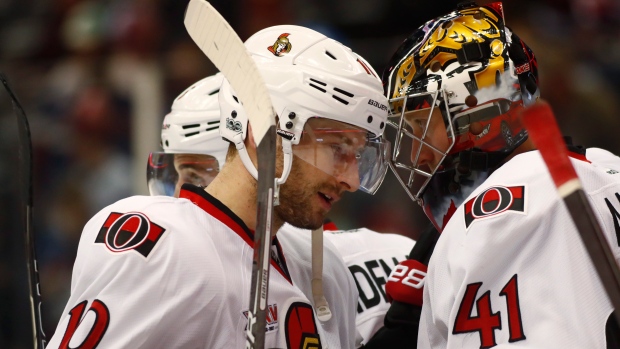 DENVER — Craig Anderson worked his way to the NHL admiring the work of Patrick Lalime, so passing him to become the all-time wins leader for Ottawa is extra special for the goaltender.
Anderson made 14 saves to set the franchise wins mark and the Senators defeated the Colorado Avalanche 4-2 on Saturday night for their sixth consecutive victory.
Alex Burrows and Mike Hoffman each had a goal and an assist for Ottawa, which tied Montreal atop the Atlantic Division with 84 points.
Anderson earned win No. 147 with Ottawa to break a tie with Lalime for the top spot.
"Patrick's a great guy. I've met him numerous times," Anderson said after career win No. 234.
"I remember watching him in Ottawa when I was coming up through and trying to break into the league. Great guy, great goaltender, and it's an honour to be right there next to him."
Fredrik Claesson and Ryan Dzingel also had goals for the Senators.
Ottawa's winning streak started after it acquired Burrows from Vancouver on Feb. 27. He scored two goals in his debut, a 2-1 win over the Avalanche on March 2, and he has five goals against them this season.
"This year I've gotten a few breaks along the way, for some reason bounces are going in against this team," he said.
Calvin Pickard stopped 27 shots and Matt Nieto and Sven Andrighetto scored for the Avalanche, who were eliminated from the playoffs with the loss. It is the third straight year they've failed to reach the post-season after posting 52 wins and 112 points in 2013-14.
Nieto gave Colorado a 1-0 lead with his fifth goal midway through the first period, but Ottawa gained control in the second. Goals by Claesson, Burrows and Hoffman in the second made it 3-1.
Dzingel scored at 11:22 of the third to seal the win.
The Avalanche were trying for their first three-game winning streak of the season, but couldn't generate much offence against the Ottawa trapping defence after outshooting the Senators for most of the first period.
They went the final 28:27 of the game with only two shots. Andrighetto ended a drought of 17:28 without a shot when he scored in the final minute.
"It just started from the neutral zone and our defensive zone; we couldn't break it out," Nathan MacKinnon said. "They were all over us. I don't think we had any controlled entries. Every time we got the puck we were flat-footed and we had to chip it in. It's no fun playing like that, just dumping every puck in."
Ottawa outshot Colorado 20-6 in the final two periods.
The Senators head home for three straight games, the last of which is the first game of a home-and-home with Montreal that could help decide the division winner.
"We have had a strong last two weeks, but all we are focused on right now is getting points right now collecting as many as we can to try and set ourselves up for the playoffs," Hoffman said.
NOTES: Colorado's 16 shots tied a season low. ... Senators D Mark Borowiecki missed his second straight game with an undisclosed injury. Second-leading scorer Mark Stone was out after suffering a lower-body injury against Arizona on Thursday. C Kyle Turris missed his third straight game with a fractured finger. ... Avalanche C Matt Duchene has gone pointless in the past 10 games and has just one goal in his past 25. ... Ottawa recalled Phil Varone from Binghamton of the AHL. ... Colorado C Mikhail Grigorenko was scratched for the fourth time this season.
UP NEXT
Senators: Host Tampa Bay Lightning on Tuesday night.
Avalanche: At Arizona Coyotes on Monday night.