Angels' Richards to undergo Tommy John, out for season
Los Angeles Angels pitcher Garrett Richards will undergo Tommy John surgery on his right elbow for a damaged UCL; the starter will miss the rest of the season.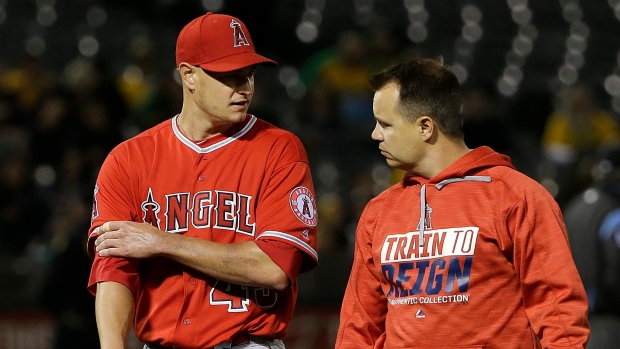 ANAHEIM, Calif. — Los Angeles Angels pitcher Garrett Richards said Thursday he has elected to undergo Tommy John surgery for his damaged ulnar collateral ligament in his right elbow and will miss the remainder of the season.
Reduced to 28 starts over the last three seasons because of multiple injuries, including two UCL issues, Richards' time with the Angels could effectively be finished after eight seasons and a 45-38 record with a 3.54 ERA. The free-agent-to-be expects to be ready to pitch at the start of the 2020 season.
Richards, 30, was 5-4 with a 3.66 ERA over 16 starts this season. He was removed in the third inning Tuesday during his outing against the Seattle Mariners. He went on the disabled list Wednesday and was given the choice of a conservative rehabilitation or surgery.
The surgery is expected to be performed on July 24 by Neal ElAttrache.
___
For more AP baseball coverage: https://apnews.com/tag/MLBbaseball