AP: Mahinmi agrees to 4-year deal with Wizards
A person familiar with the deal says centre Ian Mahinmi has agreed to sign with the Washington Wizards for $64 million over four years.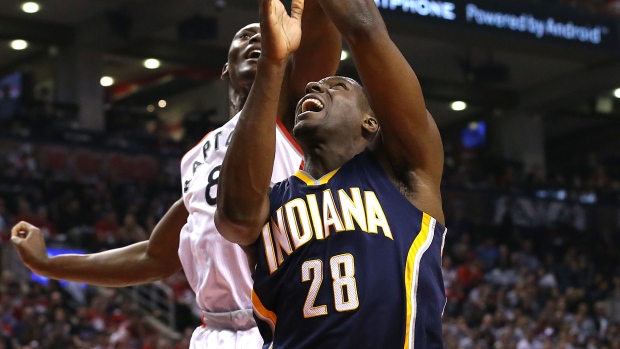 With no roster depth at centre, the Washington Wizards agreed Saturday to pay Ian Mahinmi $64 million over four years, according to a person familiar with the deal.
The person spoke to The Associated Press on condition of anonymity because NBA free agents are not allowed to sign contracts until next Thursday.
Mahinmi's Twitter account had a message directed at the Wizards' account, saying: "let's goooo."
The Washington Post first reported the terms of the contract.
The agreement came shortly after another player Washington reportedly was hoping to sign, Al Horford, chose to join the Boston Celtics.
Mahinmi should be able to provide defence and rebounding for the Wizards. He is a 6-foot-11, 250-pound centre who averaged career highs of 9.3 points, 7.1 rebounds, 1.5 assists and about 25 minutes in 71 games, all starts, for the Indiana Pacers last season.
The 29-year-old Mahinmi, who is from France, was drafted in the first round by the San Antonio Spurs in 2005 and made his NBA debut in the 2007-08 season. For his career, he has averaged 5.1 points and 4.3 rebounds in less than 17 minutes.
Mahinmi is the first new player added to the Wizards since the start of free agency, although they did agree Friday to a $128 million, five-year contract that will keep shooting guard Bradley Beal with the team. Beal, who teams with John Wall to give Washington a dynamic backcourt, was a restricted free agent.
Washington had made sure to clear plenty of cap space heading into this off-season, and even after the contracts for Beal and Mahinmi, the team only has seven players signed. The only other centre on the roster at the moment is last season's starter, Marcin Gortat.
Last season, the Wizards went 41-41 to finish 10th in the Eastern Conference and miss the playoffs, following two consecutive trips to the second round. Randy Wittman was fired as coach and replaced by Scott Brooks.
___
Follow Howard Fendrich on Twitter at http://twitter.com/HowardFendrich