Archibald: 'I'm trying to put my name on the map again'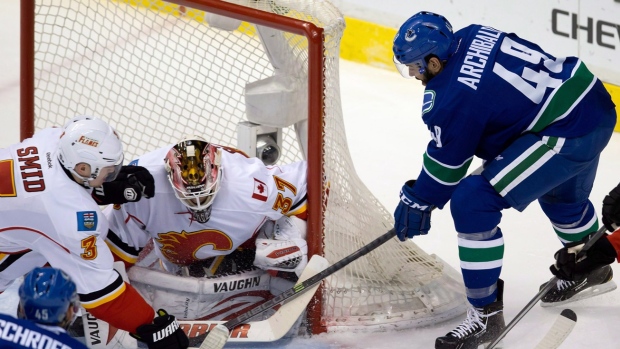 VANCOUVER – Darren Archibald has lived the good life. He spent 16 games in the National Hockey League with the Vancouver Canucks in 2013-14. He even scored a goal. But his brief time in 'The Show' seems like a lifetime ago now. And while the undrafted 27-year-old was a long shot to make it once, he's likely a longer shot now given the fact he's signed to an American Hockey League contract only and attending camp this year on an invitation from the Canucks.
Yet none of that stops Archibald from dreaming the dream of one day finding employment at the top of the hockey ladder again. The Newmarket, Ontario product insists the fire to get back to the NHL burns as brightly inside him today as it ever has. And he's fully aware that any chance to step onto NHL ice is an opportunity to showcase himself not just for the Canucks but for any of the other 30 teams in the league who may have interest. And perhaps some team should.
Archibald had his best year as a professional last season, scoring 23 goals and 47 points – both team highs in Utica where he was the only Comet to appear in all 76 regular season games. He plays the game with passion and competes as if every shift may be his last.
"I'm trying to put my name on the map again," he says frankly. "Everybody's out here battling and I'm fighting for a contract. I'm here only on an AHL deal and I feel like I have a lot to prove. I'm coming into camp confident and feeling good and just trying to play my game."
Archibald's game is no secret. Throughout his junior days in the Ontario Hockey League and on his climb through the ranks as a pro, he has always demonstrated a desire to go through opponents rather than around them. That was on display again Sunday when Archibald steam-rolled Vegas Golden Knights forward Stefan Matteau with a devastating body check that questionably resulted in a five-minute penalty for interference. Later in the game, Archibald was challenged to a scrap by Matteau's new teammate and rugged veteran Clayton Stoner.
It all comes with the territory for Archibald.
"Things happen quick out there and I could have sworn the puck was kind of bouncing through his feet there as I was coming in," he says of the hit on Matteau. "Obviously, I'm not out there to deliberately hurt anybody. I don't find myself to be a dirty player. I just try to play a big game and lay the body and unfortunately that was a penalty. As for the fight, I kind of had a feeling somebody was going to be challenging me. You definitely have to answer the bell after something like that. I'm fighting for a spot out here like anybody and if that comes, that's what I have to do."
By playing that way on a nightly basis last season, Archibald was named Most Valuable Player in Utica. It's where he's likely to start - and spend much of - this season.
With the veteran Canucks in China, Archibald has the opportunity this week to establish a working relationship with new Comets head coach Trent Cull, who was behind the bench Sunday and will be again when the Canucks travel to Calgary and Edmonton later this week.
Cull, who spent the past few seasons as an assistant in Syracuse, is familiar with Archibald as an opponent. And Sunday's performance was exactly what he was expecting from a guy looking to get noticed.
"I thought he played the game as advertised," Cull says. "Just a heart and soul player who plays the game with some edge. I thought he brought what he normally brings. I like Arch and certainly at the American Hockey League level he's a real impact player."
Where Archibald's career goes from here, is anybody's guess. But with an expansion team in Vegas and talk of another team being added to bring the league to 32 teams before long, guys like Archibald can't afford to abandon their hopes of an NHL roster spot. Opportunities are scarce, surely, but all it takes is one professional scout or one team executive to be intrigued by what a player can offer an organization.
Archibald skates well for a big man (6'3" and 212 pounds) and is able to keep up with the play in a sport that is getting faster by the season.
"Everybody always looks to me for the big hits and the fights, but last year I think I showed more of an offensive side," he says of adapting to the way the game is being played now. "I know if I'm going to make it to the NHL again, I'm not going to be scoring 23 goals like I did last year (in Utica), I'm going to have to be a big force out there and playing physical and providing energy for our club. I kind of battled some injuries a few years ago, but had a big bounce-back year last year playing in every single game in Utica. That really helped my confidence. I'm fortunate to be here, given another shot at an NHL camp and trying to prove myself and earn a contract."
Although it was four seasons ago now, Archibald feels he showed well in his brief time in Canuck colours. He made his NHL debut playing for John Tortorella in St. Louis in October 2013 and scored his first – and to this point lone – NHL goal on March 8, 2014 at home against Calgary. In all, he picked up three points over three separate stints as a call-up that season. But that was two coaches and an entirely different Canucks management group ago. So much has changed since Archibald last set foot on NHL ice.
Yet one thing very much remains the same – that's his strong belief in himself.
"I've always tried to play with a lot of confidence whether it's here or in the minors," he says. "I still think I can play in this league and that's why I'm here – to prove myself and earn a spot on the team."