Argos RB Whitaker pondering retirement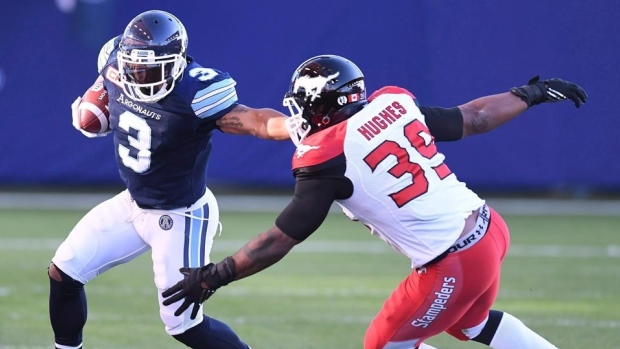 TORONTO — Quarterback Ricky Ray isn't the only Toronto Argonaut pondering his football future following the club's surprising Grey Cup run.
Veteran running back Brandon Whitaker, 32, is also weighing his options following a roller-coaster 2017 season.
Whitaker began the campaign as Toronto's starting running back before injury forced him to the sidelines and allowed James Wilder Jr. to emerge as a bona fide offensive threat and capture the CFL's top rookie award.
Whitaker appeared in just nine games last season, rushing for 357 yards on 81 carries (4.4-yard average) and registering 30 catches for 226 yards.
Her didn't score a touchdown for the first time in his nine-year CFL career.
The five-foot-10, 200-pound Whitaker says he'll enjoy the holidays with his wife and two young boys, aged two and three, before deciding on whether to continue playing football.
Whitaker adds physically he feels like he can still be an effective player but that retirement remains an option.